Will Goodell Show Up at Gillette for AFC Championship Game or Save His Congratulation's for Super Bowl Sunday? by Kristy Spinelli, BSD Correspondent
Foxborough, MA – With all eyes focused now on Sunday's AFC Championship Game at Gillette Stadium with the New England Patriots hosting the Pittsburgh Steelers, speculation is on whether Roger Goodell will be present for the important game.  Goodell has not been at Gillette since January 2015 when "Deflategate" originated.
Confidence is everything we know, but when the New England Patriots win on Sunday night, there will be much celebration of course, but it also usually comes with a trophy presentation by the NFL Commisioner, Goodell being that very man!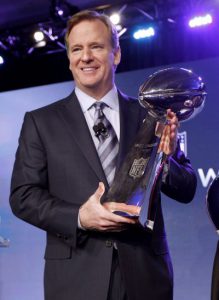 This morning when Patriots quarterback Tom Brady was interviewed on a local radio show, this is what he said when asked about Goodell being at Sunday's game…
"He's the commissioner, so obviously whatever he wants to do, he can do…if he wants to come, that would be—yeah, he can come."
When further asked if the commissioner would be "wanted" at the game…
"He can go wherever he wants to go," Brady said. "Whoever is at the game is at the game."
Many fans are anxiously awaiting the moment Goodell has to congratulate Brady and Belichick again…maybe he should just save that glorious moment to hand them another 22-inch, 7 pound Tiffany made Vince Lombardi Trophy on February 5th, and not show up on Sunday!  The Patriots have got this!!!!  Get your DVR's ready to capture and save the moment, it will be priceless. Bonus with Brady winning MVP…