The idea of the local band is a rather foggy concept – as it seems everyone and their dog wants to be a rockstar these days. But despite the prevalence of that trend, local alt-rock band Toast is comprised of brilliant, young musicians with a clear vision for greatness. Based in the South Shore of Massachusetts, they are led by the dynamic vocals of Cici Monarch and supported by guitarist and backup vocalist Darcy Milligan, bassist and artist Rose Cataudella, and drummer / occasional guitarist Larkin Tanner – as well as sound mixer extraordinaire and guitarist Thomas Briggs. With each song on their newest album Thinking Right Now hitting multiple emotions at once while remaining clean-cut and aesthetically pleasant, Toast is a band you don't want to go stale on. Not only are they accomplished musicians, but they know the rules well enough to break them.
Some of their big steps forward in the music industry include radio play on channels like 92.5 The River, WERS, and WMBR 88.1 Fm at MIT. Their musical influences also include Big Thief and Land of Talk.
Guitarist Darcy Milligan provided some helpful insight on the band's start and vision for the album: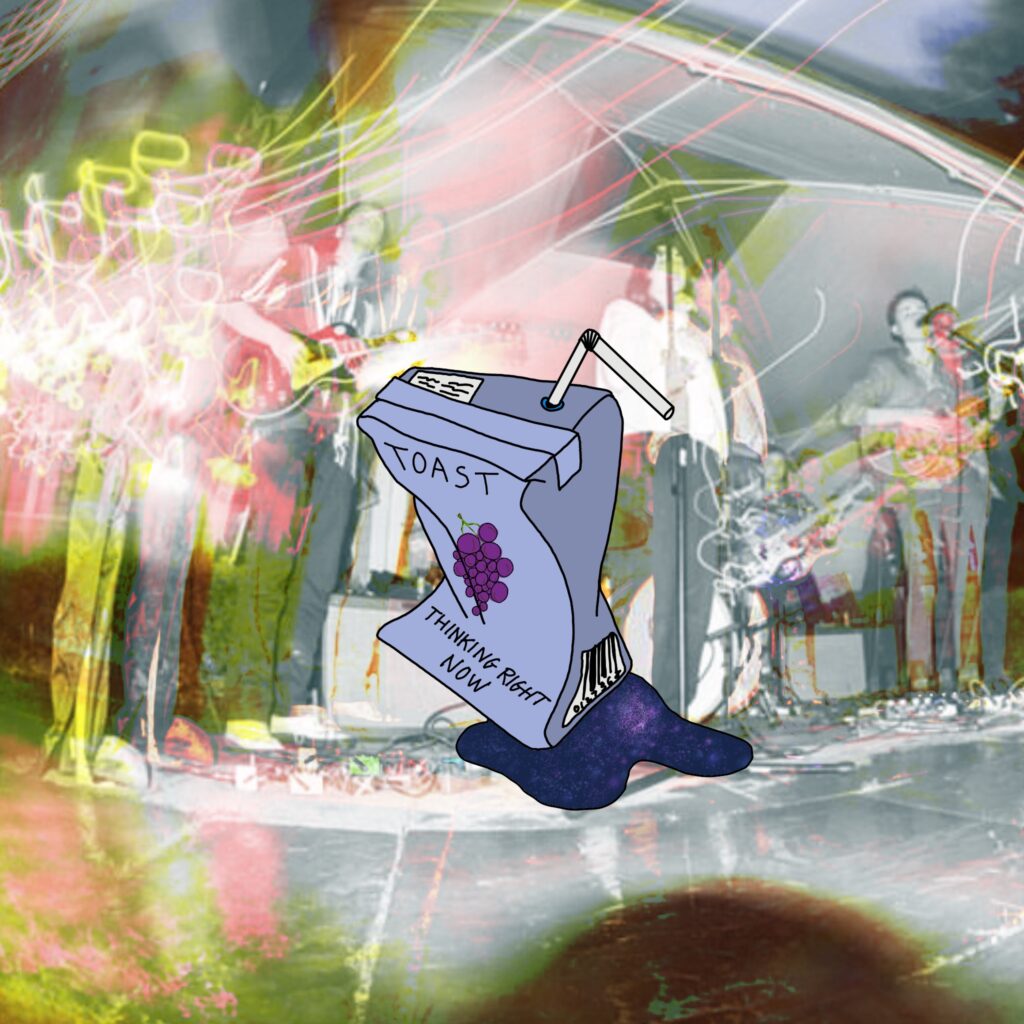 "The band itself is the child of a scholarship out of the South Shore Conservatory called the Dave Jodka Scholarship for Future Rockers, and its coach, Erik Caldarone, put us all together. We all knew each other pretty well beforehand, though. We wrote all of these songs throughout the past two years or so and wanted to create a clean DIY sound for the album that showed our personalities and our dynamic as a band. If I were to guess what our fans would say of us, they would probably say that we are the heart-warming band of the local music scene — people listen to us for the emotions and warmer vibes that we embody. I believe it is fairly reflective of the music festival that we sprouted from. I've heard from multiple people that, in the best way possible, we are the band to put people to sleep."

Darcy Milligan, guitarist of South Shore alt-rock band Toast
Now that you have a sense of their background and expertise, let's slice right into the warm, buttery center of Thinking Right Now:
1. Schweet
This song opens with ambient bass lines leading into clean guitar notes mimicking the bright vocals. "They said that I was hurting and shouldn't go back to you / but nothing ever happened the way that I wanted it to" are very relatable lyrics, depicting a failed relationship that showed promise before everything went south. This sonic motif continues throughout the song, presenting a very clear depiction of the speaker's train of thought. What better exhibit of adolescent uncertainty and melancholy is there than the angst in this song, layered up against bubbles of intermittent hope? By the end of the tune, chaos takes over more solidly, building that feeling of tangible longing and frustration. Solid opener to a very strong album.
2. I Would Never Ask You To Do Anything You Didn't Want To
"Sorry I didn't come on time / I just knew I couldn't find peace of mind." The tone and cadence of the melody very much feels like a nursery rhyme, which is a very interesting choice for a song about consent. But in some ways, there's a very slick dichotomy there because inside each of us is a child – no matter how old we get. "Be patient / it'll work out in the end" is a bright promise in the chorus that takes a lot of the lingering anxiety out of the song. Sonically, it's bright and filled with more of the same ambient guitar notes – although they're pluckier now. Then the choruses expand into spacier clouds of ambient colors. It sounds like a summer barbecue, layered with bass notes and technically-impressive drum beats and rhythms.
3. You've Turned into Somebody Else (AIANUTI)
Ambient somber notes begin this song, with an uncomfortable beeping in the background. This feels like the opener to either an emo Avril Lavigne song or a sci-fi movie – not sure which more so. And it's so, so angry. This was the lead single for the album, which I'd say is a really interesting choice since it feels a lot more like a deep-cut to me. The beat is grinding, turning, and twisting into and onto itself, over and over again – which is also how changing relationships often feel when one or both people evolve. Soft, but gritty lead guitar creates a lot of well-written depth, alongside "tell me how this makes any sense / how you left so easily." They even take a brief vacation into some non-diatonic tones, creating a noticeable shift in the song. The guitar solo is both parts powerful but also simplistic enough for ears to grab onto like a life raft in a storm. Slick harmonies create a sense of chaos within that storm, even though everything feels calculated and purposeful. Dragging, delayed rhythms end the song before reverting back to the sci-fi intro.
4. Unsure
One clear, open sustained chord starts off, with organ tones droning or something else equally church-inspired. That motif creates an elegiac feel, which I'm not totally sure what to make of. The vocals are beautiful, but the lyrics aren't as articulated as they were in the previous songs. Whenever this happens in music, I always assume that the artist wanted less focus on the lyrics, in favor of settling the listener in a feeling that transcends language. This song is very vibe-y and slow, and feels like moving through syrup. Definitely a solid resurgence of the first part of the album before the angstier feel of the previous tune.
5. Still See You
This song feels like something straight out of Paramore's songbook (that is, the After Laughter era of Paramore). "If you don't care / don't call me" is straight and to the point – the speaker is clearly disenchanted with the repetitive interactions with love interests that can't connect with them at that deeper level. Like the rest of the songs on this album, there's a deceptive sense of calm, populated by a foreboding sense of upset lurking just below the surface. I also hear some more complex rhythms and subdivisions creating unique sonic moments between each part of the song – that shows the band's collective undeniable skill musically. Good on you guys for constructing such a powerful feeling from sound.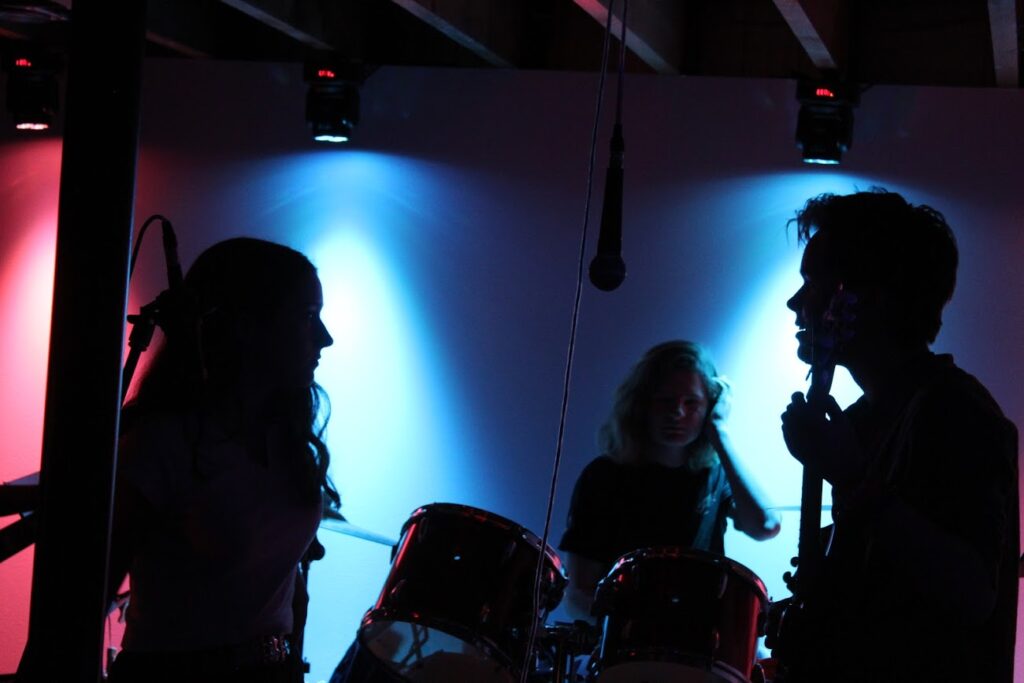 6. Running Around
This opening is almost cognizant of Green Day or an All Time Low deep-cut. Think "Wake Me Up When September Ends" or "Missing You" (respectively). "When my head feels crowded with all the stupid little things / you take me out and tell me it's only temporary" exhibits a healthy relationship for a change – what a breath of fresh air. Arpeggiated guitar chords collide satisfyingly with the vocals. Until the bridge – where everything gets really dark. The vocals become ghastly, with lots of echoes and multiple members singing together. That sonic texture, with a droning electric guitar, creates a new atmosphere that feels so far-fetched from the earlier portions of the song. "Pick up your pieces / so I can put them back again". Also, lovely use of a diminished fifth at the end of their phrasing (if my listening skills serve me correctly). That darkness is complex, and connected to the joy previously felt. As with life – you can't have one without the other.
7. Goodbye
Odd choice for a song that isn't the closer thematically, but given what I know is coming with "Interlude", I'd say it makes perfect sense. Keep reading to find out what I mean by that. More ambient notes begin this one, with delightful harmonic notes hitting the high-end of the spectrum. Sub-divided intervals of guitar instrumentation layers up a complex mix to this piece (just like most of their other songs). Then we move into an almost R&B feel for the chorus. The energy is lower, more somber than the verses. This is unique because usually these dynamics are backwards. But this is thematically beautiful as well, because when you think about it, the notion of goodbye is just hello in reverse. So this song eloquently depicts this idea both in its structure and sound. I also loved the guitar solo and the unique, descending quality it has, bringing the listener to a fuzzier, much more distorted place. It's chaotic, and strange – before reverting back to the chorus again. But this time, the fuzzed-out tone remains. Something tells me that's pretty important as you hear "I'll be fine / whispering" over and over again, while the distorted instruments take over again, before reverting back to the quieter, clean sounds again.
8. Interlude
This song begins with the darker tones of the previous one – and I really appreciate this haunting effect as "give it away" is sung over and over again by two different voices amidst the spookier vibes. The only other band I know that purposely creates songs that flow into each other would be Waterparks – so that's a neat effect. I would've never guessed this existed on the same album as the previous songs – but it does. There's an agitating quality about it – but I think that was purposeful. The way the repetitive lyrics speed up and layer in a cluttered sonic space amidst the other effects makes me feel anxious. But that feeling of connection on a bodily level with music is absolute magic. Even if it's a bad feeling, at least you felt something, and have been granted the chance to connect with the artist on a deeper level. It's haunting, and a bit scary – but also so worthwhile.
9. The Way You Were
Delusional, fun house, something out of your mind. Metal-inspired lead guitar hits hard in this song, with a deeper vocal tone definitely from someone besides Cici. Bubbles of brightness float momentarily to the surface again, but this band has done a full-180. It's hard to form a clear opinion on something that feels much more disjointed, but I think I understand why these artistic decisions were made. The Interlude was, quite literally, a departure from the familiar, into the frightening unknown. Maybe it represents a new stage of life, or a shocking tragedy. Within this song are still moments of brightness, but they are much fewer and farther between. The abrupt ending into a less-formal, brief session of guitar shredding ends the whole thing on a question mark.
10. Hamstring
Ending the album is a dark, minor-key, lethargic vibe similar to something Amy Lee from Evanescence might write. More breathy vocals hitting high, whispered notes amidst a latin guitar transport the listener somewhere between a desert in a post-apocalyptic world, and a secret lab underground. This effect is accomplished my some non-diatonic notes in the melody, colliding with the bass motion to create more sonic tension. Brighter guitar arpeggiations bring some much-needed levity that momentarily reminded me of Elvis' "Can't Help Falling in Love". Despite that, this song would probably fit best on a Halloween soundtrack, given it's grittier tone (honestly, any song including and after "Interlude" probably would as well). This one is clearly the darkest, with lyrics like "I wish that I could pull my hamstring". I'm not totally sure what that means thematically, but there's definitely a notable layer of self-inflicted suffering emotional that feels the need to bring a much more visceral element into the mix. "Stop the tears for me now" ends the album, leaving the listener with a buzzy, indiscernible vintage TV clipping.
After listening to this album in its entirety, I can fully acknowledge that it is quite a trip. Probably a trip into the deep, dark recesses of one's mind, but a trip – nonetheless. I was honestly really impressed with the band's creativity, honesty, and musicianship – even if I would've liked to have heard a little more cohesion between all parts of the album. But I can also understand that surprising twists and turns like the above-mentioned sonic experience is usually produced for a very particular reason. That's often meant to bring a sense of accomplishment and relief to the artists – and that's something I can absolutely stand behind. After all, I'd argue that any kind of art is much more about the artist than the people experiencing it. Some people might not vibe with it completely, while others totally will. But it's the artist who wins no matter what – because they held nothing back, and that's how they'll find their people.
Stream the full Thinking Right Now album by Toast on Spotify HERE and YouTube HERE.
Angelina Singer
@angelinasingerauthor
angelina320@icloud.com