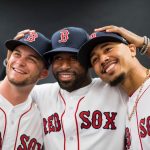 EXTRA, EXTRA!: The Red Sox earned their second straight 10-inning, come-from-behind win last night, extending their winning streak to 5 games…They scored 5 runs in the top of the 10th on a 3-run home run from Mitch Moreland and a 2-run shot from Jackie Bradley Jr.
>>> The Red Sox entered the 8th inning trailing 3-1 before hitting 3 HR and scoring 9 runs over the final 3 frames.
 STATE OF THE SOX: The Red Sox lead the majors in wins (80) and own MLB's highest winning percentage (.702).
>>> The Sox' 80 wins are their most ever through 114 games (previous: 79-33-2 in 1946)…The last time they were MLB's 1st team to 80 wins was 2007 (80-51).
>>> The Sox are 5-0 to begin the month of August, 9-1 in their last 10 games, and 24-5 in their last 29…They are unbeaten in their last 9 full series (7-0-2).
>>> The Red Sox are 80-33 since losing on Opening Day at TB…The last time the Red Sox won 80 games over any 113-game stretch was over 100 years ago (1915).
EASTERN STANDARD: The Red Sox lead NYY by 9.0 games in the AL East, tied for the largest lead for any 1st-place team (CLE-9.0)…Their largest lead of 2018 is 9.5 games; they have not held a lead of 10.0 games since 2007 (+11.5).
>>> The Sox took over sole possession of 1st place on 7/2 and have held it ever since.
>>> BOS is 38-14 (.731) vs. AL East opponents…Since the division was formed in 1969, the Sox' best single-season record vs. the AL East came in 2002 (51-25, .671).
MODERN TIMES: The Red Sox are 1 of only 16 teams in the Modern Era (1900-pres.) to win 80+ of their first 114 games…9 of the previous 15 (60.0%) won the World Series.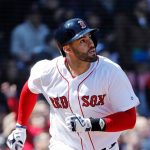 J.D. POWER: J.D. Martinez hit his ML-leading 34th HR last night…He also leads MLB in RBI (97) and total bases (268), and is tied for the AL lead with 135 hits.
>>> Martinez ranks among ML leaders in AVG (3rd, .328), OBP (8th, .394), SLG (2nd, .650), and OPS (3rd, 1.045)…His 64 XBH are 1 shy of the ML lead.