ABOUT LAST NIGHT: Last night's game at BAL was postponed due to rain after a delay of 2 hours and 33 minutes…It will be made up as the 1st game of a day-night doubleheader on Saturday, 8/11 (1:05/7:05 p.m.)…At the time the game was stopped, the Red Sox held a 5-0 lead and had hit 3 HR, but no stats from the game will count.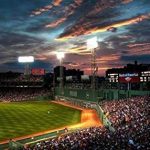 STATE OF THE SOX: The Red Sox lead MLB with 71 wins and own the majors' highest winning percentage (.689).
>>> The Sox are 5-2 in their last 7 games, 15-3 in their last 18, and 20-5 in their last 25…They went 13-13 from 4/21-5/18, but they are 41-17 (.707) since then.
>>> The Sox lead NYY by 5.5 games for 1st place in the AL East…Their largest lead of the season is 6.0 games…BOS last led by 6.5+ games in 2013, when they were 9.5 games ahead at the end of play on 9/15.
BOSTON'S BEST: The Red Sox' 71 wins are their most ever through 103 games (previous: 70 in 1912 and 1946).
>>> The Sox are 1 of 24 teams in the Modern Era (1900-pres.) to win 71+ of their first 103 games…21 of the previous 23 won their league's pennant.
HOME FIELD ADVANTAGE: The Red Sox have won 10 of their last 11 games at Fenway Park…They lead MLB in home win % (.723, 34-13), as well as runs per game (5.94), AVG (.288), SLG (.503), and OPS (.854) at home.
START ME UP: Red Sox starting pitchers have a 1.42 ERA and a .206 opponent AVG in the club's last 7 games (38.0 IP, 29 H, 6 ER, 8 BB, 39 SO)…Their streak of 27.0 IP without allowing an ER was their longest since 1990 (source: Elias).