From the moment the Stranger-Things-esque piano chords hit the speakers, and the guitars hit with the drum kit into an explosive frenzy, I knew the Fandom Tour was going to be something truly special. "Cherry Red" was the opener for both the album and the tour, which offered a really unique thematic element linking the two bodies of work together.
Waterparks consists of frontman and rhythm guitarist Awsten Knight, lead guitarist Geoff Wigington, and drummer Otto Wood. All three are incredible musicians, and they cohesively connect together so smoothly on both the sonic and emotional level. With stage presence off the charts, Awsten commands the crowd with a sort of calm chaos – like the eye of the storm, his lyrics are messy and beautiful but full of foreboding. Poppy rhythms and guitar riffs layer ironically against explicitly detailed emotions and life experiences, with just about nothing held back.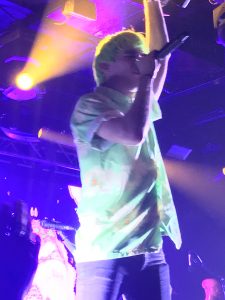 "Watch What Happens Next" was one of the lead singles of the album, and the shockingly revealing lyrics of the music industry toxins scream over the driving drum beats and catchy guitar riffs. It's also a not-so-subtle call-out to the issues surrounding their recent switch to Hopeless Records, as their previous representation had dealt them some bad cards on the business side of their music. Particularly, "You want to hear my art, but only on your terms" is a very blatant call-out to the idea of how genre can limit artistry and how the band Waterparks, as a whole, is notoriously against that. It is my understanding that is part of the reason why they don't have a bass player, and have instead employed the use of intricate backing tracks and cool effects for their live shows. It's much more out-of-the-box and inventive than just the typical bands that are on the scene today.
And I promise you, Waterparks is no typical band.
Fandom is their third full studio album, and addresses the unique issues surrounding fame and limelight (the latter of which matches Awsten's glow-in-the-dark green hair), and the relationships that form within that complex system. Featuring slick transitions between songs and unique interludes (like the fan-favorite "Group Chat"), the album is every bit as quirky and scintillating as the live show. Armed with an orange slice-embossed drum kit and what appeared to be a mob of orange mannequins chilling at the back of the stage, Awsten, Geoff, and Otto put on a show that was sure to please.
The stage was constantly moving, both with the smoke, laser lights, and intricate graphics on the screen behind the band (which were all designed by Awsten). He has a very impressive gift for visual expression, which may be linked to his synesthesia which causes him to link colors with emotions and feelings on a deep level. Overall, it's all very bright and energetic – which made for a fantastic spectacle with a tangible visceral reaction that is just hard to completely portray with words.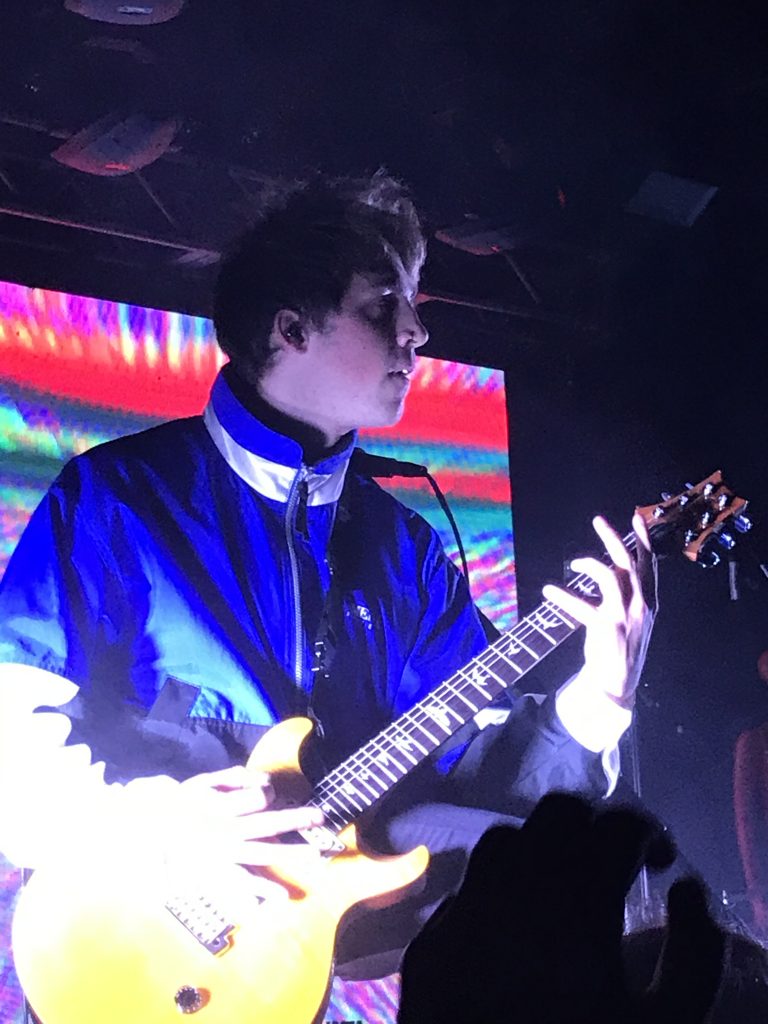 After the show got underway, the crowd was treated to fan-favorites like "Blonde", "Dream Boy", and "Double Dare 2019" (an album mashup they recently put together). During the more mellow and pensive acoustic song "High Definition", Awsten bared his soul while the crowd lit up the venue with fan-curated green paper stars in front of their phone lights. Calling "High Definition" his most currently-accurate state of emotions, he reflects on living in the wake of a relationship that ended, but also examines it through the lens of fame and trying balancing personal life with professionalism. The theme "I'd love to be in love with you enough to write a love song" opens up the tune, and permeates the entire piece. "I like you inconveniently / you're squeezing out my dopamine" is undoubtedly one of the most clever lyrics. I personally relate to the line that says "I'm the best thing that you'll never have", as I'm sure a lot of people do. Awsten was handed one of the paper stars from the audience, and remarked that it was "super cute". With all the problems that exist in this fandom, I was glad to see him feel appreciated and respected in that moment.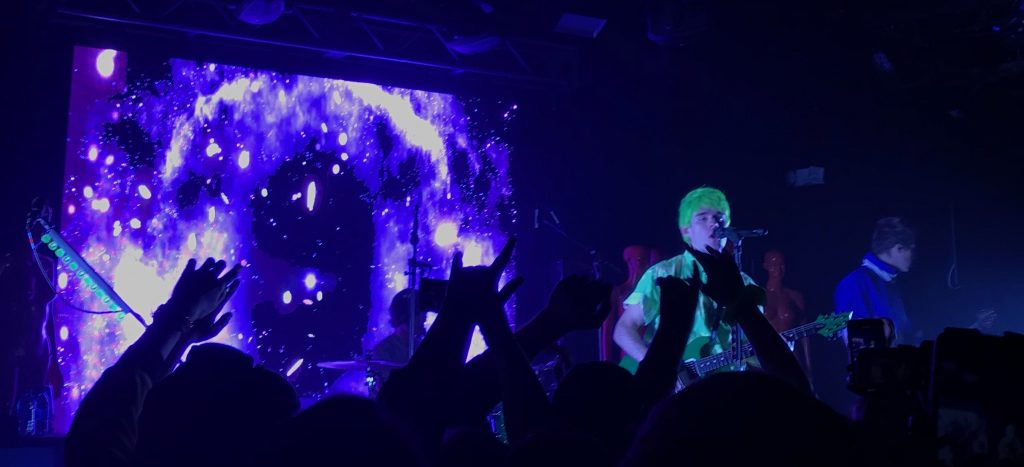 A few more songs were played like the melodic and extremely salty "Worst", "War Crimes", "Reboot", and my personal favorite – "Easy to Hate". The latter is my favorite because it features some unique sonic qualities like a bright synthesizer alongside very snappy drums and a slick chord progression all leading to an energetic guitar solo. The ending half-time feel is especially enjoyable as Awsten sings "I used to save the words you said in the texts that you would send when you were going to bed / it's like you were yellow but the lights were red / we both know you'd never stop / you're hard to love". Note the symbolic color imagery here that he connects to the emotions he feels – truly clever and insightful stuff.
Toward the second half of the show, Geoff and Otto took a bit of a break while Awsten entertained the crowd with some delightfully random antics. This included (but was not limited to) singing "Happy Birthday" to Otto, Geoff, and Lucas (their tour manager), as well as some unpolished renditions of "Kryptonite" by 3 Doors Down, and even a Nickelback song. I noticed Awsten even adjusted his voice to fit the style of "Kryptonite", which was amusing to hear him try a sort of southern twang. He even mentioned the concept of an *interesting* fan fiction someone wrote about him that was gross enough to warrant him making sure the youngest audience member in attendance covered their ears (very classy of him). Leading back into their song "Lucky People" was the unique choice of the National Anthem, which sonically worked better than I expected it to. Overall this was a very endearing interlude to a fantastic show that was delightfully unstructured and a welcome respite from the more typical talk-play-talk structure of most concerts.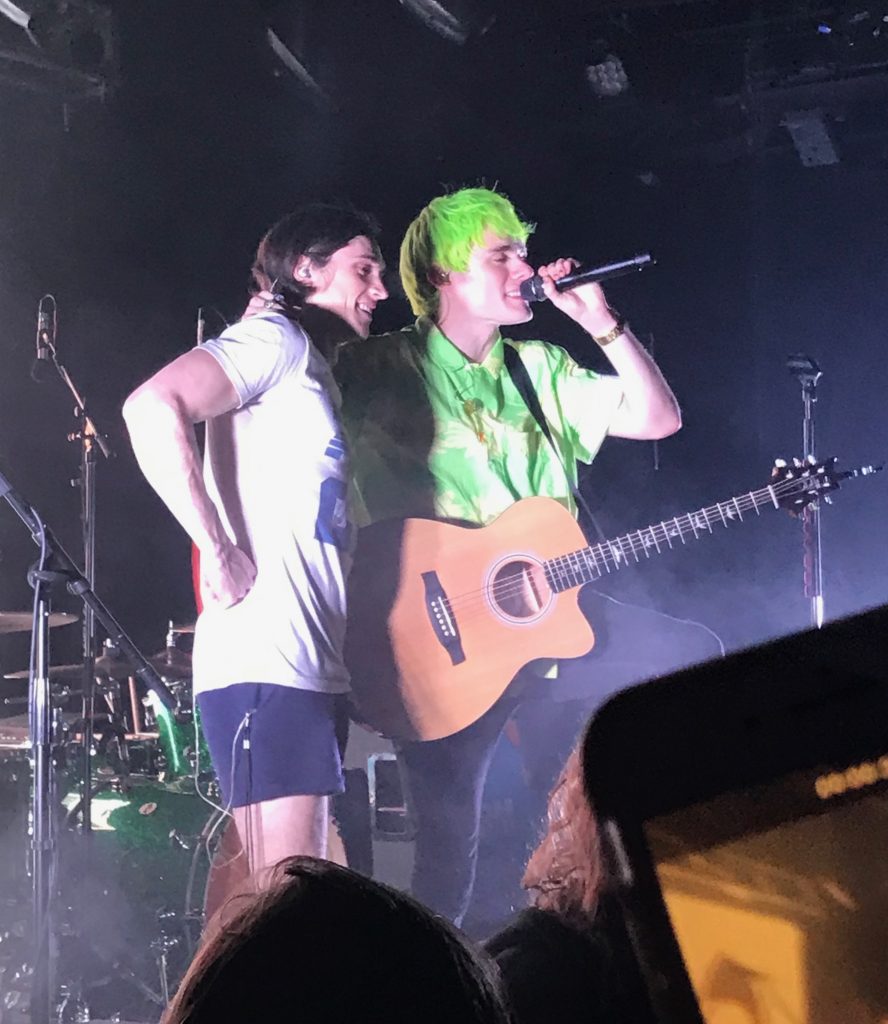 The main set wound down after more tunes like the iconic acoustic and then explosive "21 Questions", and stadium-sized "I Felt Younger When We Met". This latter song features the incredibly honest lyrics "I said I loved you to death so I must be dead / it makes me sick you know my skin", which is just scathingly obvious and real. After this powerful emotional ordeal, the band disappeared only to reappear moments later for a positively crazy encore.
The encore songs were fantastic – the band treated the crowd to the recently-released Entertainment 2019 mashup, as well as the sugary-sweet love song "Stupid For You", and then finally transitioned into the abrasive and angsty "Turbulent". This song was a bold choice for a closer, as it is easily one of their darkest yet. It starts off mellow enough, with lyrics like "You had your own Pete Wentz and Patrick combined / writing you songs and singing them all like every single day". And then the lyrics take a much darker turn. And although I understand that this song is how heartbreak and hurt has manifested, and I truly appreciate the bravery and honesty it took to write, it's just something I personally have a harder time connecting with. But that's still totally valid – if anything, I admire Awsten for opening up this way and I am truly sorry he's been so hurt to this degree. Regardless of the tough emotional content of this song, he commanded the crowd bravely and even repeated the ending so that the Boston audience could be extra loud the second time.
After some final goodbyes, the band left the stage for the last time, but not without having brought the audience through a sonically rich emotional journey through their struggles with fame, relationships, and just overall life. Awsten, Geoff, and Otto are all bonafide musicians of the highest caliber. Awsten is one of the best lyricists I have ever seen, and together with Geoff and Otto's undeniable artistry, these three have become a significant force in the industry. Their music is catchy as anything, and they're only going to continue to grow as a band. Their persistent avoidance of being stuck in a box genre-wise is going to propel them ahead, because they have managed to carve out a very specific sound that is theirs without it seeming boring or typical. Mark my words – one of these days, they're going to have all the big houses, nice things, and jetpacks for all their friends that they want.
Catch Waterparks on a remaining date of the Fandom Tour! Tickets available on their website: https://www.waterparksband.com/home
Angelina Singer
Boston Sports Desk Correspondent
Kindle Direct Publishing Author
angelina320@icloud.com
Instagram/Facebook: @angelinasingerauthor