By Kevin Flanagan
BSD Senior Staff Writer
Imagine, if you will, a USA Men's Olympic hockey team constructed of guys known only to family and friends, entering a tournament on their home soil as massive underdogs, just hoping not to embarrass themselves in front of their home crowd.
Then picture this scrappy group of no-names winning the first two games of the tourney by a total score of 8-1, setting up a showdown with a tournament favorite, with a trip to the Gold Medal game on the line.
After a hard-fought 2-1 victory, this previously unknown team of fighters found themselves with a never expected shot to win the Gold on their home soil.
In a storybook cialis ending, this extraordinary group of guys would do just that in a dramatic fashion, amidst deafening chants of "USA! USA! USA!" from a jammed packed stadium, that desperately wanted something to celebrate about their country that had recently gone through trying times.
Sounds familiar, doesn't it? However, this is not another story about the 1980 "Miracle on Ice" Gold Medal winners in Lake Placid. This is the story of the 2002 USA Men's Sled Hockey team, and their unlikely journey to Gold in Salt Lake City at the Paralympic Games, ending in an impossible dream coming true.
The unlikely head coach
Bruins fans know Rick Middleton as the should be Hall of Famer who helped lead the B's to three Stanley Cup finals in his 12 seasons in Black and Gold. His path to hoisting Lord Stanley's coveted challis was derailed by three of the greatest dynasties in the NHL's 100-year history, the 1970's Montreal Canadiens – who won six Cups in the decade, including four straight from '76 to '79 – the '80's New York Islanders – who strung together four straight themselves, from '80 to '83 – and the mid to late 80's Edmonton Oilers, led by some guy name Wayne Gretzky – who dethroned the Isles in '84, on their way to winning four out of five championships through '89.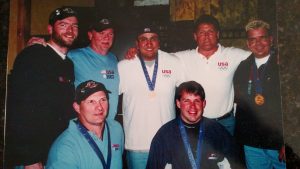 During the decade-plus that Middleton and his teammates dominated opponents in the old Boston Garden, eight times their seasons ended at the hands of the eventual Stanley Cup champions, a fate that few other franchises could ever claim – or want to, for that matter – in the history of the greatest game ever created.
What few folks know – up until now – is that the man known as "Nifty" for his talent on the ice during his 14-year career with the New York Rangers and Boston Bruins, was the man behind the bench for one of the greatest stories in hockey that has seldom been told.
"It was early in 2001 – maybe March – when I got a call from a friend of mine who was a skier, I think he was the captain of the US Disabled Ski Team, and with the Paralympics coming up in 2002. He was aware of it, I wasn't at the time, I really didn't know what the Paralympics were," said Middleton describing how he became involved with the program.
"He was also a part-time sled hockey player, which I didn't know anything about either. He told me he had heard through the grape vine that the US National Sled Hockey Team – who was going to be the host team for the games in Salt Lake City in 2002 – was looking for a head coach, because their coach had quit in 2000 after the World Championships. So, here they are the host team with no coach, and they had only won one game in their whole history," he said with a chuckle.
The B's former captain continued, "The program was basically in shambles. And so, after he sweet talked me for a bit, he asked me if I'd be interested. I was approaching 50 at the time, and I figured I wouldn't be getting any coaching jobs for the Olympics any time soon (laughing), even though I didn't really know anything about sled hockey, I figured that hockey was hockey. So, I said 'Yeah, let's go to the next step'."
A second telephone conversation took place with Rich DeGlopper, then the president of the U.S. Sled Hockey Association, which went pretty much like the first. However, as Middleton freely admits, he had to "lie a little" when he was asked about his knowledge of the sport. His innocent ruse was obviously successful, as his road that would ultimately lead to the ending no one ever could imagine at the time – as head coach of a history-changing club – was just beginning.
Traveling through a "bizarro world" on the path to a golden ending
Given the lack of structure to the program when Rick hopped on board, there were some strange goings on initially after he thought he was given the job. Although he had verbally been told he had the head coaching job, there were politics in play that would muddy the waters a bit before things would ultimately settle down.
"Naïvely, I thought I was the head coach, and in May of 2001 I ended up going to Tampa, Florida, of all places. There wasn't a National Team down there – maybe a couple of the guys that would end up making the team – but I wanted to get on the ice and see the sport. I just wanted to get my feet wet and meet the guys." explains Middleton.
Following his first experience in Tampa, Middleton was officially sanctioned as the head coach by the board that he previously knew nothing about, but that didn't mean the drama was over.
"There was a coach in Chicago, he ran the sled hockey team at the Rehab Institute in Chicago. And unbeknownst to me, he had been grooming himself as the coach for the National Team for the Paralympics in 2002. He didn't like the fact that he wasn't involved," recalls Middleton.
He furthers the story saying, "I had been warned about him a few times, and when he said he would be willing to help out, I said 'I don't think that's a good idea.' I was coming in from the outside, I didn't have any allegiances to any player. I just didn't think that it would be a good idea to have a coach of a team that had half the players that would be on the National Team involved, because I thought it might alienate the other half of them."
The Chicago coach didn't take the news that he wasn't welcomed very well, and he began to try to turn the tide behind the head coach's back. He began an email campaign with the players to remove Middleton from the team, a strategy that didn't pay off the way he thought it would.
"There was really nobody in charge when I started," said Middleton. "Wheel Chair Sports was running the program when I came on board, then halfway through it, the USOC [United States Olympic Committee] started a division called US Paralympics. But that was mainly a fundraising division for the Paralympics themselves, and they took over. So, when these things were happening, I really didn't have anyone to call to straighten things out."
Eventually, order was restored – or, at least, put in place – and the coach from Chicago – who had been given the phantom title of "alternate coach," even though he never participated in any team activities – was removed, and Middleton was finally free of the of the unwanted drama, and now could concentrate on the task at hand.
The education of a coach
Middleton's initial venture into the sled hockey world in Tampa Bay in the spring of '01 was an eyeopener. He conveys his first time on the ice with his prospective players in a humorous recollection.
"My first experience, I kind of stepped on my own foot. I was warming them up, and I blow the whistle and say, 'On the whistle, speed up. On two whistles, go the other way. And on the third whistle, I said to go backward.' Well, they all stopped and looked at me, and I thought, 'Oh no, they don't go backward.' So, they knew that I didn't know the game that well," he said with hearty laughter.
An attempt at having the squad skate backward quickly revealed that it wasn't a good idea, but it served as a lesson for the coach who would eventually help lead the team of history makers to a Gold Medal.
Prior to their first time on the ice together, however, Middleton – who has been around the game of hockey practically his whole life – saw something that left an indelible memory that he carries with him to this day.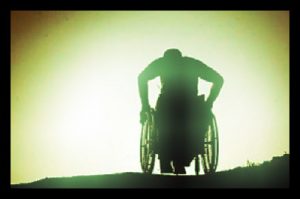 "We had a hotel on a side street, and the rink was just down the road. We had the crap ice time of six o'clock in the morning, so I wanted to get there early so I could greet the guys," Middleton recalls. "So, I got up at five and start for the rink, and my first introduction to sled hockey players, was when I turned the corner from the hotel, and I could see the silhouette of wheelchairs going down the middle of the street.
"That's the picture I want to be reproduced for the poster of our movie, which will be called 'Tough Sledding'. And after seeing that my first thought was 'these guys are dedicated'. I mean, if I had to be on the ice by six, I'd roll in around 5:40 and throw the equipment on and get out there," said Rick with a chuckle.
The best laid plans
After a two-day selection camp in August of 2001, Middleton – along with his assistant coach Tom Moulton, a long-time fixture in hockey in New Hampshire – had their team. Following a series of monthly weekend training camps in the various cities in which members of the team lived prior to the selection camp, a tournament was planned for September 12th in Canada, with the Canadian team being the hosts to the US National team and Japan.
The tragic terrorist attacks of 9/11 put an end to that, but those cowardly acts wouldn't stand in the way of the eventual Gold Medal US team members. With the tournament scrubbed in Canada and no other camps scheduled until October, Middleton decided that – even though the shock of the attacks was the first thing on everyone's minds – they would schedule a camp as quickly as possible.
Two weeks after 9/11, they held a training camp in Buffalo to begin their preparations for the Games. Middleton recalls, "If you remember those days, there was no one in the airports. It was a ghost town. And there wasn't one player who said 'no, I'm not getting on a plane'. Everybody showed up, which again shows the dedication and desire that these guys had to play for their country."
Paying forward
"Back in the day, we paid for everything ourselves," recalls team captain Joe Howard. "We bought our own jerseys, we paid our own airline fees. They get a stipend now when they go to camps and stuff like that.
"We paid thousands of dollars a year to travel around and wear the USA jersey to play hockey. It is much different now than it was then, and that's a good thing. But that shows you the dedication of that team when we started out."
As the eventual Gold Medal game-winning goal scorer and former team captain Kip St. Germaine points out, the camps the team put together were a collective effort by all of those involved. "Back then, we would try to host a training camp in each person's hometown. So, me and Joe and a couple of other guys, we would do it in the Boston area.
"The guys on the team from Dallas would get some ice time down there, and we would do a camp there. Someone would do a potluck dinner, and we always tried to outdo each other. So, like, when we went to Dallas, they had stretch limousines meet us at the airport. We started with Thanksgiving like dinners, and they took it to limos and a barbeque," he said with a laugh.
"We were doing all the fundraising on our own, developing equipment on our own," recalls the sled hockey veteran, who was actually involved in the hiring process of Middleton for the '02 Games, as vice president of the non-profit US Sled Hockey Association, which was responsible for hiring the head coach at that time.
"We would do the early morning ice because we could usually get it donated. Hotels…we'd get into basically a motel, and we would put all the furniture out in the parking lot and put mattresses on the floor. We'd get five or six guys in a room and leave the wheelchairs out. If you needed to use the bathroom you would just bounce across the beds," said St. Germaine. Wryly adding with a hearty laugh, "You didn't want the bed next to the bathroom!"
And as for the dedication this group had to the program that they were taking part in building, Kip says, "I missed my brother's wedding to go to the tryouts. That was the thing, you had guys missing birthdays, weddings, funerals, you name it. It was a very dedicated group, and we had to be pretty much self-sufficient."
Playing for the program
"Back then, the Paralympics were quote-unquote under the USOC and there was some political maneuvering. In 2001, the USOC formed a group under their umbrella called the US Paralympics to support all of the Paralympic sports and they said, 'Oh, by the way, you cannot contact any of our sponsors'. And this was all in conjunction with what was going on with the Salt Lake City organizing committee," relays St. Germaine.
"US Paralympics was responsible for all the Paralympic sports. We had a conversation with them, and they came flat out and said 'we only sponsor winning programs'. And back then, the US Disabled Ski Team, which was under the US Skiing, had been very successful. They had Visa sponsorship, Chevy sponsorship, and they were traveling all over the world.
"We were able to get involved with EPVA – that at the time was Eastern Paralyzed Veterans Association – so they were kind of helping. And Disabled Sports of America – something like that, we're going back a number of years – they were helping with some of the funding. We basically got minimal support from US Hockey, if anything."
The great unknown
Having had the only pre-Olympic tournament canceled, there was no way for Middleton and his coaching staff to know how they would fare against the competition. The sole thing the head coach had to use for reference was the tapes of the Nagano Games in 1998, during which the US Team lost every game.
However, in retrospect, Middleton believes that the lack of exposure to their eventual competition at the Games was a positive for his club. "It really served us well, because no one saw us. But I had no clue how we would do. I had no barometer because we never played anybody."
Regarding their rather stealth entrance into the Games, Howard had this to say, "That was Rick's plan, to kind of lay low and get better without anyone seeing us. I mean, we went away one weekend a month, or maybe three days and we scrimmaged against each other. We did that right up until the Paralympics."
St. Germaine's thoughts and expectations as the games began were that of both a player and a member of management who knew that there was a lot on the line in Salt Lake City. "As a hockey player, my goal was to medal, even though I knew it was a long shot. But I also knew if we didn't have an extremely strong showing – based on what US Hockey had told us – Sled Hockey would probably not be supported by them going forward. I didn't necessarily tell that to the other players though."
Let the Games begin
After seven months of camps and team scrimmages, Middleton and his men were ready to head to Salt Lake City for the Games and to test the results of their hard work. "We were going in about a week early, and we actually had some exhibition games," said Middleton. "Ironically, we played Norway (who the US would ultimately defeat in a shootout for the Gold) once, maybe twice. But I remember one game, we beat them 2-1. They were exhibition games and there wasn't much hitting, but I was happy that we did OK.
"Again, I just didn't want to be embarrassed. I thought that if we had any shot at a medal it would be a Bronze, but I never had any clue that we would be able to do anything against Norway or Canada."
The truth is, the US National team was given such little respect, that they had been previously been seeded sixth out of a pool of five teams prior to the Games. "We were only there because we were the host team. We never would have been invited if we weren't," the head coach recalls with a laugh.
Howard echoed his words, "The only reason we were there is because we were the home country. We wouldn't have qualified otherwise."
"We were actually behind a 'to be determined' team at one point because they had Canada one, Norway two, Sweden three, Japan four, TBD five and us at six," said Middleton. "They had a tournament over in Europe to decide who the team would be, and Estonia won it. Since Estonia beat the US in the World Championships, they seeded them fifth."
The US squad started the tournament on Friday, March 8th with an early-morning game against Japan. Playing in front of a sparse crowd, Middleton's team got a 3-0 win, but it wasn't without its nail-biting moments. "We went into the third tied 0-0," said the head coach. "And I'm thinking, 'god, if we can't even beat Japan, we might as well go home."
The second game of the schedule was a primetime tilt against the favorite to win Gold, Team Canada. Middleton recalls, "Now we are playing Saturday night against the number-one seed, and the E Center had been sold out for weeks, some 6,000 would be watching. We went from nobody in the stands to 6,000.
"We went out and kicked their ass 5-1. I'm told their coach quit and their goalie retired after the game," he said with a hearty laugh. "They ended up going to the Bronze Medal game but lost in a sudden-death shootout to Sweden, so they didn't win a medal as the top seed."
The win over Canada validated the hard work that the US team had put in leading up to heading to Salt Lake, but it would be their third game against second-seeded Norway – their ultimate opponent in the Gold Medal contest – that was the most pivotal on their road to glory.
"We knew what we were up against because they had won the gold in Nagano in '98 and lost the gold to Canada in the World Championships in 2000," relayed Middleton. "It was our toughest game physically, I think the shots were 9-8 or something. It was just difficult to get to the net. But we won 2-1 and we're like, "Hey, we're going to the Gold Medal."
Blowout wins over Sweden (6-0) and Estonia (6-1) would follow, setting up a rematch with the ever-dangerous Norway squad.
Following the win over Norway is when the press covering the Games finally started paying attention to this upstart team. "It was after we won our third game that people started to take notice and say maybe there's something going on here," recalled St. Germaine.
"From that point on – A&E was following it, but they were just going to do like a 90-minute segment like a month after the Games were over – but after that win over Norway, that's when they came in the locker room and said 'Hey, we have got to do a story on you guys'.
"We did an interview – the whole team sitting there in our uniforms – and they asked the question because both the Men's and the Women's [Olympic] team had won Silver, 'Can you win Gold?'. That's when James Dunham piped up and said, 'The Men's team couldn't do it. The Women's team couldn't do it. We're going to do it'. That's a ballsy statement, now we've got to back it up," St. Germaine said with a laugh.
Simply Golden
Prior to the tournament, Team USA had no clue what the ultimate outcome of their efforts would be. Middleton recalls, "A week before [the Gold Medal game], we had no clue. We were just nervous and just hoping not to embarrass ourselves on our home soil. That opportunity [to host the Olympics] only comes around every 20 years or so, so you want to have a good showing, you know?
"Now we have a shot at the Gold Medal. In all those months of training, nobody thought we had a shot at Gold, I don't care who they were. We were hoping, but I don't think anyone realistically thought it was possible."
Not only did the US team have a good showing, they had a Golden one.
"We knew when we got into the dressing room after we beat Norway that we were going to the Gold Medal game," Middleton recalled. "There was no way we were going to let Sweden or Estonia beat us. We didn't know it would be 6-0 and 6-1 [in the wins, respectively], but we knew that there was no way either one of them was going to beat us."
On March 15, 2002, in front of a sold-out E Center – the crowd of 8,317 was the largest to witness a sled hockey game at the time – Middleton's men were set to face Norway for the first medal – never mind Gold Medal – in the history of US Sled Hockey.
For the first time all tournament, the US fell behind 1-0 early in the first period. "I wasn't really nervous, there was so much time remaining," said Middleton. "Joe Howard, who was my captain, scored two beautiful goals late in the first period, which put us up 2-1."
A second period goal by Matt Coppens made the score 3-1 for the US, but the Norwegians were not about to go down easily. A late goal in the second made the score 3-2 and it was at that time that Middleton knew his team was tiring.
"I could see the guys were tired, they were lying on their backs in the dressing room [following the second period]. It was hot in there and the pressure and everything. To start the third, we kind of got into a funk and Norway scored, I could see it coming."
The game would end in a 3-3 tie after regulation, and a 10-minute overtime period would be scoreless. However, a late penalty on a vicious hit by Norway's Tommy Rovelstad on Howard would land the mountainous defenseman in the penalty box and remove his lethal stick from the pending shootout.
The shootout started inauspiciously for team USA, as after only letting in three goals in the five games leading up to the Gold Medal contest, goalie Manny Guerra would be beaten on the first two attempts by the Norwegians in the shootout.
When he came to the bench following the second shootout strike – at that time in sled hockey the goalies didn't remain in the crease between shots – Middleton coyly asked, "Are you gonna stop one?" Guerra looked at him and said, "Yeah, yeah." To which his head coach replied, "Well, now would be a good time!"
However, the US squad was one for two in their tries, with Howard completing his hat trick on the Americans second attempt. And after two rounds, the score was 2-1 in favor of Norway.
Pretty top shelf goals by Chris Mann and veteran Kip St. Germain in team USA's third and fourth opportunities would put the US squad ahead 3-2 and send the E Center crowd into a frenzy. Having shot second in the shootout, Norway still had two chances to tie the game and prolong its outcome.
Nonetheless, amid chants of "USA! USA! USA!" reminiscent of another Cinderella Olympic hockey story from 22 years prior, Guerra shutdown the final two Norway shooters, sending him and his teammates into the history books.
Savoring victory and setting the bar
"The end of the game was a blur," recalls Howard. "I mean the shootout and everything,
never mind I took that big hit and bumped my head a little bit (laughing). It was crazy, if you watch the video you can see I was one of the last guys off the bench because I just couldn't believe it."
When asked about the impact that the Gold Medal winning team in '02 did for USA sled hockey, Howard said, "I definitely think that we set the bar when it comes to training and what is expected. I mean it used to be a party on the road, everyone would go out, it would just be a fun time.
"There would be times when guys got in trouble for what they did away from the rink," he recalls with a laugh. "I mean from where the sport was then and where it is now, its just amazing. The talent, the awareness…a lot more people know about now than they did back then."
St. Germaine, whose shootout goal would be the game winner, remembers what he felt heading as the two teams would decide the Gold Medal on breakaways. "I was excited going into the shootout. We had practiced them leading up to the Games.
"I used to have this game during training with [assistant coach] Tommy Moulton where we would do shooting drills. As I'd be skating down, I'd say, 'Tommy, where do you want me to put it?' and he'd be like 'high left side' or 'low right side'. So, before I went out for my shot, I said, 'Tommy, where do you want me to put it?', and he's like, 'Put it in the fucking net!', Kip recalled with a long laugh.
When asked about what the Gold winning team meant to what the US Sled Hockey program has become, St. Germaine – in true championship fashion – wanted to make sure that those before them were credited too.
"The '98 team – and even before that – was the foundation for all of us because those were the guys who were carving sticks, building sleds, and stuff like that. They were the ones that got us into the Games," he remembered. "The '02 team was special because we were able to win the first Gold Medal for the US, and we did it on home soil before family and friends. We kept Sled Hockey alive for this country."
Bringing it to the big screen
On the 16th anniversary of the first Gold Medal in US Sled Hockey history, Rick Middleton – in conjunction with Ten Digit Communications – is working to bring the story of this group of underdogs who won Gold to the big screen. Rick and his group currently have a team that is working on a script for the film and are in the process of securing funding to bring this breathtaking story to a theatre near you.
Those who are interested in contributing funds towards the project can do so at indiegogo.com/projects/tough-sledding-sports-usa#/ and clicking on the "back it" icon to donate.
"This is a great story, and that's why we want to make a movie about it," said Middleton. "Lots of people talk about the 1980's 'Miracle on Ice', which was great. But I like to think about our team as the 'Impossible Dream', and I think our story could be just as impactful."
Impactful indeed.
Follow on Twitter @KevinMFlanagan.com. Email at kflan@bostonsportsdesk.com.