"Tonight the Quest for Six Begins"
by Kristy Spinelli, BSD Correspondent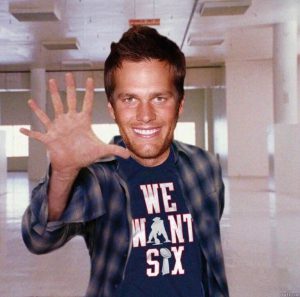 FOXBOROUGH, MA – The day is finally here and tonight the "Quest for Six" or referred to right after the Patriots won their 5th Super Bowl Championship, "Blitz for Six" begins.
Excited fans will soon be descending on Foxborough to attend the first game of the 2017 NFL season. You can be sure there will be a packed house of smiles as the fifth Super Bowl Championship banner will be unveiled…even more so because the NFL commissioner, Roger Goodell will be in attendance to watch die-hard fans cheer this Patriots team on to what is hoped for…the first win of the new season and one game closer to win SIX Super Bowl Championships!

Barstool Sports plans on handing out 70,000 towels today at Gillette featuring Goodell wearing a clown nose.  Patriot fans have been scooping up these towels all day and will have a chance to let Roger Goodell know that they are still upset with the leagues 4-game suspension of Brady last season.   Tonight's NFL's regular-season opener will be full of celebration but also planned "booing" directed at the commissioner.  There are actually bets placed on the length of time the booing lasts and another one with odds that he and Brady will shake hands before tonight's opener.  If Goodell thought he was annoyed before by Pats fans standing up against him and supporting Brady…wait till tonight.  Davio's, a restaurant adjacent to Gillette Stadium is also offering a new drink called the Dirty Goodell .
The New England Patriots host this first game at Gillette tonight against the Kansas City Chiefs.  Kickoff is at 8:30 p.m. EST.  If you aren't a lucky ticketholder, you can watch the game on NBC.
p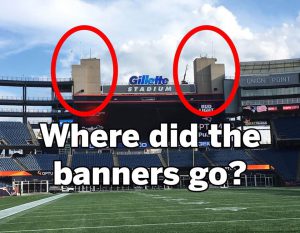 Patriots have a special pre-game ceremony planned to celebrate their Super Bowl LI championship and the start of the NFL's 2017 regular season. At this ceremony the fifth banner in 16 years will be revealed.  Officials are asking fans to be in their seats by 8:00 p.m., stadium opens at 6:00 p.m., parking lots at 3:30 p.m.
GO PATS!