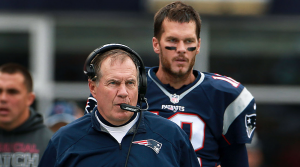 How much fun was that one?
That was great. It was a lot of fun. It was a great environment and a great team that we played that played really well. The weather conditions – it kind of rained the whole game. It was just one of those days where you go back and forth, you play right to the end and the ball bounces some weird ways. I'm glad it bounced our way today.
How has today's Steelers defense compared to ones in the past?
They are a good team. They were 11-2 to this point. I thought they were playing well all year and obviously it takes a lot to beat them. It's not like there was anyone who was running away with it. It was a tight game. We just made one more play than they did.
How were you able to get Gronk [Rob Gronkowski] so involved on that last drive?
He was doing it himself. I think they were trying to challenge us and he made a lot of good plays. Other guys make a lot of good plays too, but when he's open he gets it. It was just a great game by him. He played so, so great.
Did you feel that you were limited on your opportunities?
We didn't have many opportunities in the first half. We had three possessions. We started well but then threw the pick on the next one. It's not like we had a ton the entire game, but football is a crazy game. You just keep fighting and fight until the end. Our defense did a great job. They gave up a play, but then it got overturned. We came back and made a good tackle on the second down play, and then made a great play on the third down play.
Sharing the post-game celebration with his family.
They are pretty emotional, too. It's nice to have kids to share it with. They are up and down with you, so just to see their face kind of bring everything full circle. It's pretty special.
What did they do to take away Rob Gronkowski in the first half that they didn't in the second?
We only 18 plays in the first half – 13 passes, we hit ten of them. I don't know what Gronk had in the first half. We ended up throwing the ball more in the second half because we had the ball more. He just kept getting free. I thought he did a great job of separating and making the catches. I gave him some chances on one-on-one throws. He got the pass interference on the one. He's a tough matchup with his size and speed. He's a big part of our offense.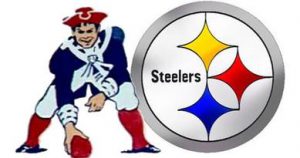 The 50-50 throws to Rob Gronkowski.
Yeah you have those. It's just risk-reward I think for the quarterback. Anytime with Gronk though, we've played so much football together. I have so much trust in him. It may look like it's 50-50, but it might be 95-5. You try to develop that chemistry over time, and Gronk's earned it. He played a hell of a game. I'm just really proud of him. That guy fights his ass off every day. I'm happy for him and happy for our team. Now we have to go take care of business at home.
Watching his defense at the end.
Even when we scored, I knew that we needed the two-point conversion, and that was big. Gronk made a great play on that, and then 55 seconds, that's still a lot of time. They hit the one big play and before you know it they are knocking on our end zone's door. He [Roethlisberger] made a really great throw, but they just couldn't come up with it. Then the great tackle on the crossing route. They tried to fake spike it on third down, but our guys were aware and made a great play.
Would you not be surprised if you see these guys again?
We have to take care of a lot of business ourselves. That's a long time down the road. We will keep fighting and keep battling. I'm proud of our team. We can play better than we did today but that's NFL football.