Q: After a slow start offensively, what turned things around in the second half?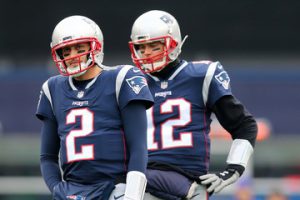 TB: Yeah, we played a lot better in the second half. We just couldn't get the drives going, and obviously it wasn't very good on third down and just got into a little tempo stuff in the second half and played a little bit better. So, it was a great win. Happy for our team and just a great, great game. So proud of all the guys, coaches, everyone. Amazing.
Q: Have you had a chance to see Danny Amendola's go-ahead touchdown catch? What did it take for him to make that play?
TB: Yeah, it was great. He's made so many big catches, and I saw he got the one foot in and I just saw it up on the big screen one time. He's got great hands and just a great sense about where he's at on the field. So, I mean, he's made so many big plays for us, and this was huge, and without that, we don't win. It was an incredible play.
Q: Did you have any conversation with Amendola throughout the game about his role today or looking for him?
TB: I'm always looking for him at some point. I mean, he's a big part of what we do, so he's never not part of what we're doing. He's a huge part of what we're doing always.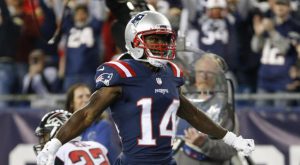 Q: How important was that first pass to Brandin Cooks early in the game for your confidence? Also, how important was your scoring drive at the end of the first half?
TB: That was good. Yeah, Brandin made a bunch of big plays today and he was huge for us. We've talked a lot and I have a lot of confidence and trust in him. He's an incredible player. And, that was big to get that one before the half. We needed that because we needed a spark and we needed to come into halftime with something to kind of get us going for the second half. That was a huge drive.
Q: When you knew Rob Gronkowski was ruled out for the game, what kind of adjustments did you and Josh McDaniels have to make to the game plan? Did you have to throw out a lot of what you worked on throughout the week?
TB: Yeah, Josh did such a great job of figuring out what we needed to do and how we needed to get it done, and he made it happen. So, it's hard when you lose such a critical part of your team and offense, and hopefully he's OK. It was a tough shot he took, and he's as tough as they come, so hopefully he feels better soon.
Q: What is the process this team goes through when you struggle to put things together early in the game, make adjustments as things progress and find a way to figure it out?
TB: Yeah, points are a product of playing really good football down after down. We finally could get the field on our side and get some field position, some short fields and turn the one score into two scores. That's why you play all four quarters, too. The game is never over after the halftime, and you've got to go to the end. There's some things that we're good at and other things we haven't been very good at. I think going a little faster in our tempo has been really good for us over the course of the season and we needed to make some plays there, we did, and the guys certainly at the receiver position and all the skill guys made a lot of great plays out there tonight.
Q: How would you describe the emotions of the week, starting with Wednesday when your practiced ended with the injury to the way this game ended today?
TB: Yeah, never had anything like it. Well, I've had a couple crazy injuries, but this was pretty crazy. They come up and you just deal with them, and I wasn't quite sure how I was going to do on Wednesday, Wednesday night, and then Thursday wasn't sure. And then Friday gained a little confidence and then Saturday was trying to figure out what we could do, and Sunday, try to come out here and make it happen. You know, we all put a lot out there. I mean, this was a little injury at the end of the day. It's certainly a big part of what a quarterback does. I mean, I've had a lot worse injuries than this, but if this was on my left hand, I could [not] care less, but just based on where it was, we had to deal with it.
Q: How much did the hand injury impact anything that you did out there today? Can you describe the wrap that you had on it? Also, did last year's Super Bowl comeback give the team confidence that you would be able to come back in this game?
TB: I think we always have confidence. We really do. I mean, whether it's the beginning of the game or toward the end, I mean, it's never really over till it's over with this team. You know, I was proud of the way we fought. It's a mentally tough team and we needed a lot of mental toughness today and we found a way to dig deep and get it done, even on offense without one of our very best players. It was a great win.
Q: How much did your hand impact you and can you describe the wrap?
TB: Yeah, I'd rather not do anything with my hand, but I couldn't get – that's kind of what I had to deal with. So, I just wrapped it up and tried to cover it up and see if [I could] go out there and play and be effective.