How satisfying was this win for you guys?
TB: It was a great win. Took everything we've got, so a lot of guys played hard, a lot of guys have been fighting through some stuff. So it's pretty special to get back to another AFC Championship Game.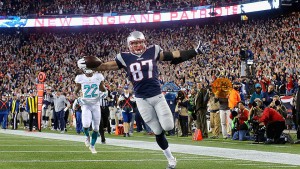 Q: How nice was it to have Rob Gronkowski and Julian Edelman back out there? It seemed like the offense gelled more.
TB: I thought we did a better job today than what we've been doing, but I think we can still do a lot better.
Q: Did you have a feeling of uncertainty coming into the game, or were you pretty confident?
TB: I thought we had a good plan. I thought we worked hard, studied this team, watched a lot of film, so I think the preparation was good. We had a good week of practice. I think we had plenty of plays out there that we left on the field, things that we can definitely do better, and I think we can be sharper next week. So that's what we're going to try to be. We're going to need it. Whoever we play, they're going to be a great team.
Q: How did you think Edelman played in this game?
TB: I think he's worked his tail off. He's always been one of the hardest workers, one of the hardest workers I've ever played with, one of the most determined young men that's on this team. And he's got as much heart as anybody. It's a serious injury to come back from, and to play the way that he did today was great. And all the receivers played great. Gronk played great. The backs played good. So it was a great team win.
Q: How does Gonkowski benefit your offense when you use him in space?
TB: I mean he's a tough matchup for everybody. He's got size and speed, so he's a tough match-up. He definitely made some big plays today. The touchdowns were big. It was a good defense. They were giving up 11 points a game in the last however many weeks, so we knew it was a challenge. They had a lot of good players, and I thought we just made a few more plays than they did.
Q: How important was it to set the tempo on the first drive?
TB: It was good to get off to a fast start. We talked about that, and you don't want to play this team from behind. And they hung in there. They're a very mentally tough team. They certainly don't quit out there. They play hard right to the end, and it took a lot to beat them. So like I said, it was a great win for our team.
Q: It's hard to win a single game in this league. What's it like to make it to the AFC Championship for the fifth-straight season?
TB: It's pretty cool. It's hard to do. You've got to grind throughout the entire year. There are only four teams playing next week, and we're one of them. And that game means a lot, so we've got to try to get as healthy as we can and see if we can put together our best game of the year.