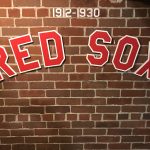 RED SOX NOTES (67-30)
THE RED SOX earned their ML-leading 67th win of the season in walk-off fashion, their 2nd walk-off win of 2018 (also Fenway's opener on 4/5 vs. TB).
· Is their 2nd win of the season after trailing entering the 9th inning (2-28).
· Is their 3rd walk-off win in 15 home games vs. the Blue Jays since last year's All-Star break (also 7/18/17 and 9/5/17).
· Have won 11 of their last 12 games…Improved to 39-16 (.709) in their last 55 games, including a 16-3 mark in their last 19.
· Have won 9 of their last 10 games at Fenway Park…Are tied with NYY for the best home record in the majors (33-13, .717).
· Are 7-1 in their last 8 games vs. the Blue Jays…Hold a 9-3 advantage in the season series.
· Improved to 31-13 (.705) vs. their divisional opponents this season, including a 17-5 record (.773) against AL East clubs at home.
· Have won 7 straight day games and 17 of their last 19…Own the ML's best winning percentage in day games this year (.821, 23-5).
· Their 67 wins are the most by any team ever before the All-Star break (previous: 65, 1969 Orioles).
· Are tied for their 2nd-most wins ever through 97 team games…Went 68-27-2 in 1946 and 67-30 in 1912.
· Marks the first time they have recorded 67 wins over any 97-game stretch since 1949.
· Are the 5th team in the Expansion Era (1961-pres.) to win as many as 67 of their first 97 games (last SEA in 2001)…Each of the previous 4 finished the regular season with over 100 wins, averaging 109.0.
· Are the 23rd team in MLB's Modern Era (1900-pres.) to win as many as 67 of their first 96 games…Of the previous 22, 20 went on to win their league's pennant (90.9%), and 13 (59.1%) won the World Series.
· Have hit 9 grand slams this season, their most since hitting 9 in 2013 and their 2nd-most ever through the end of July (10 in 2005).
XANDER BOGAERTS (2-for-5, 2 R, 2B, HR, 4 RBI) hit a walk-off grand slam in the 10th inning, his 4th career walk-off RBI (last 6/23/16 vs. CWS) and 1st career walk-off HR.
· Was the first walk-off grand slam by a Red Sox hitter since Rico Brogna on 8/14/00 vs. TB…The last Red Sox hitter with a walk-off grand slam in extra innings was Jim Rice on 7/4/84 vs. OAK.
· Was the 3rd walk-off grand slam in the majors this season (Jason Heyward on 6/6 vs. PHI, José Bautista on 7/6 vs. TB).
· Was Bogaerts' 4th career grand slam and 3rd of the season, tied for the 2nd-most in a single season by a Red Sox hitter…The last Red Sox hitter with 3+ grand slams in a single season was Mike Napoli in 2013 (3).
· The only other Sox hitters with 3 grand slams by the end of July were Babe Ruth in 1919, Dick Stuart in 1964, and Manny Ramirez in 2005.
· Has 18 RBI over his last 10 games, going 14-for-37 (.378) with 10 runs, 3 2B, 2 3B, 3 HR, and 9 BB…Has 62 RBI this season (4.94 AB/RBI).
· Was his 15th HR of the year in just 306 AB (20.40 AB/HR)…Has 43 XBH in just 78 games this year (2B, HR today) after tallying 48 XBH in 148 games in 2017.
· Is 5-for-8 (.625) with a 2B and 3 HR with the bases loaded this season…Is a career .338 hitter (23-for-68) in such situations.
JACKIE BRADLEY JR. (1-for-4, 2B, RBI) tied the game with an RBI double in the 9th inning…Has 2 RBI in his last 2 games, 4 in his last 5, and 8 in his last 9.
· Has 6 RBI in the 9th inning or later this season, including 3 this month (also 7/4 at WSH, 7/7 at KC).
· Was his 4th career game-tying or go-ahead RBI in the 9th inning or later, his first since 4/24/16 at HOU and his first career at Fenway Park.
· Is 7-for-21 (.333) with 4 2B and 4 RBI over his last 6 games…Is 19-for-59 (.322) with 10 R, 7 2B, 2 HR, and 14 RBI over his last 17.