I first met this powerful rock quartet about a year ago when they played alongside American Idol third place finalist Dalton Rapattoni, and I've been a die-hard fan ever since. There's just something undeniably electric about a band that is as slick and polished as these four guys are.
Chad Michael Jervis (vocals), William "Bill" Santana (bass), Charles Coleman (guitar), and Marc Polit (drums) met as students at Berklee College of Music, and quickly found that together, they could create groundbreaking music that bridged the gap between the classic rock greats of the past, and the alternative rock tropes of the present. Since 2014, they've been playing both local shows in Massachusetts, as well as gigs throughout all corners of the United States.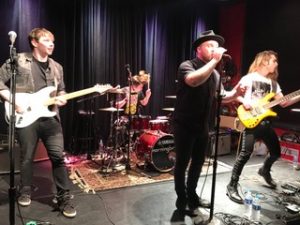 Though they aren't quite mainstream, the band has an impressive handful of accomplishments to its name, including five national tours, a Limelight award for "Best Band" in 2015, a "Best in MA" nomination in 2016, and two EPs on Spotify and iTunes. And internationally, they've toured Canada with Dave Days and the UK with Say We Can Fly.
The House On Cliff specializes in both original music as well as covers, which I am convinced speaks even more loudly about the depth of their prowess and the intelligence of their artistry. Being able to think up and produce new content, as well as being able to put their own spin on existing work by other artists is a skill that not every band possesses.
Their first self-titled EP released in 2014 featured four songs which all have a very connected, stylistic sound which acts as a common thread between both the signature vibe of the band, as well as the other pieces of the EP. The sonic elements of their music seems to rely primarily on heavy bass licks and intricately melodic guitar riffs (trust me when I tell you that Charles is an absolute machine), all punctuated by flawless drum fills and carried by strong vocals second to none.
Their second EP, Skin and Bones,was released in April of 2016, and brought with it five new masterpieces of artistry – with the standout track being "Stop The World" for me (but that may just be because of the way that the guitar solo in the song haunts my dreams in the best way). That being said, this entire EP has some hidden gems, including the feel-good message present in "Demon Days" which proclaims "everything you've worked so hard to achieve will be worth it when you're done." And for an indie band like The House On Cliff, they live that truth with an undeniable gusto – which only adds to the refreshing way they practice what they preach. After all, they truly are "just skin and bones", as the titular track of the EP proclaims.
In 2017 they released a single titled "Life Goes On" – an instantly addictive summer tune with a comforting vibe that is every bit as relaxing as it is rock 'n' roll.
My favorite of their covers is undoubtedly "Feel Good Inc" originally by The Gorillaz, mostly because of the way they changed it up significantly different than the original, more pop-friendly radio song. After injecting it with their own style, the song has undoubtedly become more hard rock centered, with an elevated tempo and electric energy that just isn't present in the original. Jumping from one genre to the next, the song emerged from their treatment completely transformed, and I find myself listening to it "All Over Again".
"Diamond Heart" by Lady Gaga is also a great tune, but The House on Cliff transformed it completely from the pop-techno style that Gaga is famous for to their own classic-rock infused style. Complete with heavy guitar and bass with a more centralized focus on a driving drumbeat, their version is far superior in my mind.
The cover song that they are likely the most proud of (as they should be) is their sensational version of "The House of the Rising Sun", a rock classic – which stood the test of time and was treated to the band's own specialized brand of expertise and impeccable taste. The video features the band on a rooftop at dusk, with the pink and purple rays of the setting sun coloring the landscape of their music as they softly launch into the generational tune. And then, as pre-chorus moves into the chorus, the delicious drag of the half-time feel collides with the haunting lyrics. The guitar solo during the bridge of the song thematically and sonically explodes in a shattered flourish, breaking the limits of what should be able to be played by the average human. And that is the magic that The House on Cliff creates for their listeners.
Regardless of these stellar accomplishments, the guys in this band are some of the nicest, down-to-Earth people I've ever met. Always up for a photo-op or a quick chat before or after their set, it's easy to see that they haven't let their talent (or the success they've seen) go to their heads. Their calm humility and relaxed mental states are so fascinating to witness, especially after seeing all the energy they expel on stage.
I got to chat with the guys a bit at their shows, and I just had to ask Charles what his secret was. "How the heck do you play guitar like that? I've been learning for like a decade and pretty sure I can't do that." He just smiled at me and said "Timing is everything." And in my own study of the instrument, I've really taken that to heart. All that they play is based in time, of course. And music, like every other aspect of life, is either imprisoned or strengthened by time (depending on how you look at it). Of course, there's still a heck of a lot of good old dexterity that I'm sure probably goes into it, but I appreciated the healthy perspective he has.
As of late, the guys have sadly split to pursue other projects – Marc is playing drums with the band blindspot, while Bill was managing the pop-punk boy band Single By Sunday. Chad is pursuing music in Nashville, while Charles continues to work on his undergraduate degree. Both Marc and Bill have teased a new band together, Widowmade, with a spider as the slick new logo. Keep an eye out for these boys – their futures are ridiculously bright.
Check out The House On Cliff on YouTube here: https://www.youtube.com/user/thehouseoncliff
Angelina Singer
BSD Correspondent / Self-Published Author
Instagram: @angelinasingerauthor
angelina320@icloud.com