As if one surprise album in 2020 wasn't enough, Taylor gave her fans yet another shock by announcing the release of her ninth studio album evermore on Thursday morning, December 10th. So close to the songstress's 31st birthday on December 13th, Taylor wanted to give her fans the gift of music, as she understood this time of year will undoubtedly be so hard for some of them.
"To put it plainly, we just couldn't stop writing songs. To try and put it more poetically, it feels like we were standing on the edge of the folkloric woods and had a choice: to turn and go back or to travel further into the forest of the music. We chose to wander deeper in…"

Taylor Swift, on her ninth studio album evermore
Having never continued an era into another album before, fans were delighted that she chose to continue this one. There had also been numerous theories on Twitter and Instagram that Taylor would be releasing a parallel album. Regardless, I'll be the first to admit I didn't actually believe it until it happened. evermore is everything that folklore is, but stronger, and more refined. The stories are sharper, and more intricate. It seems Taylor has found a surprising niche in the folksy-alternative world. It's dreamlike, and so calming. A great album to cry to, and delightfully clever in only the most pithy of ways.
In true Taylor Swift fashion, these songs are interwoven with themes and plots from folklore, which solidifies the sibling-relationship between the two bodies of work. To be properly digested, this album is begging to be breathed in and out, and lived in. Where Folklore was the cross-section of summer and fall, evermore is the deepest of winter. Headphones required, cozy cabin in snowy woods recommended (but not crucial) for the best listening experience. Below is my in-depth analysis of each component of the album.
1. willow
This is the lead single, and likely the only music video Swifties can expect from this era, due to ongoing complications from the pandemic. But Taylor squeezed in so much action and storytelling in this video and song. With a sprightly beat and gorgeous acoustic guitar leading the way through a field of stringed instruments, the story picks up where "Cardigan" left off. While "Cardigan" was an internal journey characterized by introspection and emotional coping, "Willow" is external, characterized by a more literal journey to a foreign fantasy land that is also somehow, so familiar. With references to her other songs, this video is filled to the brim with Easter Eggs. I did find the almost tribal, witch-dancing scene around the fire to be off-putting, and then I realized it was likely intended as a reference to "women like hunting witches too" in folklore's "mad woman" – which makes logical sense even if I don't feel it totally fits. The secondary part of a beautiful duology, "Willow" is a gorgeous opener to a thought-provoking album. Populated by intriguing lyrics like "More that you say, the less I know / wherever you stray, I'll follow", this song is an instant crowd-pleaser and fated for Instagram-caption greatness.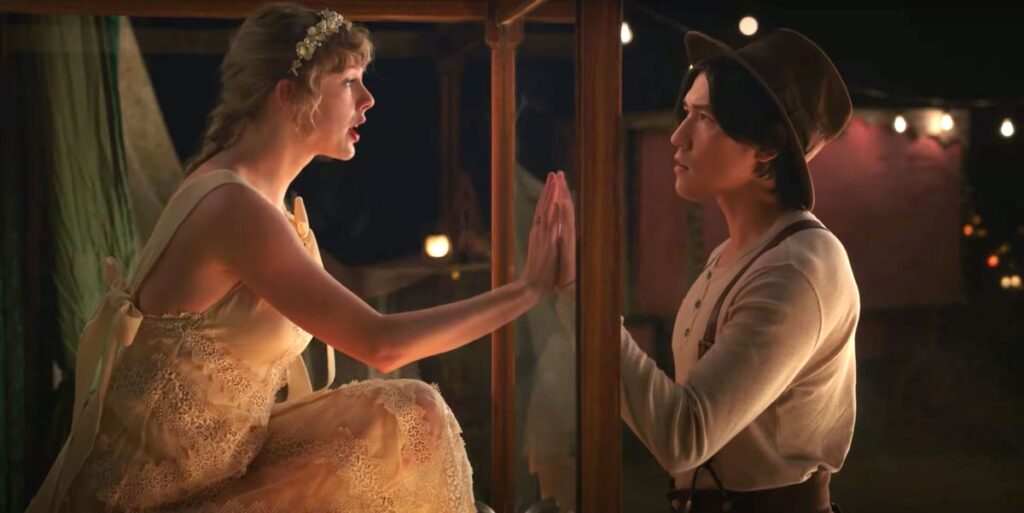 2. champagne problems
Only the second one on the album, but it's straight into the heartbreak. A fairly simple sonic mix consisting of mostly just piano, Swift's vocals stand out at center stage. The story is about a couple that breaks up right before they get engaged due to mental health complications. It's poignant, and real, and heartbreaking (but so is everything else Swift writes). The vocal harmonies are incredibly ethereal, and bounce off the string section in a heavenly orchestra. "One for the money, two for the show / I never was ready so I watched you go / sometimes you just don't know the answer / 'til someone's on their knees and asks you" is as poetic as it gets. I also love imagery like "your mom's ring in your pocket, her picture in your wallet" as they humanize the characters beyond just lyrics in a song.
3. gold rush
One of the more upbeat offerings on this album, this song is one of my favorites. It opens with choir-like vocal harmonies, then it moves straight into pop territory that could easily fit onto Swift's 2014 release 1989. There's also a familiar sonic build and flourish at the pre-choruses that feels a lot like that of "the lakes" from folklore. "What must it be like to grow up that beautiful / with your hair fallin' into place like dominoes" are some of my favorite lyrics, as it shows the speaker of this poem reflecting on their love interest and their own insecurities. That's something I personally relate to so much, and I'm sure that most Swifties do too. Bonus points for name-dropping folklore too.
4. 'tis the damn season
The official non-Christmas song of this album, Taylor takes listeners on a journey of cynicism and frustration. Pop beats bounce off ambient guitar arpeggios, as her vocals float above everything else. "We could call it even / you could call me babe for the weekend" is a line that sticks with me long after the song is over. That's Taylor's talent – writing choruses and melodies that stay put. No wonder her music has the most notable staying power, both on the charts and in the hearts of her fans. "The heart I know I'm breaking is my own" are probably my favorite lyrics on the whole album. And when I say favorite, I mean that I feel totally called-out by them, but it's such a pretty song so I don't actually mind at all.
5. tolerate it
Many of Taylor's songs have multiple ambiguous meanings. The songstress herself has suggested this was about embers of marriage gone cold, but fans have speculated that it's also partially about her relationship with her mother. Frankly, I'm not sure which reading makes more sense, but you be the judge. Another track heavily centered on piano, her vocals shine above her ingenious lyrics and the ambient string section. "Wait by the door like I'm just a kid / use my best colors for your portrait / lay the table with the fancy shit / and watch you tolerate it" are lyrics that seem to toe the line between both readings. So really, this song can mean almost anything you want it to mean, but the message of having loved and lost is the same, no matter how you slice it.
6. no body, no crime (feat: HAIM)
Ah, a murder mystery. And the plot thickens! A collaboration between Taylor and longtime friends the HAIM sisters (one of which got the distinct pleasure of having her name represented by the missing wife), it's an amusing jaunt from start to finish. With an underlying darkness brewing just underneath the almost laughable deviance of the lyrics punctuated by a bluesy harmonica, this song transports listeners right into the wild, wild west. It's the most country song on this album, and proves that Taylor never lost her chops in that genre. With a good measure of shocking wit and a plot twist that will make your jaw drop, this song is not one to skip. My only critique was that the HAIM guest vocals weren't easily discernible amidst Taylor's vocals. I would've liked to have heard more from them, but it's still a fantastic song. Bonus points for the ad-lib "she was with me, dude" in the bridge.
7. happiness
This one is so raw and stripped-down. Minimalist resonant organ tones begin the tune, allowing vocals to exist almost a cappella in the mix. Sonically, it almost reminded me of the Stranger Things soundtrack. "Tell me when did your winning smile begin to look like a smirk / when did all our lessons start to look weapons pointed at my deepest hurt" bring about some intelligent paradoxes between being in love and being in loathe. It's a paradoxical song full of longing and disgust, but there's a strong tone of rising above frustrations "when a good man hurts you and you know you hurt him too". I personally don't vibe at all with the use of "g-damn", but I respect her artistic license to write what she wants. There's still angst, and beautiful imagery in this song. Rhythmically, it's intricate, with some choppy percussion in the background that seems unfit with the rest of the song (similar to the one in "closure").
8. dorothea
The unofficial "betty" of this album, this song has been said to exist in the same universe as the fan-favorite off of folklore. Actually, more specifically, the character attends the same school as betty did. When Dorothea hits the big time and returns home, will they rekindle their love? Listen to this song to find out. My favorite elements of it might be the vocal articulations at the ends of certain lines, and especially when she sings the title. The rhyme scheme and accenting in "Skipping the prom just to piss off your mom and her pageant schemes / and damn Dorothea, we all wanna be ya" is delightfully childlike, and so richly situated in the complicated microcosm of high school, in contrast with the big, wide, world of Hollywood. Where "betty" is angry, "dorothea" is merely wistful.
9. coney island (feat: The National)
Intricate guitar riffs splatter around Swift's brisk query of "did I shatter you?" This one is incredibly raw, with gut-wrenching distancing and sadness. "It gets colder and colder when the sun goes down" feels like winter, and even more so when Matt Berninger joins in. Later on, it is revealed that he is speaking from the point of view of a ghost, while Taylor is the widowed lover. Per usual, the sumptuous string section brightens the sadness in a way that feels more wistful than melancholy, but also incredibly heartbreaking: "when I got into the accident / the sight that flashed before me was your face / but when I walked up to the podium I think that I forgot to say your name". It's a song of apologies, very much like "exile" from folklore. Tissues definitely recommended while listening.
10. ivy
"My house of stone / your ivy groves / and now I'm covered in you." This one is probably the "august" of folklore. It sounds mostly happy, but it's wistful and sad in its undertow. I do always feel struck by the use of swears in the chorus especially, as Taylor is a pro at crafting ear worms, but I respect her talent too much to hold that against the overall piece because it's lovely. The bridge in this song is especially gorgeous, with almost a chanted, child-like vocal rhythm: "clover blooms in the field / spring breaks loose, time is near / but what would he do if he found us out?" signals maybe an illicit affair (Folklore pun fully intended). The fiddle in this song brings us back to Taylor's country roots, and that feeling of homecoming permeates the entire song.
11. cowboy like me
"You asked me to dance / I said dancing is a dangerous game." This song is a foray into feelings of being jaded and frustrated with love. Marcus Mumford of Mumford and Sons appears alongside Taylor on this song, which is a fun Easter Egg that fans had to pick out from the album booklet. Taylor is known for adding in fun guest appearances, and this one is no exception. "Now you hang from my lips like the gardens of Babylon" are poetic lyrics that signal a sense of wrongdoing, but also a failure to adjust. After all, the theme of "cowboy like me" is that sense of brokenness, and the ironic acceptance of one another in that brokenness. A moody guitar solo lends well to rounding out this piece.
12. long story short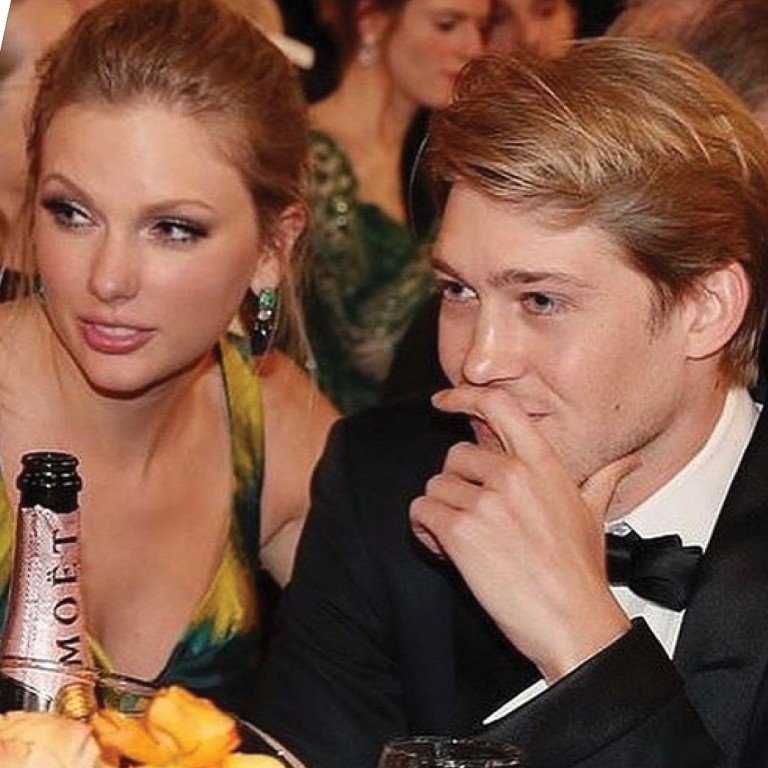 This is officially my favorite of the album, and it opens with tones encompassing two-thirds of a triad, leaving the listener subconsciously wishing to hear the rest (for all you fellow theory geeks out there). Being a writer, maybe I have a soft spot for the kitschy title. But more likely than not, it's the signature punchy beats brought to the table by longtime collaborator Jack Antonoff that has been characteristic of Taylor's pop tunes which speak to my soul to most. Fans are speculating that this song is an ode to her four-year relationship with boyfriend Joe Alwyn. "Faithfully I tried to pick my battles 'til the battles picked me" shows the struggles she may have been through re-adjusting to life in a relationship. I also love the subtlety of the string sections and the droning in this song. The cheerleader-y percussion makes me want to go on a jog or dance around my room. It's great to have a song with a happy ending on this album so densely populated by love stories gone wrong. "No more tug of war / I just know there's more." And at the very end, the song comes full circle with "long story short it was a bad time / long story short I survived" – a line sure to bring comfort to so many fans in a similar situation.
13. marjorie
An ode to her late grandmother (whose opera vocals are even featured on the track), this song is probably the saddest on the album in my opinion. Granted, this one hit me extra hard because I recently lost my grandfather this year. In this way, I really resonated with that feeling of keeping our loved ones alive in our memories. Her grandmother even reminds me of my grandfather, in the sense that they both shared clever bits of wisdom that could be right at home in a fortune cookie: "never be so polite you forget your power / never wield such power you forget to be polite", is a particularly potent piece of wisdom. The sharing of her memories with her grandmother is an especially heart-breaking realization of taking someone for granted. Her grandmother's own operatic vocal harmonies fit for a funeral are especially haunting behind the mix of the lyrics "if I didn't know better I'd think you were singing to me now."
14. closure
Upon my first listen, I really did not love the jarring digitized percussion. I even joked to my friend that I liked exactly half of this song. Rhythmically, it's also all over the place. But now I see, that's kind of the point. As a sonic representation of the tension and anxiety around needing closure, it functions similarly to the song "The Archer" as seen on her seventh studio album Lover (characterized by an implied beat that never quite drops). The vocals and clean piano chords are gorgeous here, and in some ways, it brings closure by almost drowning out the dissonant percussion. It's a really neat effect, overall.
15. evermore
Ending this album is another collaboration with Bon Iver, similarly to "exile" on folklore. "I was catching my breath / staring out an open window catching my death / and I couldn't be sure / I had a feeling so peculiar that this pain would be forevermore" really sums up the idea behind this song so nicely. Being the final piece on this album, it really had to be magnificent, and it is. Justin Vernon comes in at a higher register than he did for their previous collaboration, which in my opinion, mixes much better with Taylor's vocals. The rhythmic change of the piano at the entrance point of his solo is really telling, both of the storyline and of the call-and-response styles. Suddenly, Taylor seems to be the one who is lost. They're both singing at each other, but not really connecting. Then at the very end, she amends her feeling to admit that "this pain wouldn't be forevermore" after all. I love that thematic progression, and how encouraging it is to know that sometimes all it takes to start the healing process, is to just hash things out, once and for all.
It was largely impossible not to compare this album to folklore in just about every way possible, but I'm not sure that was necessarily a bad thing. In fact, I'd argue that was the best thing about it. How often do listeners get to see a concept develop over two different album cycles? That opportunity is increasingly rare in today's world of instant gratification and short attention spans. But Taylor gifted us with the opportunity to hear her ideas spin and grow into something bigger than even the songs themselves. Together, folklore and evermore are two volumes of the same anthology – all we have to do to get there, is open the book.
Angelina Singer
Instagram @angelinasingerauthor
Twitter @asinger320
angelina320@icloud.com