"I promise that you'll never find another like me."
Unless you live under a rock somewhere, you've probably noticed the infamous pastel countdown billboards steadily ticking down to midnight on April 26th all around the world, which was last night. And no, it wasn't another apocalyptic doomsday conspiracy – it was Taylor Swift, because that was the moment she was going to drop her first single – and the Swift mastermind did not disappoint. This time, her characteristically stick-in-your-head beats were accompanied by the soulful vibrato by Panic! at the Disco frontman Brendon Urie – a unique collaboration given their different musical styles and demographics, but it really shocked fans of both artists in the best way. Despite her commissioning a large butterfly mural to be painted on a prominent building in Nashville rumored to be ridden with album hints, this whole concept was a lovely surprise for even the most super-sleuth fans.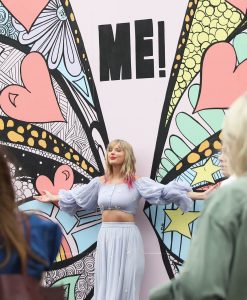 Brendon's full-bodied soprano vocals mix with Taylor's bright voice in a great amalgamation to fit this joyful new anthem about appreciating yourself just the way you are. Marching-band drum beats meet trumpets in this pop anthem with echoing vocals and plenty of dynamics. Verse 1 is minimalistic as the choruses explode in a full band of brass instruments practically imploding in rainbow sparkles and butterflies (which, is coincidentally, the aesthetic for this new era, just as Karyn the cobra snake was the aesthetic for the recently-ended Reputation era). Notice the snake that turns into butterflies at the beginning of the video – a very smart bridge to the next concept that Taylor has dreamt up. And the best thing about this video, is that it feels to be straight out of a Tim Burton-esque Edward Scissor hands spin-off (likely because of the matching outfits and buildings in all pastel hues, mixed with the Dr. Suess-like visuals of melting dresses and an ornate rooftop shaped like a unicorn head. I promise I'm not making this up – just watch it for yourself HERE: https://www.youtube.com/watch?v=FuXNumBwDOM).
Another unexpected surprise of this new single was that it came with a very aesthetically-pleasing video as well – lots of colors and quirky animations make it feel almost like a mini rom-com, with bright colors and matching outfits all moving in synch. It's unclear why the opening lines are presented in French, but I will admit it really does serve to class it up a bit. Extra props for the wall of "cool chicks" – as in, literal baby chickens wearing sunglasses. Yup. Of course.
Overall, I am beyond psyched for this next Taylor Swift album. It's going to be quite a departure from the angsty soulful vibes from Reputation, but of course the old Taylor couldn't stay dead forever, right?
Angelina Singer
Boston Sports Desk Correspondent
Kindle Direct Publishing Author
angelina320@icloud.com