By Kevin Flanagan
BSD Bruins Senior Staff Writer
Following the 3-2 victory on Thursday night at TD Garden against the struggling Buffalo Sabres – a game the home team had no business winning – the buzz around the Bruins has been focused almost exclusively around their resident lightning rod, goaltender Tuukka Rask.
And it should be.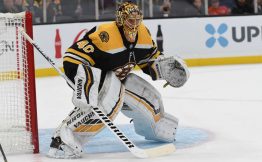 By Kevin Flanagan BSD Bruins Senior Staff Writer The second President of the United States John Adams once famously said that "facts are stubborn things".  The 19th-century writer and humorist Mark Twain also opined, "There are three kinds of lies: lies, damned lies, and statistics." When it comes to Bruins goaltender Tuukka Rask the truth is that his legacy lies somewhere in the middle of the wisdom offered long...
Read more
By Jordan Moore
BSD CORRESPONDENT
BOSTON-
On Tuesday afternoon
, the Bruins held their annual media day at Warrior Ice Arena. Looking to avenge their Stanley Cup finals loss, Boston looks to turn the page on the new 2019-20 season.
"Obviously, with what happened, I don't think we'll ever get over that, but I think we're excited about this season and what it's going to bring. We...
Read more