From the moment the Stranger-Things-esque piano chords hit the speakers, and the guitars hit with the drum kit into an explosive frenzy, I knew the Fandom Tour was going to be something truly special. "Cherry Red" was the opener for both the album and the tour, which offered a really unique thematic element linking the two bodies of work together.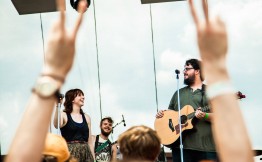 By Emily Broe
BSD Concert Reporter
The Oh Hellos, Family and Friends, and Cereus Bright filled Paradise Rock Club last week with the harmonious sounds of drums, guitars (not so odd, I know), banjos, the viola, tambourines (way cooler!!), and so many more. I think one of the best ways to be introduced to a band is with a live performance. For that very reason,...
Read more
By Emily Broe
BSD Concert Reporter
Ryn Weaver, along with ASTR and HOLYCHILD, graced the Paradise Rock Club in Boston last night for one amazing performance. The Misfit Toys Tour, named after the Island of Misfit Toys in Rudolph, was a perfect fit in my Tuesday night. [caption id="attachment_26462" align="alignleft" width="300"]
Run Weaver performed in Boston[/caption] I...
Read more
By Emily Broe BSD Music Correspondent Rozzi Crane and Owl City put on one amazing show on Monday night at Paradise Rock Club in Boston. I hate to say it, but my excitement was higher than my expectations when I walked in that night. Mostly, I wanted to go to this show because it fulfilled one of my long overdue 9th grade dreams.
Read more