BOSTON BRUINS HEAD COACH BRUCE CASSIDY
On Patrice Bergeron… He looked good this morning. He was fine pregame skate, so I anticipate he'll play, but we will make that decision after warm-up, but it is looking good.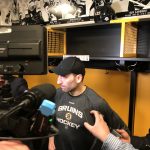 On playing in an elimination game… Well if they watched games last night, which we did address, we try to stick to...
Read more