Back at the musical grind as a newly-minted duo, Janick Thibault and Jonathan Landry wrote this techno-pop anthem highlighting the things that make everyone unique – especially when it doesn't fit the norm. Laced with clever lyrics and retro beats straight out of the 80s, this is a song destined to comfort anyone who deviates from typical expectations.
"I can't be myself / But I don't wanna fake / and try to be like you I'll be someone else / So you don't have to face the things I'd say and do" is a punchy chorus filled with relatable truths. After all, everyone feels like they don't belong, at least sometimes. And this new era of Story Untold seems to be directly addressing these concerns with this catchy and strikingly articulate new song.
Sonically, it reminds me a lot of the band Waterparks, since they're the front-leading techno band in the alternative scene these days, but with this new single, Story Untold appears to be giving them a run for their money. It's dynamically a bit simplistic, but that's not necessarily a bad thing! I enjoy the subtle vocal effects and backing layers that create an overall immersive experience for the listener. Although no longer centralized on electric guitars and face-melting solos like the Story Untold of days past, this new song and style really suits them well, and I can't wait to hear what they create next.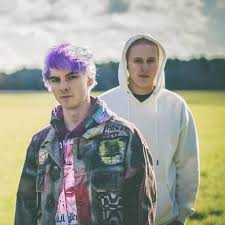 I also enjoyed the minimalistic but thoughtful video of Janick and Jonathan writing the lyrics on blank walls behind them, while wearing plain white outfits. It's a thematic representation of feeling like conformity is the only option – until it's not. It takes bravery and guts to love yourself the way you are, and to embrace unique styles (something Janick knows all too well, since his hair color seems to change as frequently as the weather in Massachusetts).
I'm so proud of these guys for continuing to forge their own way in the alternative music world, handling drama and critics with ease (as everyone in the music industry has to). After all, nobody's perfect – but the message of this song pretty much is.
You can stream the new song "Fake For You" on all streaming platforms, and watch the new music video HERE.
Angelina Singer
Instagram / Facebook @angelinasingerauthor
Twitter @asinger320
angelina320@icloud.com