Everyone's favorite punk rock Aussies are back in 2020 with a new album all about addressing tough issues without fear. As a clear departure from their previous full length release Skinny Dipping in 2018, Pink Elephant takes those same sonic themes but builds on them with more nuances and a broader range of styles running the gamut from pop, rock, and even hints of techno and R&B (more on that later).
Stand Atlantic is fronted by energetic and dynamic vocalist / rhythm guitarist Bonnie Fraser, and backed by guitarist David Potter, bassist Miki Rich, and drummer Jonno Panichi. Together, they weave together sonically rich landscapes outlining the weird, real, bizarre, and the honest kinds of emotions that most people experience but can't fully articulate. I was so thrilled to hear them experimenting with new sounds in this new album, and so I figured the Boston Sports Desk audience might appreciate a deep dive into the surreal and neon world of Pink Elephant.
#1: Like That
Opening the album is my current personal favorite (anticlimactic, I know). A slow fade-in greets listeners before jumping into a chugging guitar that's right in your face like a one-two punch. "Heavy dose comatose, can't seem to find the words / and it's just like that" are super poetic and lyrical, shedding light on just typical day-to-day awkwardness. The mix on this song (and heck, this whole album) is so smooth and enjoyable to listen to. My favorite might be the subtle guitar licks weaving in and out of the vocal melody in this piece, creating a sick counterpoint harmony against Bonnie's strong vocals. The dynamic shifts between parts of this song are also well-rounded, making it a tune that will be sure to get totally stuck in your head within seconds.
#2: Shh!
This one is a heavier song on the album, and is ironically very loud. With space-y chords filling out the verses, the chorus takes off quick, with a more layered mix that comes off slightly muddy, but still intense and energetic, especially matched with Bonnie's finely-tuned scream-sung vocals. "Spinnin' out of your focus I'm delirious / waiting to be new again / Maybe my weak fingertips are better off burnin' bridges" are especially clever lyrics, and it brings to the forefront that more difficult realities that some relationships, although good at the time, just aren't worth saving. Not my favorite on the album, but still a really intriguing song.
#3: Blurry
With a video immediately cognizant of Pierce the Veil's "Circles" video of getting stuck in a weird hotel run by a rather unsettling manager, this song takes a dark turn. But it's still glaringly honest: "So you like to hurt me / Could you cut me dirty? / Cause I need surgery to keep me blurry" referring to the way even people we care about can hurt us, and make it hard for us to see our current reality for what it is. I really enjoyed the darker concept video for this, which is a continuation from that of the next track "Jurassic Park" featuring a much brighter and quirky video. Opening with electrified chordal hits that are very 80s-inspired, the more punk chugging guitar behind it keeps things moving in the angsty genre that best fits this band.
Watch this darker video HERE.
#4: Jurassic Park
Starting in immediately with some kind of tropical marimba or something, this song is instantly a sprightly tune with the heavier guitars not coming in fully until the chorus. With the video part one of "Blurry" discussed above, it's an interesting creative decision to present these songs in reverse chronologically, but it definitely contributes to the upside-down and wacky world that the band has us immersed into. I absolutely love the harmonizing guitars in the bridge section – a really cool moment bringing a good level of summation to the song. The chorus of this song is possibly one of the most bizarre: "We're dressing skeletons / Like a funeral home wrapped in your basement below / Dancing with ghosts in your garden / And I'll never know who you do it for / Lost dinosaur". This could refer to the way society and other social pressures cause people to act a certain way, trying to hide their true selves from the world.
Watch the colorful video HERE.
#5: Eviligo
With those tropical marimba-tones again, and a dub-step percussion starting this songs amidst Bonnie's clear vocals, I immediately got tones of different genres, with – dare I say – almost a doo-wop feel. That is, until the chorus comes in with their true pop punk style at full throttle. Then it wavers again into something new for verse two, that is almost nursery-rhyme cognizant? Still figuring that part out. I also have absolutely no idea what this title means, because it's not actually a real word. Feel free to listen and make your best bet. Anyway there's a really dope guitar solo with some amazing major-scale climb harmonies that are really dynamic and brings some clarity to probably the most ambiguous song on this record. Honorable mention also goes to the alternate guitar melody in the outro which brings the listener somewhere totally new and unexpected.
#6: Wavelength
This song came out quite a while before the album, so it's already been in my ears for a while – but it's really great. With a techno-beat melody, it's probably the most cognizant of fellow alt pop band Waterparks (who also made a brief cameo in the music video for this song as well, oddly enough). Bonnie's vocals are distorted and altered here, creating a different sonic effect that weaves in and out of the established sonic norm. This song is about as high-octane as you can get, totally made for moshing and energetic crowd participation. "I'm tripping on your wavelength / better than a way out of this / Wanna slip under your radar, un-scarred / to see you reap what you have sewn" is a really powerful line that shows the emotional depth and growth carried by this band as they continue to produce bop after bop (as the kids say these days). It ends sharply with hard guitar hits that leaves the listener feeling energized and ready to take on the world.
#7: Drink to Drown
A drastic departure from the rest of the album, this song is a soft, heartfelt ballad depicting how difficult living through addiction can be – especially while supporting others around you who may need help but don't know how to ask for it. "And I should know better but I don't so / I drink to drown" are glaringly real and honest lyrics that show how messy life can be. Living up to the album title of handling the Pink Elephant in the room, Stand Atlantic tackles struggles and pain with gorgeous airy piano chords and stunning vocals layered over the mix with just enough grit to make it real. Toward the end, different lyrics are layered over each other in a round style, which is a beautiful way to word-paint the conflicting emotions and wavering responsibilities that crop up in the real world of mental health wellness and the struggles that come with them. Major props to the band for handling this sensitive subject with finesse.
#8: DWYW
An acronym for "Do What You Want", this techno-pop track opens with tracked vocals layered in close harmonies. Then it jumps into the verse and pre-chorus with layered rhythms and guitar licks behind everything, that smoothly moves to the chorus. Another contender for being my favorite on the album, especially because of the well-written articulations of the lead guitar parts played up against the techno effects surrounding it and enveloping the lead vocals. "Take me from your silver tongue / do what you want" shows how it can be tempting to idolize a person to the point where you can no longer tell where they begin and you end. It's a dangerous game – loving someone – but the trick is, to never lose yourself in the process. The song ends the way it began with those stacked vocals, which is delightfully symmetrical to hear.
#9: Silk & Satin
Yes, okay – this is the R&B track I alluded to earlier. The drone-like tones mixed with rhythmic snapping and random water droplet effects create this feeling, as well as the light guitar riffs way in the back of the mix. I've noticed that R&B as a genre seems to bring the percussive elements to the forefront, while chords and lead guitars fade to the background as more of an afterthought. So I applaud the band for trying something completely sonically new here. Especially with her screams toward the end of the song? Wild stuff. Take a listen for yourself, and compare that to their other songs. It's like a night and day difference, and yet it somehow still totally fits.
#10: Soap
This one is a straight pop-punk track, nothing crazy here. But it's super bubbly (no pun intended). I loved how it mentions the album title slyly ("Foreign in my own head / I wanna forget the place I'm in / You gotta pull me out / pink elephant") depicting the battle that so often happens in your mind. With slick guitar licks still present in the background, this song is undeniably Stand Atlantic. There's nothing different going on here, but given how diverse the rest of the album is, I think it's helpful to have something more cannon toward the end of the record especially to reassert who the band is stylistically after a sonic journey. I also couldn't help but think of the As It Is song of the same title (but that's the only reason – they're totally different in every other possible way, with the As It is song being sonically a lot darker).
#11: Hate Me (Sometimes)
This was the lead single for the new album era, which I found to be an interesting choice to be the closer (since for fans, it was the first taste, if that makes sense). But it's glittering and real: "I don't need your help / you should probably save yourself", showing the conflicting emotions of trying to understand people in the midst of their pain and make things better without upsetting them in an unstable emotional state. The music video is a gorgeous pink-and-green display of angst and calm, mixing and swirling together into a bubbly new brew. Sonically, it's undeniably their typical style until the surprising almost acoustic breakdown at the very end. It's immediately more intimate and personalized to the listener, as if Bonnie is directly singing to them. Her vocals shine with nothing but the clean electric guitar backing them. Overall, this moment is a breath of fresh air and clarity after a whirlwind album.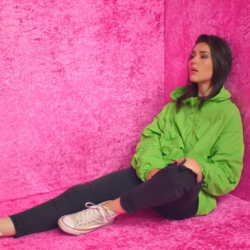 A wonderful foray into the difficult and confusing realm of mental health struggles and coming to terms with internal dissonance, this album by Stand Atlantic hits all the right notes with impressive accuracy and articulate sensitivity. After all, at the end of the day, everyone just wants to feel heard. These lyrics really showcase that need and address it with open arms.
Angelina Singer
angelina320@icloud.com
Instagram / Facebook @angelinasingerauthor
Twitter @asinger320