As time passes, trends and music change – but pop punk seems to be what remains even in the midst of stylistic upheaval. Sporting Band is a great example of this, bringing bright sounds and gritty harmonies to the forefront amidst emotional lyrics. Sharing their newest bassist – Anthony Hefler – with fellow pop punk band Never Coming Home, the guys in Sporting are pros at writing melodies and ideas that listeners can easily relate to. I loved their emotional releases "The Words That'll Make Me Change" and "Tongue Tied" (2019 and 2020 respectively). Drummer Robbie Desousa, lead guitarist Ben NeJame, and vocalist / rhythm guitarist Jake Harris joined forces to bring these clever songs to your headphones.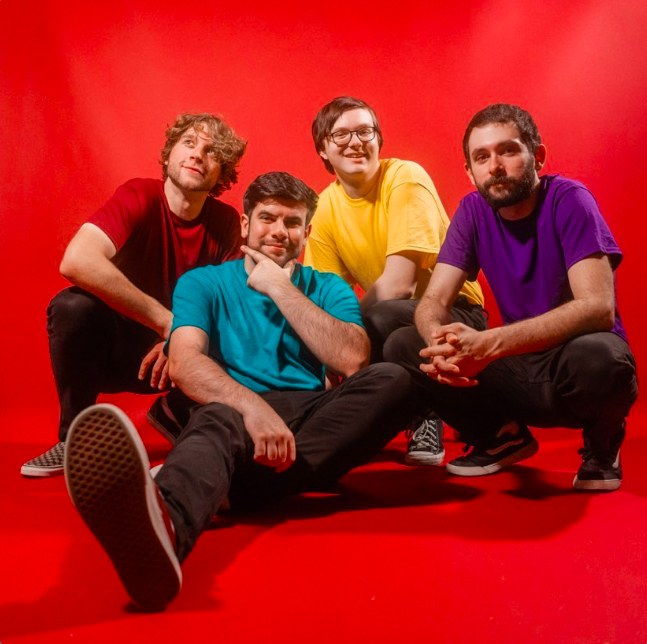 This newest release is populated with loud guitars, electrifying harmonies, and insightful lyrics in the mix. I also loved the design of the music video set, which instantly reminded me of a similar pop punk band's balloon-laden 2017 release ("Crazy" by the band MAKEOUT). The color-blocked moments between each member offered fans the chance to perceive each musician as a unique part of a whole – a unique approach to the communal functionality of a band. And each of these guys is so confident in what they do!
"Carry on, carry on without me" are only a few of the relatable lyrics of this song, depicting the acceptance of a relationship going south. "I guess I'm not so confident this time / all I need is to look into your mind" really hit hard when thinking about the internal conflict of navigating love and dating. But at the end, the speaker of the song moves on, even amidst the memories (as referenced through the cheeky references to childhood toys in the video). I love the way pop punk today still has the same energy of the 2000s, but it's elevated somehow. New listeners will have grown up on it just like their millennial counterparts, and bands like Sporting will undeniably be amidst the forerunners of the new pop punk wave.

Get on it before you miss out, and watch the newest Sporting video HERE.
Angelina Singer
@angelinasingerauthor
angelinasinger.com
angelina320@icloud.com