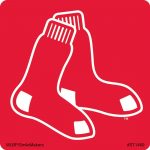 STATE OF THE SOX: The Red Sox lead the majors in wins (84), win percentage (.706), and run differential (+210).
>>> The Sox' 84 wins are their most ever through 119 games (previous: 82-35-2 in 1946, 82-36-1 in 1912).
>>> The Sox are 9-0-2 in their last 11 series…They are 28-6 (.824) in their last 34 games, including 13-2 (.867) in their last 15, and 9-1 (.900) in their last 10.
>>> The Sox lead NYY by 9.5 games in the AL East, tied for their largest lead of 2018…They have not held a lead of as many as 10.0 games since 2007 (+11.5).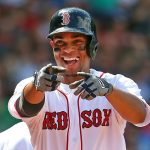 ON THE OFFENSIVE: The Red Sox are averaging 8.3 runs per game in August (10 G, 83 R).
>>> The Sox have scored 655 runs, 54 more than any other team (NYY-601)…They also lead MLB in runs per game (5.50), AVG (.270), SLG (.465), OPS (.805), doubles (264), and XBH (454)…They lead the AL in OBP (.340).
>>> The Sox have homered in each of their last 10 games (21 HR total)…They rank 2nd in MLB with 165 HR, only 3 shy of their 2017 total (168; fewest in the AL).
 M-V-P!: According to FanGraphs, Mookie Betts leads the majors in WAR (7.8)…He also leads the majors in AVG (.351), SLG (.669), OPS (1.108), and runs per game (1.00)…He ranks T-1st in runs (99) and 2nd in OBP (.439).
>>> Betts has scored 99 runs, after scoring 122 in 2016 and 101 in 2017…With 1 more run, he would join Ted Williams as the only Red Sox ever to record three 100-run seasons before turning 26 years old.
 J.D. POWER: J.D. Martinez hit his 36th and 37th homers of the season last night…He leads the majors in HR, RBI (104), XBH (tied, 69), and total bases (287)…He also leads the AL in hits (143) and ranks among MLB leaders in AVG (2nd, .332), OBP (5th, .400), SLG (2nd, .666), and OPS (3rd, 1.066).
>>> Martinez has 8 HR in his last 17 games…He has 9 HR vs. BAL in 2018, tied for the 2nd-most ever by a player against the O's in a season (Aaron Judge, 11 in 2017).
CY OF RELIEF: In his last 6 starts, Chris Sale is 5-0 with a 0.23 ERA (39.0 IP, 1 R, 67 SO, 6 BB)…Since earned runs became an official stat in 1913, that is the 2nd-lowest ERA for a Red Sox pitcher over any 6-start span in a single season, trailing only Babe Ruth's 0.16 mark in 1916 (source: Elias).
>>> Sale leads MLB in SO/9.0 IP (13.21), WHIP (0.87), opponent AVG (.179), and opponent OPS (.530)…He also leads the AL in ERA (2.04, 2nd in MLB).
>>> Sale has allowed 0 HR in his last 63.0 IP, MLB's 2nd-longest streak of 2018 (Brad Keller-63.1).