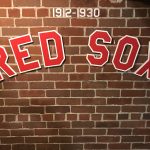 STATE OF THE SOX: The Red Sox lead MLB with 63 wins and own the majors' highest winning percentage (.685).
>>> The Sox are 35-15 (.700) in their last 50 games, including 12-2 in their last 14, and 14-3 in their last 17.
>>> The Red Sox lead the Yankees by 2.5 games in the AL East, their largest lead since being 3.0 games ahead at the end of play on 4/30.
SEVEN, SEVEN, SEVEN: The Red Sox have won their last 7 games, the majors' longest active win streak…It is their MLB-leading 3rd win streak of 7+ games this season, after they had 1 in 2017 and 1 in 2016.
>>> Prior to 2018, the last time the Sox had as many as 3 win streaks of 7+ games in a season was 1990 (also 3).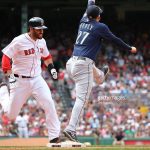 IN GOOD COMPANY: This is only the 3rd time in the Red Sox' 118-year history they have won as many as 63 of their first 92 games, having also done so in 1946 (65-25-2) and 1912 (63-29).
>>> The Sox are the 10th team in the Expansion Era (1961-pres.) to win 63+ of their first 92 games…Each of the previous 9 went on to win 100+ games, and 7 of the 9 played in the World Series.
J.D. POWER: J.D. Martinez leads MLB with 28 HR…He has homered in 27 games, 2nd-most ever by a Red Sox hitter through 92 team games…David Ortiz hit at least 1 HR in 29 of the club's first 92 games in 2006.
>>> The Sox are 24-3 (.889) when Martinez homers.
>>> Martinez also leads the majors in RBI (77) and total bases (217) and ranks among leaders in AVG (3rd, .331), SLG (2nd, .654), OPS (3rd, 1.047), hits (T-4th, 110), XBH (T-3rd, 50), and runs (T-5th, 66).
>>> Martinez has 15 HR in his last 25 games at Fenway Park…He has reached base in each of his last 33 home games since 4/13.