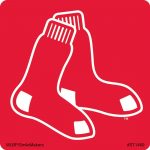 STATE OF THE SOX: The Red Sox lead the majors with 87 wins, 11 more than any other team…They also lead MLB in win percentage (.707) and run differential (+215).
>>> The Sox' 87 wins are their most ever through 123 games (previous: 84 in 1912 and 1946).
>>> The Red Sox have won 6 of their last 7 games…They are 57-21 (.731) in 78 games since 5/19, including 31-7 (.816) in their last 38, 16-3 (.842) in their last 19, and 12-2 (.857) in their last 14.
>>> The Red Sox lead the Yankees by a season-high 10.5 games, their largest lead since the 2007 club was as many as 11.5 games ahead in the AL East.
CHASING HISTORY: At 87-36, the Red Sox would need to go 19-20 (.487) or better in their final 39 games to break the franchise's single-season wins record of 105, which was set during Fenway Park's inaugural season (1912).
>>> The Red Sox are 1 of only 14 teams since 1900 to win 87+ of their first 123 games…6 of the previous 13 won the World Series.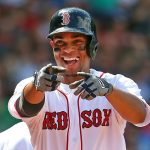 X FACTOR: Xander Bogaerts hit 2 doubles and a triple last night…In 33 games since 7/3, he has hit .299 with a .400 OBP and a .581 SLG (35-for-117, 20 XBH).
>>> Bogaerts leads MLB in SLG with runners in scoring position (.786)…Since 7/3, 10 of his 12 hits with RISP have gone for extra bases (12-for-30, 3 2B, 3 3B, 4 HR).
>>> Among ML shortstops, Bogaerts ranks 2nd in doubles (35), 4th in OPS (.873), and 4th in RBI (74)…He has already matched his career high in doubles.
GOOD, BETTER, BETTS: Mookie Betts scored his 100th run of 2018 last night, after scoring 101 runs in 2017 and 122 in 2016…Ted Williams is the only other Red Sox ever to record three 100-run seasons before turning 26 years old.
>>> Betts leads MLB in AVG (.350), SLG (.665), and OPS (1.102)…He ranks 2nd in runs (100) and OBP (.437) and is 4th in XBH (68)…He is 24-for-27 in SB attempts and has 11 defensive runs saved (source: FanGraphs).
>>> Betts has hit safely in each of his last 11 games (.429/18-for-42, 11 XBH)…He is the only major leaguer in 2018 to hit for the cycle (8/9 at TOR), as well as the only player with multiple 3-HR games (4/17 at LAA, 5/2 vs. KC).