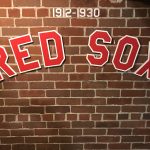 RED SOX NOTES (66-30)

THE RED SOX suffered their 30th loss of the season…Snapped a 10-game winning streak, their longest of the season and the 2nd-longest in the majors this year (HOU-12).
· Was their longest winning streak since 9/15-25/16 (11) and their 5th winning streak of 10+ games in the last 20 seasons (also 10 in 2004, 12 in 2006, 11 in 2009).
· Fell to 38-16 (.704) in their last 54 games, including a 15-3 mark in their last 18.
· Snapped an 8-game winning streak at Fenway, their longest home winning streak since 7/5-24/11 (9).
· Also ended a 6-game winning streak vs. TOR, their longest winning streak vs. the club since 8/18-30/09 (6)…Hold an 8-3 advantage in the season series.
· Lost for just the 5th time this season in 48 games when scoring the game's first run (43-5).
· Fell to 49-8 in a ML-best 57 games with 5+ runs…Have lost just 2 of their last 31 such games.
· Had won their last 23 games with 7+ runs scored, and 81 of their last 83.
· Scored 5 runs while batting around in the 2nd inning, their second 5-run inning in as many games, 3rd in their last 4 games, and 5th this month…Have scored 5+ runs in 17 different innings this season after recording just 9 such innings in the first half last season.
· Allowed a season-high 13 runs, their most since 8/25/17 vs. BAL (16)…Surrendered 3 HR for the 11th time this season (4-7).
· The last time the Sox lost a game in which their opponent committed 4+ errors was on 6/10/10 at CLE…Their last such loss at home was on 4/30/95 vs. CWS.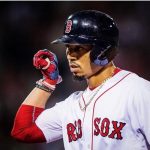 MOOKIE BETTS (3-for-4, 2 R, 2 3B, 2 RBI, BB) tripled to lead off the game and again in the following inning…His 2nd triple drove in 2 to give the Red Sox a 4-3 lead.
· Added a walk and a single, reaching base 4 times for the 9th game this year (T-2nd in MLB)…Was his 10th game this season with 3+ hits.
· Marks the first multi-3B game by a Red Sox hitter in over a year (Xander Bogaerts, 2 on 5/17/17 at STL)…Was Betts' 2nd career game with 2 3B (4/22/16 at HOU).
· The last Red Sox hitter to triple in each of his first 2 AB of a game was David Ortiz on 7/22/04 (G1) vs. BAL…The last major leaguer to triple in each of the first 2 innings of a game was Dexter Fowler on 4/11/15 with CHC at COL.
· Leads MLB with a .357 AVG, .697 SLG, and 1.142 OPS…The only Red Sox hitter with a .697+ SLG before the All-Star break was Jimmie Foxx in 1938 (.705).
· His 1st triple of the night was his 4th career leadoff 3B, his first since 4/22/16 at HOU and his first at Fenway since 9/6/14 vs. TOR (his first career 3B).
· His 2nd triple was just his 2nd career 2-run triple (also 9/12/17 vs. OAK) and his 2nd career go-ahead triple (also 5/15/16 vs. HOU).
· Has 19 career triples, 6 of which have come vs. TOR…3 have come this season (also 5/8 at NYY).
· Has hit safely in a season-high 11 straight games (.457/21-for-46)…Is his longest hitting streak since 9/14-25/16 (12).
· Has multiple hits over each of his last 5 games (.579/11-for-19, 7 R, 2 2B, 2 3B, HR, 7 RBI), a new career-long streak.
· Scored twice and has 78 runs this season (2nd in the majors)…The only other Red Sox hitter ever to score as many first-half runs was Ted Williams in 1946 (82).
· Has 7 RBI over the first 2 games of this series, and has surpassed 50 this season (51).
· Became the 5th Red Sox hitter ever to reach 50 XBH prior to the All-Star break (51), joining Fred Lynn (1979), Manny Ramirez (2004), David Ortiz (2004, 2016), and J.D. Martinez (2018).
· Also passed 200 total bases (205), joining J.D. Martinez to become the 3rd pair of Red Sox teammates with 200+ TB each before the All-Star Game (Jim Rice and Fred Lynn, 1979; Manny Ramirez and David Ortiz, 2004).
· Leads the majors with a .409 AVG, .493 OBP, and 1.301 OPS at home (min. 100 PA).
· Has reached base in a season-high 17 straight games, reaching in 42 of 80 PA (.525 OBP) with a .424 AVG (28-for-66), 20 R, 6 2B, 2 3B, 4 HR, and 13 BB.
J.D. MARTINEZ (2-for-5, R, 2B) has hit safely in his last 9 games, batting .385 (15-for-39) with 11 R, 4 2B, 3 HR, and 12 RBI.
· Has 39 multi-hit games this year…No ML hitter has more.
· Has reached base in his last 37 home games (4/12-pres.), a career-long streak, the longest active in the majors, and the longest in the majors this season.
· His 37-game home on-base streak is the longest at Fenway Park in the last 10 seasons (last Kevin Youkilis, 38 games from 9/8/06-6/17/07).
· Has 31 hits and 23 R in his last 19 games (.392 AVG, 6 HR, 24 RBI)…Has reached in 52 of his last 120 PA (.433 OBP), going 40-for-107 (.374) with 8 2B and 7 HR.
· His .667 career SLG vs. TOR is the highest of all time (min. 100 AB).
· His 52 XBH are the 4th-most by a Sox hitter prior to the All-Star break, trailing only David Ortiz (56 in 2004; 57 in 2016) and Manny Ramirez (54 in 2004).
· Leads MLB with 224 total bases, the most by a Red Sox hitter before the All-Star break in team history…Are the most by any hitter in the first half since Chris Davis (246) and Miguel Cabrera (244) in 2013.