RED SOX NOTES (51-26)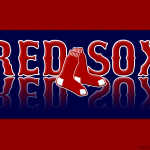 THE RED SOX earned their 51st win by a score of 14-10…22 of their 51 wins have been come-from-behind victories.
· Overcame a 4-run deficit and a 5-run deficit, the latter tied for their largest deficit overcome to win this season (also 7-2 in an 8-7 win on 4/8 vs. TB).
· Scored a season-high-tying 14 runs (also 4/10 vs. NYY) on a season-high 20 hits after setting their previous season high with 16 hits yesterday…Their last game with 20+ hits was on 9/15/17 at TB (21).
· Marks their first pair of consecutive games with 16+ hits since 5/6-7/17 at MIN.
· Allowed 4 runs in the top half of the 1st inning, but scored 5 in the bottom half…According to Elias, it marked the first time the Red Sox had allowed 4+ runs in the 1st inning and then come back to take the lead in that same inning since 5/8/13 vs. MIN.
· Their five 1st-inning runs were their most in the opening frame since 7/21/17 at LAA (5)…Marks their first game with multiple 5-run innings since 8/12/17 at NYY (10-5 win).
· Was their first win in a game in which they allowed 10+ runs since 8/1/17 vs. CLE, a walk-off 12-10 victory.
· Marked the Red Sox' first win in a game in which their starter allowed 10+ runs since 5/8/46 vs. CWS (Mickey Harris, 10 R, 7 ER)…The only other times in the Live Ball Era (since 1920) that the Red Sox have won such a game were 9/19/45-G1 vs. PHA (Vic Johnson) and 9/28/41-G1 vs. PHA (Dick Newsome).
· The last previous ML team to win a game in which their SP gave up 10+ runs was OAK on 7/20/09 vs. MIN (Gio Gonzalez).
· The Red Sox bullpen combined for 4.1 scoreless innings, marking their 6th scoreless effort of at least that long this season (last 6.2 IP on 6/11 at BAL).
· This is the 4th time in the club's 118-year history they have won at least 51 of their first 77 games, having also done so in 1912 (53-24), 1946 (52-23-2), and 1978 (53-24).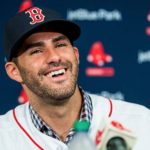 J.D. MARTINEZ (4-for-5, 3 R, 2 2B, HR, 5 RBI, SB) recorded a career-high-tying 4 hits (7th time, last 4/18 at LAA), including a game-winning 2-run single, 2 2B and his 23rd HR of the season…Tied Mike Trout for the ML lead in HR.
· Drove in a season-high 5 runs, his most RBI since 9/26/17 vs. SF (6)…Leads the majors with 60 RBI and 19 multi-RBI games.
· Scored a season-high-tying 3 runs (3rd time, last 6/5 vs. DET)…Stole his 2nd base of the season…Since the start of last year, is 6-for-6 in SB attempts.
· Recorded his 10th game-winning RBI, trailing only Mitch Haniger (11) for the ML lead.
· Leads the team with 42 XBH, including 18 2B…Marked his 6th game with multiple XBH (last 5/29 vs. TOR, 2 2B), and his 6th career game with 3+ XBH (last 9/4/17 with ARI at LAD, 4 HR).
· The last Red Sox hitter with 4+ hits, 3+ XBH, and 5+ RBI in a game was Andrew Benintendi on 7/4/17 at TEX (5-for-5, 4 R, 2B, 2 HR, 6 RBI).
· Has reached base in 23 of his last 45 PA (.511 OBP), going 15-for-37 (.405) with 3 2B, 2 HR, 6 RBI, 7 BB, and 1 HBP.
· In 30 career games vs. SEA, has hit .336/.397/.558, going 38-for-113 with 7 2B, 6 HR, and 18 RBI.
· His 23 HR are the most by a Red Sox hitter through 77 team games since David Ortiz in 2006 (23)…Since 2002, Ortiz is the only other Red Sox hitter with 23+ HR through the end of June…The Red Sox record for HR through the end of June is 24 (4 times, last Manny Ramirez in 2001).
· Has 12 HR in his last 19 games at Fenway…Leads the majors in home HR (15) and SLG (.819)…Leads the AL with 40 RBI at home.
· Has reached base in his last 27 home games, a career-long streak and the longest in the AL this season.
· His .766 career SLG and 1.190 OPS at Fenway are the highest in the ballpark's history (min. 150 PA)…Passed Frank Robinson (1.188) and Ted Williams (1.149) in OPS tonight.
ANDREW BENINTENDI (2-for-4, 3 R, RBI) drove in the game-tying run with a single in the 7th inning, his 2nd hit of the day…Was his 50th RBI of the season.
· Scored a season-high 3 runs, marking his 4th career game with 3+ runs scored (last 7/4/17 at TEX, 4).
· Is 45-for-132 (.341) with 7 2B, 2 3B, 11 HR, and 29 RBI in his last 35 games…In his last 52, is batting .325 (66-for-203) with 43 R, 14 2B, 3 3B, 12 HR, and 37 RBI.
Hanley Ramirez being scrutinized in drug/under case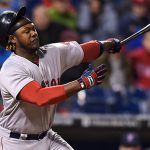 Hanley Ramirez is being investigated at the federal and state level for his connection to a massive drug distribution ring centered in Lawrence, reports ABC News' Michele McPhee.
Earlier Friday, McPhee tweeted Ramirez was the target of a federal and state inquiry. She expanded on her report in an interview with WAAF. In it, McPhee said a man who was arrested on drug trafficking charges FaceTimed Ramirez during a car stop that led to the seizure of large quantities of drugs. The suspect was later arrested for carrying 435 grams of of fentanyl.
Ramirez's release from the Red Sox coincided with the incident, McPhee says. He was hitting .254/.313/.395 with six home runs in 195 plate appearances when the Red Sox designated him for assignment May 30. Ramirez remains unsigned.
The Red Sox say they weren't aware of the situation when they cut Ramirez. "We moved Hanley off the roster for baseball reasons," team president Sam Kennedy told Kirk Minihane Friday.
MLB didn't have a comment when the story first surfaced, per NBC Sports Boston's Evan Drellich.
The arrest that McPhee references in her interview with WAAF matches the description of Delcio Rodriguez's booking on June 8. Rodriguez was arrested for carrying 435 grams of fentanyl and seven grams of crack during a car stop in Methuen, according to a press release from the Massachusetts attorney general's office. Investigators later discovered an additional 100 grams of fentanyl and 51 grams of crack and powder cocaine at Rodriguez's home.
Heavy.com has also connected the Rodriguez arrest to the reported Ramirez case.
In a statement, Ramirez's agent says his client doesn't know about the allegations.
(WEEI.com material used in this story)