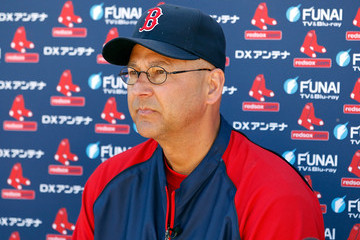 RED SOX NOTEBOOK:
DAY/NIGHT SPLIT: The Red Sox are playing split-squad games, with a day tilt vs. the Tigers at City of Palms Park and a night contest against the Rays in Port Charlotte…It is the 4th and last set of split-squad games for the Sox this spring.
Today is Boston's 2nd and last matchup with Detroit this spring, after winning 2-1 in 10 innings on Tuesday in Lakeland…The Sox and Tigers will meet 6 times during the 2011 regular season, including 2 games at Fenway Park, 5/18-19 and 4 in Detroit, 5/26-29…The clubs split their 6-game regular season series in 2010 while Boston has taken 14 of their last 20 meetings since the start of the 2008 season.
Today is the 2nd of 4 spring tilts against the Rays, after Tampa Bay walked off with an 8-6 win in Port Charlotte on 3/10…Boston will also face their division rival twice at City of Palms Park, 3/22 (7:05 p.m.) and 3/29 (1:05 p.m.)…The Sox and Rays will meet 18 times during the 2011 regular season with the 1st series coming on 4/11-13 at Fenway Park…Boston dropped the 2010 season set to Tampa Bay, 7-11, but owns the edge in the all-time series, 135-88.
ST. PADDY'S DAY WIN: The Red Sox topped the Mets 8-5 yesterday at City of Palms Park…John Lackey earned the win with 5.1 innings of 1-run ball and Rich Hill (0.2), Scott Atchison (1.0), Daniel Bard (1.0) and Eammon Portice (0.1) combined for 3.0 scoreless frames of relief…Carl Crawford went 2-for-3 with 2 RBI and a stolen base, and Jed Lowrie (2-for-3, 2B) and Drew Sutton (2-for-4, HR) each also drove in 2 runs in the win.
ROTATION SET: Manager Terry Francona announced Wednesday that Jon Lester will start for Boston in the team's 2011 regular season opener at Texas on 4/1…It will mark the 1st career Opening Day start for Lester, who has started Boston's 2nd game of the season in each of the past 3 years…He will be the 1st Red Sox lefty since David Wells in 2005 (loss vs. NYY) to start Opening Day for Boston. Francona announced the rest of the starting rotation yesterday, with John Lackey taking the mound for the Red Sox on 4/2 and Clay Buchholz starting the final game of the opening series on 4/3…After an off day, the Sox will travel to Cleveland for a 3-game set where Josh Beckett will get the start on 4/5, followed by Daisuke Matsuzaka on 4/6 and Lester on 4/7…Lackey is slated to start Boston's home opener at Fenway Park against the Yankees on 4/8 at 2:05 p.m.
PITCHING NEWS: Bobby Jenks is slated to pitch 2.0 innings in Triple-A Portland's game today against Tampa Bay's Triple-A Durham club at the Red Sox Player Development Complex, a 1:00 p.m. start…Hideki Okajima is scheduled to toss a minor league inning at the PDC tomorrow, and Daniel Bard and Jonathan Papelbon are slated to throw in minor league games on Sunday.
Felix Doubront will throw a simulated game today on the back field at City of Palms Park at approximately 11:00 a.m.
MEDIA SCHEDULE: Tomorrow Boston will play a 1:05 p.m. game at Bradenton against the Pirates, with the bus leaving at 8:15 a.m.…The Red Sox clubhouse at City of Palms Park will open to credentialed media from 8:00-9:00 a.m. and Manager Terry Francona will be available when the team stretches in Bradenton.
CROWDED HOUSE: With 7,991 fans at yesterday's game against the Mets, it marked the 9th sellout at City of Palms Park this spring…Boston has sold out 113 of its last 114 Grapefruit League (non-exhibition) games at City of Palms Park dating back to 3/16/03, the exception being 3/8's split-squad tilt vs. Houston. 11 of the Sox 12 road games this spring have been sellouts, including Wednesday's crowd of 11,235 in Lake Buena Vista. The Sox enter the 2011 season having sold out a Major League-record 631 consecutive games at Fenway Park beginning 5/15/03.