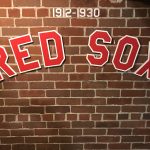 STATE OF THE SOX: The Red Sox lead MLB with 71 wins and own the majors' highest winning percentage (.683).
>>> The Sox have lost consecutive games for the 1st time since 6/19-20 at MIN…Their season-long 3-game losing streak occurred more than 3 months ago (4/21-24).
>>> The Sox are 15-4 in their last 19 games…They went 13-13 from 4/21-5/18, but they are 41-18 (.695) since then.
START ME UP: Red Sox starting pitchers have a 1.24 ERA and a .206 opponent AVG in the club's last 8 games (43.2 IP, 33 H, 6 ER, 11 BB, 44 SO).
CY OF RELIEF: In his last 5 starts, Chris Sale is 5-0 with a 0.27 ERA (1 ER/33.0 IP), 57 SO, and 4 BB…Ithad been 50 years since a Red Sox pitcher last had an ERA that low over any 5-start span in a single season (Ray Culp, 0.20 in September 1968).
>>> Sale leads MLB in strikeouts (197), SO/9.0 IP (13.13), opponent AVG (.180), and opponent OPS (.536)…He ranks 2nd in ERA (2.13; 1st in AL) and WHIP (0.87).
>>> Sale has allowed 0 runs in his last 17.0 IP, MLB's 2nd-longest active scoreless streak behind teammate Eduardo Rodriguez (19.0 IP)…He has allowed 0 HR in his last 57.0 IP, the longest streak of his career, and MLB's 2nd-longest streak of 2018 (Brad Keller-63.1).
THIS LAND IS MORELAND: Mitch Moreland and his wife, Susannah, are asking fans attending the Red Sox-Twins games today and tomorrow to join them in donating new toys and craft items for children being treated at Boston Children's Hospital.
>>> "Christmas in July" details and a full list of requested items is attached…The donated items will be dropped off at Boston Children's Hospital by the Morelands on Monday, 7/30, at 11 a.m. when they will visit with patients and make their own donation to the hospital.