STATE OF THE SOX: The Red Sox have won each of their last 2 games, as well as 3 of their last 4…They have come from behind in each of their last 3 wins: 5/13 vs. TB, 5/16 at STL, and 5/17 at STL.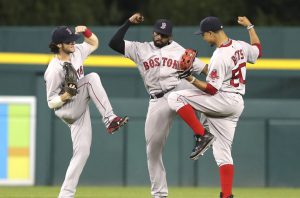 ABOUT LAST NIGHT: The Red Sox defeated the Cardinals in STL last night, 5-4, in 13 innings…BOS trailed, 4-0, before scoring 2 runs in the 7th, 2 in the 8th, and 1 in the 13th.
>>> 9 Red Sox pitchers combined to hold the Cardinals scoreless in the final 11 innings.
>>> Chris Young broke the 4-4 tie with a 2-out, pinch-hit, RBI single…It was the 1st go-ahead, pinch-hit RBI by a Red Sox hitter as late as the 13th inning since David Ortiz hit a pinch-hit HR in the 14th on 4/27/03 at ANA.
NO NEED TO PANIC: Last night marked the Sox' 3rd win this season when trailing after 7 innings…The Sox have 7 wins when tied or trailing after 7 innings; the Angels (7) and Blue Jays (8) are the only other teams in the majors with as many such wins.
>>> BOS is 4-0 when tied after 8 innings, tied for the most such wins in the majors…The only other team without a loss in that scenario is NYY (1-0).
EIGHT MEN OUT: The Red Sox used 8 relief pitchers last night, marking only the 21st time since 1913 a team had as many as 8 pitchers record at least 1 out and allow 0 runs (1st such game for BOS).
STRAIGHT A'S: Dustin Pedroia has hit safely in each of his last 20 games vs. OAK…The only Red Sox with hit streaks as long against the A's since the franchise moved to Oakland in 1968 are Jim Rice (22, 1979-81) & Jerry Remy (20, 1978-81).
>>> Pedroia owns the majors' longest active hitting streak against the A's…In fact, the only player with a longer active hitting streak against any single opponent is Marcell Ozuna (21 games vs. TB).