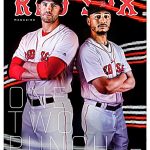 MINUTE MAID MEN: Including the postseason, Mookie Betts has hit safely in each of his last 10 games at Minute Maid Park…In those games, he has posted a .364/.404/.636 batting line with 11 runs scored and only 2 strikeouts (16-for-44, 5 2B, 2 3B, 1 HR, 2 BB, 1 HBP).
>>> J.D. Martinez has homered in 4 of his last 10 games at Minute Maid Park…He played in 131 games here as a member of the Astros from 2011-13.
NATHAN'S FAMOUS: Today's Game 3 starting pitcher, Nathan Eovaldi, was born in Houston and resides in nearby Friendswood, TX…He has made 2 career appearances at Minute Maid Park, for the Yankees on 6/26/15 (6.0 IP, W, 2 ER) and for the Rays on 6/20/18 (6.0 IP, L, 4 ER).
>>> In Game 3 of the ALDS at Yankee Stadium, Eovaldi earned the win in the Sox' 16-1 victory…He allowed only 1 run and issued 0 BB in 7.0 IP (5 H, 5 SO).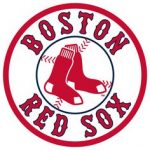 RELIEF CORE: Matt Barnes, Ryan Brasier, Joe Kelly, and Heath Hembree have combined to allow 0 ER in 16.2 IP in the postseason (1 UER), holding opposing hitters to 0 XBH and a .059 AVG (3-for-51, 11 BB)…Barnes (4.2 IP) and Hembree (3.2 IP) have yet to allow a hit.
SOX & TIES: The Red Sox are tied at 1-1 in a postseason series for the 16th time (9-6 in previous 15; 3-0 in last 3).
>>> Since the Championship Series switched to a best-of-7 format in 1985, the team that has won Game 2 of the ALCS has gone on to win the series in 26 of 32 seasons (81.3%), including in each of the last 10 (2008-17).
>>> This is the 3rd time the Sox have come back to tie an ALCS by winning Game 2…In each of the previous 2 instances, they advanced to the World Series (1986, 2013).
GAME 3: This is the 6th time the Red Sox have been tied at 1-1 in the ALCS…In those seasons, they have twice played Game 3 at home, failing to advance to the World Series both times (2003 & 2008)…When tied at 1-1 and playing Game 3 on the road, however, they have won the ALCS in all 3 instances (1986, 2007, 2013).
>>> In 1986 and 2007, the Sox lost Games 3 and 4 of the ALCS on the road, then came back to win the series.