STATE OF THE SOX: The Red Sox lead MLB with 105 wins and a .682 win %…No other team has more than 96 wins.
>>> The Sox are 8-3 in their last 11 games, 15-7 in their last 22, and an MLB-best 54-22 (.711) since 6/24.
>>> BOS is 56 games above .500, matching its season high…The only other season in which BOS reached as many as 56 games above .500 was 1912 (+58).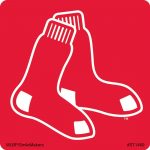 FOR THE RECORD: The Red Sox' 105 wins are tied for the most in a season in the franchise's 118-year history (105-47 in 1912).
>>> The Red Sox are 51-28 (.646) away from Fenway Park, matching the franchise record for road wins in a season (51-30 in 2002).
THE BEST AROUND: The Red Sox can secure MLB's best record as early as tonight, with a win over Cleveland OR an Astros loss (HOU hosts LAA at 7:10 p.m. ET).
>>> The Sox have finished with sole possession of MLB's best record 4 times: 1903, 1912, 1915, and 1946…They also held a share of MLB's best record in 2007 and 2013…BOS won the World Series in 5 of those 6 seasons (not 1946).
 105 AND COUNTING: The Red Sox are 1 of 25 teams since 1900 to win as many as 105 games (last: 2004 Cardinals)…22 of the previous 24 won the pennant, and 14 won the World Series.
>>> 18 teams since 1900 have won 106+ games.
M-V-P! M-V-P!: Mookie Betts leads the majors in WAR, according to FanGraphs (9.4) and Baseball-Reference (10.2).
>>> Betts leads the majors in AVG (.339) and ranks 2nd in runs (121), OBP (.432), and OPS (1.057), as well as 3rd in SLG (.625), doubles (tied, 44), and XBH (tied, 79).
>>> According to FanGraphs, Betts ranks 2nd among MLB outfielders with 21 defensive runs saved.
>>> Betts has 30 HR and 28 SB…The only Red Sox ever to record a 30-HR/30-SB season is Jacoby Ellsbury (2011).