EXTRA, EXTRA!: After entering the 12th inning scoreless last night, the Red Sox scored twice on a pair of sacrifice flies in the 12th to earn a 2-0 win over the Orioles.
>>> Last night's win was the team's first shutout victory in 12+ innings since 4/5/17 vs. PIT (3-0 in 12 innings)…The club has just 8 such wins in the last 100 seasons (1919-2018), including just 3 on the road.
>>> Last night was the first time since at least 1925 the Red Sox have snapped a scoreless tie in extra innings with a sacrifice fly.
>>> Steven Wright extended his career-long scoreless innings streak to 22.2 innings…His 1.21 ERA is the lowest in the AL among pitchers with more than 1 start.
STATE OF THE SOX: The Red Sox lead MLB with 45 wins… They have lost 3 of their last 5 games, but are 6-3 in their last 9 and 17-8 in their last 25.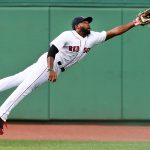 EASTERN STANDARD: At 45-22 (.672), the Red Sox are zero games behind the Yankees in the AL East, but trail New York in winning percentage…BOS is 26-10 (.722) vs. the AL East, the highest winning percentage for any club against any division (min. 15 games).
ALL-STAR UPDATE: MLB today released its 1st update on fan balloting for the AL's starting 9 in the 89th MLB All-Star Game on 7/17 in Washington, D.C….Mookie Betts leads the majors with 748,872 votes, while J.D. Martinez leads AL designated hitters with 513,415.
>>> Mitch Moreland ranks 2nd among AL first basemen, while Andrew Benintendi (6th) and Jackie Bradley Jr. (12th) are in the top 15 among AL OF.
>>> The AL All-Star Team will have 9 elected starters via fan balloting…Pitchers and reserves will be determined through a combination of "Player Ballot" choices and selections made by the Commissioner's Office.