RED SOX NOTES (12-10)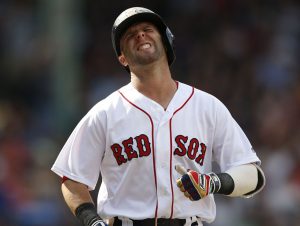 THE RED SOX won their 5th straight 1-run game…Have won each of their last 9 Interleague games at Fenway, as well as 18 of their last 20 (.900)…Have begun the season 4-0 against the NL for the first time since Interleague play began in 1997.
· Scored 5 runs in the 1st after scoring 1 in their last 18 innings, tying a single-inning season high (also 4/7 at DET, 8th; 4/3 vs. PIT, 5th)…Had not plated 5 1st-inning runs since 9/12/16 vs. BAL…Reached in 7 straight PA (6 H, 1 BB)…Each of the Sox' hitters had reached by the 4th inning, and each had a hit by the 6th.
· Club pitchers have allowed 4 or fewer runs in each of the team's last 8 games, their longest such streak of the season.
DREW POMERANZ (6.0 IP, 6 H, 2 ER, 2 BB, 7 SO) allowed 2 ER on 2 solo HR over 6.0 IP, striking out 7…Has allowed 2 or fewer ER in 23 of 34 starts since the start of last season…Earned his first career Interleague win (17 games, 5 starts)…Through 4 starts this season, has struck out 27 in 21.2 IP (11.2 SO/9.0 IP).
· Held CHC hitless in 7 AB with RISP, lowering his season opponent AVG with RISP to .111 (2-for-18)…Since 2016, leads MLB with a .149 opponent mark (21-for-141) with RISP (min. 100 AB).
HANLEY RAMIREZ (2-for-4, R, RBI) gave BOS a lead with 1st-inning single, and singled again in the 5th…Has singled in his first AB in each of his last 5 home games, and is 9 for his first 18 (.500) this season within the first 2 frames of the game…Has hit in 11 of 12 Fenway games, batting .333 (15-for-45) in those contests…Each of his 4 multi-hit games have come at home…Was his 10th go-ahead RBI at Fenway since the 2016 All-Star break…His 71 total home RBI in that time rank 2nd in the AL.
ANDREW BENINTENDI (1-for-4, R, HR, RBI) tied the game with a solo HR in the 1st inning, the 4th of his career and 2nd this season (last 4/3 vs. PIT)…Was his 1st career game-tying or go-ahead HR and 6th such RBI (last 4/17 vs. TB)…His first 2 HR have come in Interleague games.
· Has reached base in 18 of 21 games…His 27 hits are 3rd-most by a Red Sox rookie through April since 1913 (Garciaparra, 38, 1997; Hillenbrand, 34, 2001).
DUSTIN PEDROIA (2-for-3, R, BB) singled twice and walked in his first ever appearance in the 6th spot in the order…In 10 career games vs. CHC, has hit .326 (14-for-43), including a .414 mark (12-for-29) in 7 home games…His .337 career Interleague AVG (226-for-670) is the 2nd-highest of all time (min. 500 AB, Mike Piazza, .340).
MITCH MORELAND (1-3, R, BB, 2B, RBI) drove in a run with his ML-leading 12th 2B of the season in the 1st…Since 1913, the only Red Sox hitter with more doubles in a single April is Mike Napoli in April 2013 (13)…No Sox hitter has had more within the team's first 22 games (George Kell also had 12 in 1953).
CHRISTIAN VÁZQUEZ (2-for-4, RBI) singled twice, his 3rd multi-hit game of 2017, to extend his season-long hitting streak to a 5 games…Has hit safely in 7 of 8 games with an AB, going 13-for-27 (.481) with 4 2B, 3B, and 4 RBI…His last 6 multi-hit efforts have come at Fenway…Is 17 for his last 38 (.447) at the park.
MARCO HERNANDEZ (2-for-4) singled twice in his 3rd multi-hit game of 2017, 1st at Fenway since 7/3/16 vs. LAA…Has hit in 5 of his last 6 games (.368/7-for-19).
CRAIG KIMBREL (1.0 IP, H, 3 SO) struck out the side to earn his AL-leading 8th save…Has converted each of his 23 career save chances at Fenway, the 2nd-longest streak ever at the venue…Has retired 21 of his last 22, including 15 strikeouts.
CUBS NOTES (12-10)
THE CUBS dropped their first Interleague contest of 2017 after going 15-5 vs. AL opponents last season…Are 6-3 in their last 9 games and 4-3 on the current road trip…Fell to 7-6 vs. BOS since 2005, having won 4 of 7 contests at Fenway Park during that time…Dropped 8-4 when scoring first and 6-2 when hitting 2+ HR.
· Have 8 multi-HR contests in their first 22 games…Only 4 Cubs teams since 1913 have had more such games at this point (last 2013, 9).
· The Cubs bullpen tossed 3.1 scoreless innings…Have not allowed a run in their last 13.2 innings over 5 games.
KRIS BRYANT (1-for-4, BB, R, HR, RBI) gave the Cubs a 1-0 lead with a solo HR in the 1st, his 3rd of the year (2nd go-ahead HR)…Is 11-for-28 (.393) with 7 R, 3 2B, HR, and 4 RBI on the road trip…Extended his hitting streak to a season-high 9 games (.378/14-for-37), his longest since a career-long-tying 14-game streak from 8/18-9/1/16.
· Homered in his 1st career PA at Fenway Park…Is the first NL player to do so since Mike Olt on 7/2/14, also with the Cubs.
· His 1st-inning HR was measured at 449 ft., the longest HR at Fenway Park this season.