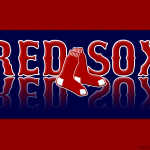 STATE OF THE SOX: The Red Sox lead MLB with 61 wins and own the majors' highest winning percentage (.678).
>>> The Sox have won each of their last 5 games, 10 of their last 12, and 12 of their last 15.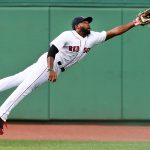 WANNA GET AWAY?: The Red Sox are 22-6 (.786) in series finales this season, including 17-4 (.810) on getaway days.
>>> The Sox have yet to be swept in a series of any length, but they have earned 8 series sweeps (7 of 3 games, 1 of 2 games)…They last swept the Royals in July 2014 (3 G), and last did so in KC in April 2002 (3 G).
RISE AND SHINE: The Red Sox own MLB's highest win percentage in day games (.808, 21-5)…They have won 15 of their last 17 day games, including each of their last 5.
>>> The Sox lead the majors in AVG (.280) and OPS (.811) in day games…Their 3.18 ERA in day games leads the AL and ranks 2nd in MLB (83 ER/235.0 IP).
ABOUT LAST NIGHT: In last night's 15-4 win at KC, 11 players recorded at least 1 RBI for the Red Sox, matching the franchise's single-game record (also 9/27/40 vs. WSH)…The last team to do that was ARI on 8/2/99 vs. SF (also 11).
>>> The Sox' 15 runs marked a new season high…They drew 13 BB, their most in a 9-inning game since 4/7/2006 at BAL (14 BB).
ON THE OFFENSIVE: The Red Sox lead the majors in runs scored per game (5.36), AVG (.269), OPS (.796), doubles (195), and XBH (336)…They also rank 2nd in SLG (.461) and HR (128).
>>> In their last 15 games, the Sox have averaged 7.2 runs and hit .314 with a .907 OPS (169-for-539, 23 HR)…They have scored 9+ runs in 9 of their last 18 games, and 10+ runs in 3 of their last 4.
>>> The Sox did not record 16+ hits in any of their first 75 games, but they have done so in 4 of their last 15.