RED SOX NOTES (1-0)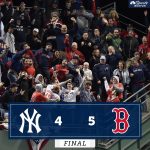 THE RED SOX earned a 5-4 win in Game 1 of the ALDS, marking their first win in Game 1 of a postseason series since the 2013 World Series vs. STL.
·       Were 74-15 when scoring first during the regular season, and 80-12 when scoring 5+ runs…Were 25-14 in 1-run games.
·       Hit 1 HR, a 3-run shot off the bat of J.D. Martinez in the 1st inning…During the regular season, went 85-24 when hitting at least 1 HR.
·       Have won their last 8 postseason games with 5+ runs scored, and 23 of their last 26…Scored more runs tonight than in any of their 6 postseason losses in 2016-17.
·       Marked their first postseason game vs. NYY since erasing a 3-0 series deficit in the 2004 ALCS…Extended their postseason winning streak vs. NYY to 5 games.
·       Won the 2018 regular season series vs. the Yankees (10-9), including a 7-3 record at Fenway.
·       Improved to 92-83-1 all-time in postseason play, including a 51-35-1 mark at home.
·       Held the ML's best home record this season at 57-24 (.704), marking their best home winning percentage since 1978 (.720, 59-23).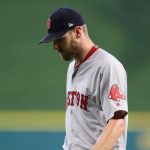 CHRIS SALE (5.1 IP, 5 H, 2 ER, 2 BB, 8 SO) made his 3rd career postseason appearance and 2nd start…Earned his first career postseason win.
·       Held the Yankees scoreless before being charged with 2 runs when a pair of inherited runners scored in the 6th.
·       Finished with 8 strikeouts, tied for the highest single-game postseason total by a Red Sox pitcher in the last 10 seasons (also John Lackey, 2013 ALCS Game 3; Jon Lester, 2013 World Series Game 1)…The last Red Sox pitcher with more SO in a postseason start was Daisuke Matsuzaka.
·       The only other Red Sox pitchers to strike out 8+ Yankees in a postseason start are Pedro Martinez in 1999 (ALCS Game 3) and 2003 (ALCS Game 7) and Tim Wakefield in 2003 (ALCS Game 4).
·       Struck out Andrew McCutchen, Aaron Judge, and Giancarlo Stanton in the 1st inning.
J.D. MARTINEZ (2-for-4, R, HR, 3 RBI) hit a 3-run HR in the first inning, giving the Red Sox a 3-0 lead.
·       Was his 4th HR in 8 career postseason games…Homered twice in the 2014 ALDS with DET vs. BAL and once in last year's NLDS with ARI vs. LAD.
·       His 3 RBI tied a postseason career high…Also hit a 3-run HR in Game 2 of the 2014 ALDS.
·       Drove in 3+ runs in 17 different regular-season games this season, tied with Jesús Aguilar for the ML lead…No other hitter had more than 13 such games.
·       Finished the season ranked 2nd in the majors with 43 HR and leading MLB with 130 RBI.
·       Was the first go-ahead 3-run HR or grand slam by a Red Sox hitter in the postseason since Jonny Gomes' game-winning 3-run HR in Game 4 of the 2013 World Series (10/27).
·       Added a single in the 7th…Led the majors with 59 multi-hit games this season.
RICK PORCELLO (0.2 IP, H) recorded 2 outs in the 8th before turning the ball over to Craig Kimbrel.
·       Was his 8th career postseason relief appearance, including his most recent such outing in Game 1 of the 2017 ALDS vs. HOU a year ago today (1.0 IP).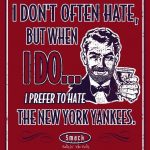 CRAIG KIMBREL (1.1 IP, H, ER, 3 SO) entered the game in the 8th inning and threw 1.1 innings of relief to earn his 2nd career postseason save.
·       His last postseason save came with ATL on 10/4/13 in Game 2 of the NLDS vs. LAD.
·       Was his first save of 1.1+ IP in any game since 7/11/18 vs. TEX and 4th such save this season.
ANDREW BENINTENDI (2-for-4, 2 R) recorded the first hit of the series with a single to the opposite field in the 1st inning.
·       Added a bunt single in the 3rd inning…Raised his career postseason AVG to .310 (9-for-29).
·       Stole 2nd base, his first SB in 8 career postseason games…At 24 years, 91 days old, became the 2nd-youngest Red Sox player with a postseason stolen base since 1903…The only younger Red Sox player with a SB in the playoffs was Jacoby Ellsbury in 2007 (2 SB).
·       Scored his 4th and 5th career postseason runs…Finished 6th in the AL with 103 runs scored this season.