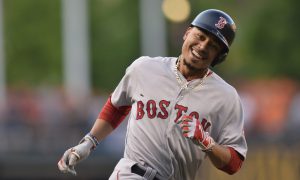 SOX & CUBS: The Red Sox and Cubs are meeting in Interleague play for the 5th time (also 2005, 2011, 2012, and 2014)…The Cubs have won each of the last 3 meetings, having swept a 3-game set at Fenway Park in 2014.
NATIONAL AFFAIR: The Red Sox are 3-0 against the NL this season…BOS has never begun a season 4-0 vs. NL teams since Interleague play began in 1997 (3-0 in 2008 & 2016).
>>> The Red Sox have won each of their last 8 Interleague games at Fenway Park, as well as 17 of their last 19 (.895) and 81 of their last 113 (.717) since 5/22/05.
>>> The Red Sox have a higher winning percentage (.585) in Interleague play than any other team since its inception in 1997.
CENTER OF ATTENTION: Drew Pomeranz has not allowed an earned run in his last 27.2 IP against NL Central clubs…The streak spans 6 outings (4 starts) and dates back to 9/26/12 (27.2 IP, 14 H, 1 R, 11 BB, 32 SO)…He won each of those 4 starts and his club won each of those 6 games.
>>> Pomeranz is 2-0 with a 1.13 ERA (2 ER/16.0 IP) in 3 career outings (all starts) against the Cubs…He has not allowed a run in his last 11.0 IP vs. CHC.
PITCHING IN: Red Sox pitchers have allowed 4 runs or fewer in each of the club's last 7 games (1.92 ERA, 13 ER/61.0 IP), but BOS is only 2-5 in that span…In that time, opponents are batting only .207 against BOS (47-for-227).
>>> Red Sox pitchers rank 4th in the majors in ERA (3.42) and 3rd in SO/9.0 IP (9.63).
START ME UP: Red Sox starting pitchers have posted a 2.01 ERA (10 ER/44.2 IP) in the club's last 7 games (beginning 4/19), but only 1 starter has earned a win in that time (Rodriguez, 4/23 at BAL)…In 3 of those 7 games, Boston's starter allowed 0 ER in 6.0+ IP.
>>> Red Sox pitchers have recorded a quality start in each of the club's last 3 games.