RED SOX NOTES (79-34)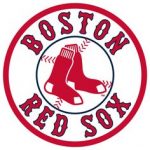 THE RED SOX earned their 4th straight win and 5th walk-off victory of 2018…Was their ML-leading 79th win of the season, improving their ML-best winning percentage to .699.
·       Improved to 7-3 in extra-inning games…Have 4 walk-off wins in their last 13 home games (also 7/14 vs. TOR, 7/27 vs. MIN, 7/30 vs. PHI).
·       Scored 3 runs with 2 outs in the 9th to send the game into extra innings…Was the first time they scored 3 runs in the 9th to erase a deficit since 8/16/17 vs. STL (5-4 win).
·       Extended their lead in the AL East to 9.5 games, the largest gap between 1st and 2nd place in any division in the majors.
·       Have not held as broad a lead in the division since September 2013, when they reached a season-high 9.5 games ahead…Have not held a broader lead in the division since July 2007, when they reached a season-high-tying 11.5 games ahead.
·       Completed the series sweep and improved to 8-5 in the season series vs. NYY…Have out-scored NYY 81-62 this season.
·       Marked their ML-leading 11th series sweep of the season and first in a 4-game series since 8/3-6/17 vs. CWS…Are the only team that has not been swept.
·       Marks their 7th sweep of 4+ games over NYY in the last 100 seasons, 6 of which have come at Fenway Park…Since 1970, have done so just 3 times (also 6/4-7/90 and 9/15-18/16).
·       The last time the Red Sox swept a series of 4+ games against a team that was 30+ over .500 for Game 1 of that series was a 5-game sweep at Yankee Stadium from 7/7-9/39 (source: Elias).
·       Improved to 25-7-4 in series this season, including 7-0-2 in their last 9…Are 28-8 (.778) in series finales, including a 20-4 mark (.833) on getaway days.
·       Reached a season-high 45 games over .500 for the first time since the end of play on 9/29/46(+54, 104-50).
·       Their 79 wins are their most ever through 113 team games…Are the 5th team in the Expansion Era (1961-pres.) to win as many as 79 of their first 113 games, joining the 1969 Orioles (109-53), 1998 Yankees (114-48), 2001 Mariners (116-46), and 2017 Dodgers (104-58).
·       Are the 18th team in MLB's Modern Era (1900-pres.) to win as many as 78 of their first 112 games…Of the previous 17, 15 went on to win their league's pennant (88.2%), and 9 (52.9%) won the World Series.
·       Have won 8 of their last 9 games (.889), 23 of their last 28 (.821), and 49 of their last 68 (.721)…Have won 18 of their last 21 home games…Their 42-15 home record (.737) is MLB's best.
·       Lead the majors since the All-Star break with a 2.41 team ERA (37 ER/138.0 IP)…Red Sox starters own a ML-best 1.74 ERA (18 ER/93.1 IP) in that time.
·         Allowed 4 runs in the 7th inning…Was their first 4-run inning allowed since 7/13 vs. TOR (5 in the 3rd)…The last time they had allowed 4+ runs in an inning as late as the 7th was 6/19 at MIN (4 in the 8th).
·       At 4:39, tonight's game was the Sox' longest game of 2018 and longest since 9/15/17 at TB (15.0 IP)…Friday's game was the shortest of the season for both teams.
·       Tonight's attendance of 37,830 marked a new season high (previous: 37,816 on 7/31 vs. PHI)…The Red Sox have sold out 28 straight home games…Their total paid attendance for 2018 passed 2 million tonight (2,026,363).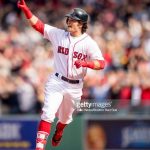 ANDREW BENINTENDI (3-for-6, 2B, RBI) recorded his 3rd career walk-off RBI on a single in the bottom of the 10th…Also drove in walk-off runs on 6/13/17 vs. PHI (single) and 7/14/17 vs. NYY (Aroldis Chapman walk).
·       Was his 3rd hit of the night…Ranks 6th in the majors with 40 multi-hit games, including 13 with 3+ hits.
·         In his last 22 games, has gone 34-for-88 (.386) with 19 R, 10 2B, 3B, HR, and 13 RBI.
·       Has hit safely in his last 12 games vs. NYY, the longest active hitting streak vs. the club, and 20 of his last 22 (.341/31-for-91).
·       Marks the longest hitting streak by a Red Sox hitter vs. NYY since 2015 (Mookie Betts, 12).
·       Has 36 hits vs. NYY since the start of last season, ranking 2nd in the majors (Betts, 37).
·       4 of his 7 career hits vs. Masahiro Tanaka have gone for extra bases (.333/7-for-21, 2 2B, 2 HR).
 MOOKIE BETTS (2-for-4, 2 R, HR, RBI, 2 BB) singled to left field in the 3rd inning and hit a go-ahead solo HR in the 5th.
·       Ranks 2nd in MLB with 14 go-ahead HR, trailing only Khris Davis, who hit his 15th today.
·       His last 5 HR, and 9 of his last 12, have given the Red Sox a lead…46 of his 104 career HR (44.2%) have been go-ahead shots.
·       StatCast measured his HR at 437 feet, making it the 3rd-longest of his career…In a 3-HR effort on 5/2 vs. KC, Betts hit a 452-foot HR and a 440-foot HR.
·       His 26 HR this season are 2 more than his total from last year (60 fewer games)…Has homered once every 14.04 AB (365 AB), a career-best rate.
·       Was his 39th multi-hit game of the season…Ranks 2nd in the AL with 201 such games since 2015.
·       Finished the series 7-for-16 (.438) with 5 R, 2 2B, HR, 2 RBI, a .550 OBP, a .750 SLG, and a 1.300 OPS.
·       In 13 games vs. NYY this season, is batting .412 (21-for-51) with a .500 OBP, 16 runs, 8 2B, 3B, 2 HR, 10 RBI, and a 1.225 OPS.
·       Since his debut 2014 season, leads the majors with 86 hits against the Yankees and ranks 2nd with 37 XBH and 143 total bases.
·       Leads the majors with a .342 AVG (125-for-365) and a .652 SLG this season.
J.D. MARTINEZ (1-for-4, 2 RBI, HBP) singled in 2 runs with 2 outs in the bottom of the 9th…Leads the majors with 93 RBI and 28 multi-RBI games.
·       Has 4 RBI in the 9th inning or later this season (also a 2-run HR on 7/3 at WSH)…His last RBI hit with 2 outs in the 9th was a walk-off grand slam on 9/24/17 with ARI vs. MIA.
·       Has reached base via hit, walk, or HBP in his last 49 home games (4/12-pres.), the longest in the majors since a 63-game streak by Ichiro Suzuki from 4/22-10/1/09.
·       His 49-game on-base streak at Fenway is the longest at the venue since a 64-game streak by Wade Boggs from 7/20/87-6/15/88.
DAVID PRICE (6.0+ IP, 4 H, 2 ER, 3 BB, 5 SO) left the game with a 1-0 lead and runners on 1st and 2nd…Was charged with 2 ER when both inherited runners scored.
·       Marked his 4th straight quality start…Over his last 3 outings, has a 1.33 ERA (3 ER/20.1 IP).
·       Has 11 quality starts in his last 14 outings, going 8-3 with a 3.45 ERA (33 ER/86.0 IP).
·       Extended the Red Sox' starters' scoreless-innings streak to 20.0 IP before being charged with 2 ER in the 7th.