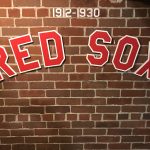 STATE OF THE SOX: The Red Sox lead MLB with 67 wins and own the majors' highest winning percentage (.691).
>>> This is the 1st time the Sox will go into the All-Star break with the majors' best record since 2007 (53-34, .609).
>>> The Sox have won 11 of their last 12 games…They are 39-16 (.709) in their last 55 games, including 16-3 in their last 19, and 18-4 in their last 22.
>>> The Sox are the 23rd team in the Modern Era (1900-pres.) to win 67+ of their first 97 games…20 of the previous 22 won the pennant.
GIVE ME A BREAK: The Red Sox are playing their 98th game today, their most ever before the All-Star break (previous: 97 in 2008 and 2013)…Following the break, they will have 34 home games and 30 road games…15 of their final 21 will be played at home.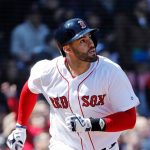 EASTERN STANDARD: The Red Sox will head into the All-Star break in 1st place in the AL East for the 9th time in the last 14 years (also 2005-09, '11, '13, '17).
M-V-P!: Mookie Betts leads the majors in AVG (.362), 27 points ahead of the 2nd-highest mark (Altuve-.335)…He also leads MLB in SLG (.698) and OPS (1.148) and ranks 2nd in OBP (.450), just 4 points behind Mike Trout (.454).
>>> Betts ranks 4th in MLB in at-bats per HR (12.96) and has recorded more walks (45) than strikeouts (41).
>>> Betts has hit .320+ with a 1.000+ OPS vs. LHP (.373/1.288), vs. RHP (.359/1.101), at home (.420/1.310), on the road (.324/1.039), with nobody on (.385/1.179), with RISP (.341/1.386), and with 2 strikes (.338/1.056).
LEADING OFF: Mookie Betts has reached base 4 times in each of his last 2 games, his 1st time ever doing so…During his current 18-game on-base streak, he has posted a .443/.541/.757 batting line (31-for-70, 12 XBH, 14 BB, 6 SO).
>>> Betts owns MLB's longest active hit streak (12 G), tied for the longest by a Red Sox this season (also Martinez)…He has recorded multiple hits in a career-best 6 straight games, tied for MLB's longest streak of the season.
>>> Betts has scored at least 1 run in each of his last 9 games, the longest streak of his career…He ranks 2nd in MLB with 79 runs scored in only 77 games.