RED SOX NOTES (8-5)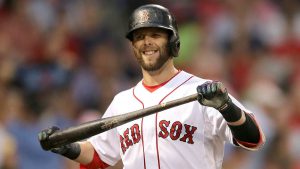 THE RED SOX won their 3rd straight game for the 1st time in 2017, earning their 3rd series win at home (3-0-1)…Earned their 4th comeback win, improving to 6-2 in games decided by 2 or fewer runs…Have won 13 of their last 17 games with the Rays.
· Went 3-for-6 (.500) with RISP…Lead the AL this season with a .328 AVG with RISP (38-for-116).
· Improved to 70-52 (.574) all-time on Patriots' Day, including 12-5 in their last 17 since 2001…Have won 21 of their last 24 day games at Fenway since 5/14/16.
· Have played 9 1-run games with TB since the start of last year (6-3) and 31 such games vs. the Rays since the start of 2012 (16-15).
ANDREW BENINTENDI (3-for-4, 2 RBI) had 3 hits within the first 4 innings, including a go-ahead 2-run single with the bases loaded in the 2nd…Was his first career bases-loaded hit (1-for-6), and drove in his first go-ahead RBI of the season (2 in 2016)…Has gone 11-for-27 (.407) in 9 career games vs. the Rays…Had just 6 career hits vs. LHP entering today (3 today)…Has now reached in 18 of 20 games at Fenway, batting .371 (26-for-70)…Has reached in 38 of 47 overall career games.
· Was his 2nd consecutive 3-hit game, tying a career high in hits for the 5th time…Also had consecutive 3-hit games from 8/7-9/16, his 5th and 6th career games.
· Sox hitters have 13 individual games with 3+ hits…Entering today, no other AL team's hitters had more than 6 such games.
MOOKIE BETTS (2-for-4, 2B, RBI) drove in a run with a 2nd-inning single and doubled in the 7th…Leads the majors with 68 multi-hit games since the start of last season (4 this season)…Recorded 9 hits, 3 2B, and 3 RBI this series (.529/9-for-17, 3 R)…In 86 home games since 2016, paces MLB with 126 hits and ranks 3rd with 31 2B and 5th with 70 RBI…Has hit .383 (77-for-201) with 36 runs, 21 2B, and 34 RBI in his last 47 home games.
· Has not struck out in his most recent 123 PA since 9/12/16…According to Elias, marks the longest active streak in the majors, the longest streak by a Red Sox hitter since Denny Doyle in 1975 (159 PA), and the longest by any major leaguer since Juan Pierre in 2004 (147 PA).
STEVEN WRIGHT (6.0 IP, 9 H, 3 R, ER, BB, 4 SO) allowed 3 runs (1 earned) over 6.0 IP…Was his 10th career start with 6.0+ IP and 1 or 0 ER allowed, 8 of which came last season (last 8/5/16 vs. LAD, 3-hit shutout)…The Red Sox improved to 13-6 in his last 19 starts.
DUSTIN PEDROIA (1-for-3, 2 R, BB) singled to lead off the offensive effort…Has 4 hits in 11 AB leading off the offensive half of the 1st this season (.364)…Has hit safely in 11 of 13 games this season (.275/14-for-51), and 19 of his last 21 vs. TB…In those 21 efforts, has hit .337 (29-for-86) with 18 runs scored.
· With his 95th and 96th career runs scored vs. TB, passed Robinson Cano (94) and Jason Giambi (95) for 7th-most all-time.
HANLEY RAMIREZ (1-for-3, BB, RBI) singled in the Red Sox' first run in the 1st inning…Has hit safely in 8 of 9 games this season (.286/10-for-35)…Is tied for 3rd in the majors with 71 RBI at home since the start of last season, including 46 since the All-Star break, 10 more than any other AL hitter.
SANDY LEON (1-for-4, R) started the Sox' 2nd-inning rally with a single, his 9th hit of the season…Is 6-for-12 (.500) vs. LHP to begin the season and 31-for-79 (.392) against them since the start of 2016…Since the start of last season, has hit .327 (34-for-104) with 2 outs.
CRAIG KIMBREL (1.0 IP, 3 SO) has converted each of his last 25 save chances, the 2nd-longest active streak in MLB…Improved to 22-for-22 in career save opportunities at Fenway (22.0 IP, 4 BB, 37 SO), the 2nd-longest streak in the venue's history (Tom Gordon, 29, 1998-99).
· Became the first Red Sox pitcher with 3 saves in a single series since Mike Timlin from 9/16-17/06…Struck out the side in order for the first time this season.