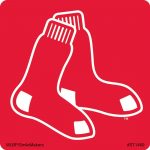 FOR THE RECORD: The Red Sox' 105 wins are tied for the most in a season in the franchise's 118-year history (also 1912).
>>> The Red Sox are 1 of 25 teams since 1900 to win as many as 105 games…22 of the previous 24 won the pennant, and 14 won the World Series.
THE BEST AROUND: The Red Sox can secure MLB's best record as early as tonight, with a win over the Orioles OR an Astros loss (HOU at TOR, 7:07 p.m. ET).
>>> The Sox have finished with sole possession of MLB's best record 4 times: 1903, 1912, 1915, and 1946…They also held a share of MLB's best record in 2007 and 2013…BOS won the World Series in 5 of those 6 seasons (not 1946).
 UNPACK YOUR BAGS: The Red Sox played their final road game of the regular season last night…Their next road game will be Game 3 of the ALDS on 10/8, 14 days from today.
>>> The Red Sox' final 6 games of the regular season will be played at Fenway Park…They own MLB's highest win % at home (.720, 54-21) and are 10-1-2 in their last 13 series at Fenway Park.
 EXTRA SPECIAL: In his last 2 games, Mookie Betts is 8-for-11 with 2 HR and 4 2B…He became the 1st Red Sox player ever to record at least 4 hits—including 3 XBH—in consecutive games (source: Elias)…The last major leaguers to do that were Jim Edmonds (2003) and Mark McGwire (1987).
>>> Betts leads the majors in WAR, according to Baseball-Reference (10.6) and FanGraphs (9.7)…He also leads the majors in AVG (.343) and XBH (82) and ranks 2nd in runs (123), OBP (.434), SLG (.636), and OPS (1.070), as well as 3rd in doubles (46).
>>> Betts hit his 31st HR of the season last night, passing Nomar Garciaparra (30 in 1997) for the most HR by a Red Sox player in a season as a leadoff hitter.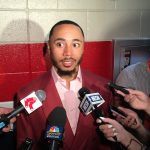 Most Games with 3+ Extra-Base Hits Before Turning 26 Years Old (Since 1900):
Mookie Betts – 17 (2015-18)
T2. Jimmie Foxx – 14 (1928-33)
T2. Lou Gehrig – 14 (1923-29)
T4. Mel Ott – 13 (1929-34)
T4. Alex Rodriguez – 13 (1996-2001)
Source: Elias Sports Bureau