RED SOX NOTES (73-33)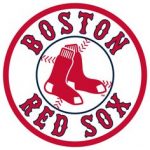 THE RED SOX earned their ML-leading 73rd win of the season, improving their ML-best winning percentage to .689.
·       Marked their 30th come-from-behind win of the season…Improved to 54-4 when leading after 5 innings.
·       Scored 10 runs for the first time since 7/7 at KC (15), and the 11th time this season…Are 54-9 this season when scoring 5 or more runs.
·       Marked their ML-leading 35th win by 4+ runs, including 17 by 6+ runs.
·       Have won 12 of their last 14 games at Fenway Park…Their 36-14 home record (.720) is the best in the majors.
·       Their 73 wins are tied for their most ever through 106 team games…Went 73-31-2 in 1946.
·       Are the 5th team in the Expansion Era (1961-pres.) to win as many as 73 of their first 106 games (last LAD in 2017)…Each of the previous 4 finished the regular season with over 100 wins, averaging 110.8.
·       Are the 20th team in MLB's Modern Era (1900-pres.) to win as many as 73 of their first 106 games…Of the previous 19, 17 went on to win their league's pennant (89.5%), and 9 (47.4%) won the World Series.
·       Took a 312-311 edge in their all-time franchise series with MIN.
·       Returned to 40 games over .500 for the 2nd time this season (also 71-31)…Prior to this season, had not been 40 games over .500 since reaching a season-best 96-56 in 1949.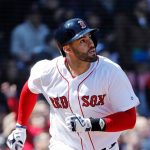 J.D. MARTINEZ (2-for-4, 2 R, HR, RBI, BB) recorded his 41st multi-hit game of the year, including a go-ahead homer in the 5th, his ML-leading 32nd HR of the season.
·       His 32 HR are tied for the 2nd-most by a Red Sox hitter through July (David Ortiz in 2006, 37; Manny Ramirez in 2001; 32)…Are already the 7th-most by a Red Sox hitter in his first season with the club (last Ramirez in 2001, 41).
·       The only other Red Sox hitters with 32+ HR through 105 team games are David Ortiz (37 in 2006), Jimmie Foxx (33 in 1938), and Manny Ramirez (32 in 2001).
·       Also leads the majors with 86 RBI…Has 6 RBI in his last 6 games, 15 in his last 16, and 31 in his last 27.
·       Has 3 HR in his last 4 games…Also leads the majors with 244 total bases.
·       Ranks 2nd in the majors with a .642 SLG…His .667 SLG since the start of last year is the highest in the majors.
·       Was his 9th game-winning HR of the season, trailing only Mookie Betts (10) for the ML lead.
·       Leads MLB in home HR (20) and RBI (51)…Has 5 HR in his last 13 home games, and 17 in his last 34.
·       His 20 HR at Fenway this season are the most ever by a player at the venue through the month of July.
·       His .731 career SLG at Fenway Park is the highest of all time (min. 200 PA)…Trails only Frank Robinson and Ted Williams in OPS (1.148) at Fenway.
·       Has reached base in his last 42 home games (4/12-pres.), a career-long streak, the longest active in the majors, and the longest in the majors since Paul Goldschmidt reached in 42 straight from 9/18/16-6/27/17).
·       The last longer home on-base streak in the majors was a 46-game stretch by Miguel Cabrera in his 2013 MVP season.
·       His 42-game on-base streak at Fenway is the longest at the venue since Nomar Garciaparra reached in 42 straight from 9/18/02-6/28/03.
·       In the last 50 seasons (1969-2018), the only other Red Sox players with 42+-game home on-base streaks are Garciaparra, Mo Vaughn, and Wade Boggs (twice).
MOOKIE BETTS (2-for-5, R, 2 2B, 2 RBI, SB) tied the game with an RBI double in the 4th inning, and added another RBI double in the 8th.
·       Stole his 20th base of the season and the 100th of his career…Became the youngest player in Red Sox history to reach 100+ HR and 100+ SB, and the fastest to do so by games (594).
·       Also became the first Red Sox player ever with 3 seasons with 20+ HR and 20+ SB (2016-18)…Joined Mike Trout as the only players with those totals in 2016-18.
·       Was his 6th game with multiple doubles this season (last 7/7 at KC)…Leads the majors since 2015 with 157 2B.
·       Has driven in at least 1 run in each of his last 4 games (5 RBI)…Has 13 multi-RBI games this year, with the Red Sox going 10-3 in those games.
·       Leads MLB with a .346 AVG, .666 SLG, and 1.097 OPS this season…Has 55 XBH and 225 TB.
·       Leads the majors at home (min. 100 AB) with a .393 AVG, .770 SLG, and 1.249 OPS.
·       4 of his 5 RBI over the last 4 games has tied the game or given the Red Sox a lead…Has tied the game or put the Sox ahead with 5 of his last 6 run-producing PA, and 8 of his last 12.
EDUARDO NÚÑEZ (2-for-4, R, 2B, 3B, 2 RBI, BB) hit a 2-out triple in the bottom of the 7th and a bases-loaded 2B in the 8th, driving in 2.
·       Was his first triple in a Red Sox uniform (last 8/18/16 with SF vs. NYM)…Marked his 4th game of the year with multiple XBH (last 7/3 at WSH; 2B, HR).
·       Has a .333 AVG (18-for-54) in 16 career games against MIN, his former club.
·       Was his 7th multi-RBI game of the season, including 2 in his last 4 games…Has 28 RBI on the year.