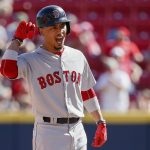 M-V-P! M-V-P!: In his last 5 games, Mookie Betts is 13-for-21 (.619) with 3 HR, 5 2B, 8 RBI, and 10 R…On the season, he has 32 HR and 30 SB and leads the majors in AVG (.346), SLG (.641), runs (128), and XBH (84)…He also ranks 2nd in OBP (.438), OPS (1.079), and doubles (tied, 47).
>>> Betts' 128 runs are the most by a Red Sox since Wade Boggs in 1988 (also 128)…The last Sox player with more runs in a season was Dom DiMaggio in 1950 (131).
>>> The only Red Sox ever to hit .340+ with 80+ XBH are Ted Williams (4 times) and Jimmie Foxx (1938).
>>> Betts leads the majors in WAR, according to Baseball-Reference (10.9) and FanGraphs (10.2)…That is currently tied for the 2nd-highest single-season bWAR for a Red Sox position player, trailing Carl Yastrzemski (12.5 in 1967) and matching Ted Williams (10.9 in 1946).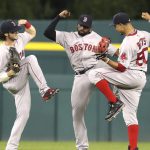 J.D. POWER: J.D. Martinez leads MLB in RBI (127) and total bases (353)…He ranks 2nd in AVG (.330) and HR (42); 3rd in hits (186), SLG (.626), and OPS (1.028); and 5th in OBP (.402), runs (tied, 109), and XBH (tied, 81).
>>> The only other player this season with at least 100 RBI, 100 runs scored, and a .300 AVG is Christian Yelich.
>>> The only Red Sox ever to finish a season batting at least .330 with 40+ HR and 125+ RBI are Ted Williams (1949) and Jimmie Foxx (1936, '38)…The last major leaguer to do that was Miguel Cabrera (2012-13).
 #DODAMAGE: The Red Sox have 16 HR in their last 8 games…They lead MLB in runs (861), runs per game (5.38), AVG (.268), OBP (.338), SLG (.452), OPS (.790), doubles (346), and XBH (582)…They own MLB's 3rd-lowest strikeout % (19.8).
>>> Prior to last night, the Sox had won 21 consecutive games in which they scored 5+ runs…They have scored 5+ runs in a game an MLB-high 90 times (79-11), going 59-5 (.922) in those since 5/16.
GRAND CENTRAL: The Red Sox hit their 10th grand slam of 2018 last night, the 2nd-highest season total in franchise history (11 in 2005)…The only other teams with 10+ grand slams this season are CIN (11) and CLE (11).
>>> 4 of the Sox' grand slams have come against the Yankees, the franchise's most ever vs. NYY in a single season (previous: 3 in 1959 and 2013)…According to Elias, the only other season in which the Sox hit 4+ grand slams against a single opponent was 1946 (4 vs. STL Browns).