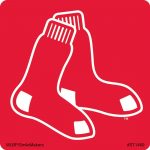 STATE OF THE SOX: The Red Sox lead the majors in wins (82), win percentage (.701), and run differential (+203).
>>> The Sox' 82 wins are their most ever through 117 games (previous: 81-34-2 in 1946).
>>> The Sox are 8-0-2 in their last 10 series…They are 26-6 (.813) in their last 32 games, including 11-2 (.846) in their last 13, and 7-1 (.875) in their last 8.
ON THE OFFENSIVE: The Red Sox are averaging 9.0 runs per game in August (8 G, 72 R)…They have scored 10+ runs in 4 of 8 games this month, including 3 of their last 4.
>>> The Sox are the only team with 600+ runs scored this season (644)…They also lead MLB in runs per game (5.50), AVG (.271), SLG (.464), OPS (.804), doubles (262), and XBH (446)…They lead the AL in OBP (.340).
>>> The Sox have homered in each of their last 8 games (16 HR total)…They rank T-3rd in MLB with 160 HR, only 8 shy of their 2017 total (168; fewest in the AL).
 MOST VALUABLE: According to FanGraphs, Mookie Betts leads the majors in WAR (7.7)…He also leads the majors in AVG (.352), SLG (.675), OPS (1.114), and runs per game (1.01)…He ranks 2nd in OBP (.439) and runs (98).
>>> Betts has reached base in 10 of his last 11 PA (7-for-8, 5 XBH, 3 BB)…He is batting .500 (16-for-32) in August.
>>> Betts has scored multiple runs in each of his last 5 games, the longest such streak of his career and the longest for any player in 2018…Prior to Betts, the last Red Sox to do that were Ted Williams (7 G, 1950), Johnny Damon (5 G, 2002), and Kevin Youkilis (5 G, 2006).
 J.D. POWER: J.D. Martinez recorded his 100th and 101st RBI of the season last night and has already hit 35 HR, with 45 games remaining in 2018…He is 1 of only 9 players ever to record 30+ HR and 100+ RBI in his 1st season with the Red Sox (last: David Ortiz in 2003).
>>> Martinez leads the majors in HR, RBI, and total bases (279)…He also leads the AL in hits (141) and ranks among MLB leaders in AVG (2nd, .332), OBP (6th, .399), SLG (2nd, .656), OPS (3rd, 1.055), and XBH (2nd, 67).
>>> Martinez has hit safely in each of his last 9 games, recording at least 1 XBH in 8 of those (16-for-37, 10 XBH).