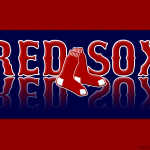 STATE OF THE SOX: The Red Sox lead the majors with 51 wins…They have won each of their last 2 games.
>>> The Sox lead MLB in runs (397), doubles (161), and XBH (281)…They rank 2nd in HR (108), AVG (.264), SLG (.454), OPS (.784), and run differential (+112).
>>> In their last 2 games, the Sox have scored 23 runs and gone 36-for-85 (.424) with 13 XBH (9 2B, 1 3B, 3 HR).
J.D. POWER: J.D. Martinez leads the majors in RBI (60) and is tied with Mike Trout for the lead in HR (23)…He also ranks 3rd in MLB in SLG (.644) and OPS (1.037), 7th in AVG (.324), and 12th in OBP (.393).
>>> Martinez has 12 HR in his last 19 games at Fenway Park.
STEADY EDDIE: The Red Sox are 13-1 in Eduardo Rodriguez's starts, tied for the 2nd-most team wins started by any pitcher this season (Severino-14, Cole-13).
>>> In his last 6 starts, Rodriguez is 6-0 with a 2.29 ERA (9 ER/35.1 IP), allowing 2 runs or fewer in each of those.
>>> Rodriguez is the 1st Red Sox pitcher since Roger Clemens to win as many as 6 consecutive starts, all at the age of 25 or younger…Clemens won 9 straight starts from May-June in 1986, all at 25 years old.
___________________________
SOX FOR SOCKS: This weekend, the Red Sox Foundation will collect new, white athletic socks to benefit the Boston Health Care for the Homeless Program (BHCHP), which provides medical care to Boston's homeless men, women, and children.
>>> Through the 13th Annual "Sox for Socks" drive, volunteers will collect socks at each Fenway Park gate before and during games vs. SEA…Doctors and nurses from BHCHP will distribute the socks to patients they care for on the streets, park benches, and in shelters across Greater Boston.
PITCH HIT & RUN: This morning at Fenway Park, 8 children were crowned champions of MLB's Pitch Hit & Run Team Championship for their respective age divisions in the MA/RI/VT/NH/ME region…The following individuals now have a chance to advance to the national finals, to take place during MLB All-Star Week in Washington, DC:
>>> Softball Division, Age 7-8: Isabella Sousa (Cranston, RI)
>>> Baseball Division, Age 7-8: Ken George (Warwick, RI)
>>> Softball, Age 9-10: Samantha Barton (Reading, MA)
>>> Baseball, Age 9-10: Matt Wellington (Warwick, RI)
>>> Softball, Age 11-12: Catherine Seay (Marlborough, MA)
>>> Baseball, Age 11-12: Dylan Roberts (Warwick, RI)
>>> Softball, Age 13-14: Eliana Raposo (Dighton, MA)
>>> Baseball, Age 13-14: Jacob Cookinham (Tiverton, RI)