STATE OF THE SOX: The Red Sox own the majors' best record (35-16, .686), having won 5 of their last 6 games, 7 of their last 9, and 13 of their last 20.
>>> Prior to 2018, each of the last 3 teams to win at least 35 of their first 51 games went on to win the World Series (2017 Astros, 2016 Cubs, 2007 Red Sox).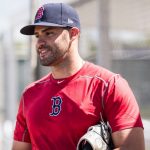 SLUGGING SOX: The Red Sox hit 4 HR last night, their 4th time hitting 4+ in a game this season…In all of 2017, they had 2 games with 4+ HR.
>>> The Sox rank 2nd in MLB with 75 HR, the most through 51 games in club history…They have also already tied the club record through 52 games (75 in 1969).
>>> In 2017, the Sox hit their 75th HR on 6/25 (game #75).
>>> The Sox lead the majors with 45 HR since 4/30; the only other club with more than 33 HR in that time is NYY (39).
>>> The Sox have hit 3+ HR in each of their last 3 home games, tied for the longest such streak in franchise history (7th time, 1st since 2003).
PICK YOUR POISON: Only 6 major leaguers with at least 100 PA have a 1.000+ OPS, 3 of whom are Red Sox: Mookie Betts (1.199), J.D. Martinez (1.034), and Mitch Moreland (1.029)…All 3 of them homered last night vs. ATL.
>>> Last night, Xander Bogaerts hit his 7th HR in his 34th game of the season…In 2017, he hit his 7th HR of the season on 8/16, his 109th game.
WHAT A RELIEF: Red Sox relief pitchers entered today with an 18.1-inning scoreless streak, their 2nd-longest of the season (22.2 from 4/15-24).
>>> Since 4/15, BOS relievers lead the AL and rank 2nd in the majors in ERA (2.62; 34 ER/117.0 IP)…Overall, the Sox' bullpen ranks 2nd in the AL in ERA (3.26).
RISE AND SHINE: The Red Sox are 12-3 in day games this season, having won each of their last 6…They are 8-1 in day games at Fenway Park.
>>> Mookie Betts leads the AL with a .488 AVG in day games this season (20-for-41), 2nd in MLB behind Ronald Acuña Jr. (.500).