STATE OF THE SOX: The Red Sox have won 4 of their last 6 games, 6 of their last 9, and 9 of their last 14…Their .654 win percentage (17-9) since 5/21 ranks T-1st in the AL.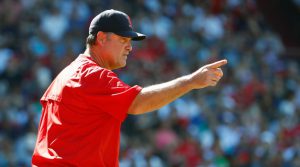 STANDING TALL: BOS is only 1.0 game behind 1st-place NYY in the AL East standings…The Sox have not faced a smaller deficit since being tied for 1st with BAL and NYY at the end of play on 4/18.
DON'T WAIT UP: Following tonight's game, the Red Sox will travel to Kansas City for a 3-game series against the Royals beginning tomorrow at Kauffman Stadium…Including tonight, the Sox have played a night game on 4 consecutive getaway days…BOS is in the midst of a stretch of 15 night games in 15 days from 6/6-20.
WHAT A RELIEF: BOS relievers have not allowed a run in their last 26.0 IP, the longest streak by any team this season and the longest by the Red Sox since a 32.1-inning stretch in April 2004 (source: Elias Sports Bureau).
>>> The Sox' bullpen ranks 2nd in the majors in ERA (2.73) behind only CLE (2.59).
GETTING DEFENSIVE: The Red Sox have committed 0 errors in 5 consecutive games, their longest streak since a franchise-record 18-game stretch last season (9/13-10/1).
PRICE CHECK: David Price has won each of his 3 career starts at Minute Maid Park…He allowed 5 ER in 5.0 IP in his 1st start vs. HOU in 2010, but he has posted a 1.99 ERA and a .201 opponent AVG in 6 starts against the Astros since then (45.1 IP, 33 H, 10 ER, 5 BB, 59 SO).