SLUGGING SOX: The Red Sox have homered in 13 of their last 14 games (26 HR total), including each of their last 6.
>>> The Sox have hit 52 HR since 4/7, 2nd-most in the majors in that time (CLE-53).
>>> Overall, the Sox rank T-3rd in the majors in HR (56), after ranking last in the AL and 27th in MLB in 2017 (168)…Last season, they didn't hit their 56th HR until 6/6, their 57th game.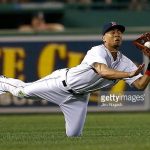 THE RIGHT STUFF: Right-handed starters are 1-17 with a 7.08 ERA (113 ER/143.2 IP) in 31 starts against the Red Sox in 2018, with BOS going 23-8 in those games…Only 5 of those 31 outings were quality starts.
>>> The Red Sox lead the majors in AVG (.276), SLG (.479), and OPS (.819) vs. RHP.
GOOD LUCK CHARM: The Red Sox are 7-0 in Eduardo Rodriguez's starts in 2018…BOS last won a pitcher's first 8 starts of a season in 2008 (Daisuke Matsuzaka, first 10).
>>> In 3 career starts vs. OAK, Rodriguez is 2-0 with a 1.64 ERA (4 ER/22.0 IP) and a .108 opponent AVG (8-for-74)…He took a no-hitter into the 8th inning on 9/4/16 at OAK, and on 9/12/17 he allowed 1 hit in 6.0 IP at Fenway.
LEADING OFF: Mookie Betts has scored at least 1 run in 27 of his last 34 games since 4/1, including in 10 of his last 12, and in each of his last 5.
>>> Betts leads the majors with 43 runs scored, the most by a Red Sox player through the club's first 41 games of a season since at least 1908 (Ted Williams ranks 2nd on that list with 42 runs scored in 1942).
>>> Betts also leads the majors in AVG (.362), HR (tied, 13), XBH (30), SLG (.766), and OPS (1.205).
>>> In his last 15 games (since 4/27), Betts has hit .411 (23-for-56) with 14 XBH and 18 runs scored.
J.D. POWER: J.D. Martinez has homered in 6 of his last 12 games, including each of his last 2…He has hit safely in 14 of his last 15 games.
>>> Martinez has reached base in each of his last 19 games (since 4/25), tied for the longest streak of his career (3rd time)…During the streak, he is batting .405 (30-for-74) with 7 HR and a 1.233 OPS.
>>> Martinez ranks 4th in the majors in AVG (.346) and SLG (.641), as well as 5th in OPS (1.037).