Looking for a new blues-rock obsession? Sons of Levin brings the funk and the party wherever they go with slick guitar licks and stuck-in-your-head tunes that you'll want to constantly jam along with. 
When the weather turned out to be less than stellar for an outdoor show, the party got moved inside for an intimate and personalized studio hangout, which was a pretty special concert experience on its own. In smaller spaces, it seems, is where magic can happen up-close-and-personal, in your face, and it's all the sweeter being surrounded by fellow musicians and artists alike. The energy from the music, and the creative vibe in the air is electric. I'm so grateful Strega opened their doors to artists and music lovers alike last night for a special experience that's hard to accurately describe. Morningbird band was also there to play a set, and if you haven't checked out their amazing vocal harmonies yet, you need to. It's life-changing harmonies blended with shredding guitars, something I never knew I needed until I saw it unfold in front of me.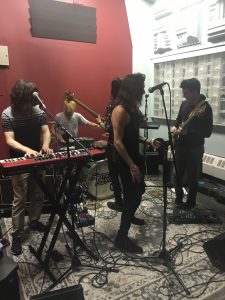 Founded by the literal "sons of Levin", Connor and Dylan Levinson, this band is an act you don't want to miss. Added talents like William Santana bassist extraordinaire and Marc Polit the drumming machine (of previous The House on Cliff acclaim), and the most kickass keyboardist I've ever seen, Jesse Mattison, make this a power group that is one to watch as they bounce between their two home bases of San Diego, California and of course, Boston, Massachusetts.
Their Facebook page mentions that their style is somewhat similar to renowned acts like The Grateful Dead, Phish, Bruce Springsteen, and Bob Dylan, and those influences are super audible in their original tunes. My personal favorite of theirs features one of their songs off of their recently-released debut EP, "Rain" – with clever lyrics like "I need a break before I break down" layered against a driving guitar lick and intermittent swelling chords – seems to be a great blues anthem depicting the emotional turmoil of the human experience and the ups and downs of relationships.
Another great original song of theirs that I got the pleasure of hearing live was "Corrine", which functions a bit as a conversation between the the vocalist and his understood significant other, mentioned here as Corrine.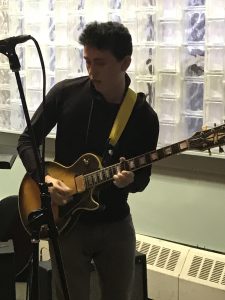 Strong backing vocals supplied by guest vocalist Olivia Iafrate added even more to the narrative flair of the tune, paired with a very Allman-Brothers-esque scalar guitar climb to lift the vibe at the end of this song filled with tangible emotional desperation and need.
"Six Foot Seven Blues" opens right on a catchy guitar lick, with the keyboard echoing in the background putting the listener in a pleasant dream-like state as Dylan's raspy vocals proclaim "I may be five-foot-one, but I'm a whole lot of fun / and I will be your faithful companion". The message of this song, is a relatable one – it brings about that feeling of not being good enough for the person you love. That idea is one that permeates the dating world for just about everyone, so it's a slick hook for a blues but also brings with it a certain level of groovy comfort as well.
Towards the end of their set, Marc took to the mic to introduce the next song, which he said "is not on the EP, but still a banger". Then as Jesse launched into the iconic punchy chords of Britney Spears' "Hit Me Baby One More Time", I could barely contain a surprised giggle, as I wouldn't expect a blues rock band to cover that poppy girl-power anthem, but they did. And let me tell you, they took that bouncy radio song, and turned it into a sultry ballad filled with sass and longing. That ability to remake a song that well-known into their own style, is such an impressive feat to accomplish. They also covered "Billy Jean" by Michael Jackson, as well as "Uptown Funk" by Bruno Mars – two other well-known tunes that are gutsy to cover, but they just did it so well.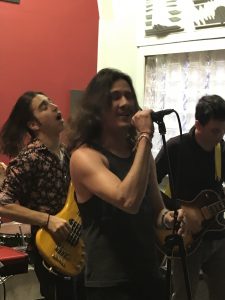 Not only is this band just such a tight act together – there were absolutely no audible mistakes of any kind – but they also are just insanely talented musicians as individuals as well. I count myself blessed to have been able to hear them put on a show in such a cool environment that felt a lot more like a house party than a concert – and that's a big plus in my book. Definitely check out their debut EP to hear their original tunes for yourself – your ears will be blessed with good vibes for days to come.
Check out Sons of Levin on Youtube here: https://www.youtube.com/channel/UCAl05XcKZydEHLfPRiUCNxw
Follow their socials below…
Instagram/Twitter: @sonsoflevin
Facebook: @SonsofLevin
Angelina Singer
Boston Sports Desk Correspondent
angelina320@icloud.com
Kindle Direct Publishing Author