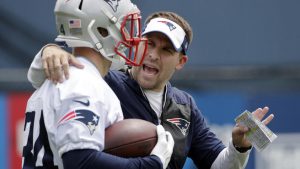 Q: What was it like after the game going to the hotel rather than getting on a plane and flying home? How does it feel this morning in comparison to a normal road trip?
RB: Definitely different not flying back after the game, just getting to the hotel right after the game last night. It was beneficial for sure – get a lot more rest and just time to unwind and recover from the game.
Q: Can you give us a feel for what it's like there? Does it almost feel like a Saturday being at the hotel with the team?
RB: Yeah, it's different being out here all week preparing, but I think definitely beneficial for the team and something that will help us out for the week in preparation for Oakland.
Q: How long was the bus ride from the stadium to your hotel?
RB: I think it was like 30 to 45 minutes – not too bad. Yeah, we got to the hotel quick, had a little snack here and went straight to the room to get some rest, when normally I think when we have flights after a game, we don't get home – especially a Sunday night game – you don't get home until very early the next morning and don't really sleep on the plane or get much sleep. So, just trying to get as much rest as possible with this road trip going on. I think that's the critical thing for this team is to get as much recovery in as possible before we head down to Mexico.
Q: How did the fumble recovery on special teams help take the crowd out of the game last night? Could you feel that emotion on the sideline?
RB: Yeah, definitely. Denver, like you said, is a tough place to play and they're a great team, great defense, and so anything to change the momentum of the game we were trying to do and our special teams played great in all phases. Whenever you can have plays like that to really take the crowd out of the game, it helps. I remember early in the game, Tom [Brady] was really having to yell in the huddle to get those plays to us, and later on, he didn't have to do that so much just because it wasn't as loud. It was definitely beneficial for us.
Q: How would you describe Brady's awareness of the opposing team having 12 men on the field? Can you guys try to match up personnel and catch the defense or special teams in that position?
RB: Like you said, with Tom, that's why it kind of speaks to his greatness, just being able to recognize those things, as well as Josh [McDaniels] recognizing those things. Anytime we can take advantage of that, we're going to try to, whether that's on special teams or the offense is going fast and trying to get a play off before they can adjust.
Q: As those situations arise, do you have a sense of when Tom is going to call everybody to the line immediately and try to snap the ball?
RB: Yeah, definitely. You get a sense for that, just how the feel of the drive is going or the play before. You'll see the defense kind of looking confused or wondering who should be in or where to line up or not, so it's something you can definitely feel when you're in the moment of the game.
Q: Will you guys have the ability to venture off the Air Force Academy grounds and are you interested in seeing more of Colorado Springs? 
RB: Yeah, you know, I'm not sure really our schedule yet, but if we get a chance to, I'd definitely like to. It's my first time here and I think for a lot of the guys. Maybe when we have some free time, [we will] just be able to go out, venture out, even take some more time at the Air Force Academy and just really kind of take in whatever they have to offer.
Q: Would you like to try to live like a cadet for one day?
RB: Yeah, that'd be pretty interesting, I'd say, for sure, just seeing about their training or anything of what they go through day-to-day. They have to get Joe Cardona to set that up for us. He's a Navy guy. No, it will be interested for him to be there, I'm sure. Rex