DOWN, NOT OUT: All 5 of the Red Sox' runs on Friday came with 2 outs…Since the start of 2015, Boston leads the majors in several categories with 2 outs, including hits (541), RBI (314), doubles (122), OBP (.351), and SLG (.444)…In that time, the Sox also rank 2nd in the majors in AVG with 2 outs (.274), trailing only the Royals' .277 mark.
BEATING THE BEST: Last night, the Red Sox defeated 2012 Cy Young Award winner R.A. Dickey…Since the start of 2015, Boston is 12-6 when opposing a former Cy Young Award winner, having faced Justin Verlander (2-0), Felix Hernandez (2-0), Corey Kluber (2-1), Dickey (6-2), and CC Sabathia (0-3)…Those pitchers are a combined 2-10 with a 4.78 ERA (56 ER/105.1 IP) in 18 starts vs. BOS in that time.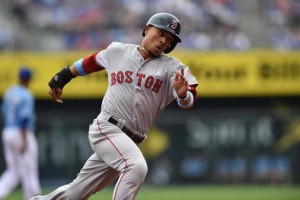 K-K-K-K-KIMBREL: RHP Craig Kimbrel has recorded at least 1 strikeout in each of his last 25 appearances, the longest active streak in the majors among relief pitchers…Is averaging 14.8 SO/9.0 IP in that span (41 SO, 25.0 IP)…This marks the 2nd-longest such streak of Kimbrel's career, trailing only a stretch of 26 consecutive appearances with a strikeout from 2010-11 with ATL.
HOME IMPROVEMENT: Boston has not been shut out in its last 60 home games (beginning 6/4/15), MLB's longest active streak and the Sox' longest such streak since an 81-game stretch from 4/23/10-4/29/11…During the streak, Boston leads the majors in runs per game at home (5.9).