RED SOX NOTES (101-46)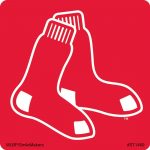 THE RED SOX earned their ML-leading 101st win of the season, tied for their 3rd-most wins in a single season in franchise history (105 in 1912, 104 in 1946, and 101 in 1915)…Lead MLB with a .687 winning percentage.
·       With 15 games left to play, are 4 wins shy of a franchise record…Their 101 wins are their most since 1946 (104).
·       Their magic number to win the division is 6.
·       Set a new season high by reaching 55 games over .500…The only other year in which the Red Sox reached 55+ games over .500 was 1912 (+58).
·       Have reached 101 wins in just 147 games, the fastest to 101 victories in franchise history (previous: 148 games in 1912).
·       Are the 4th team in the Expansion Era (1961-pres.) to reach 101 wins in 147 games or fewer, joining BAL in 1969 (109-53), NYY in 1998 (114-48), and SEA in 2001 (116-46).
·       Are the 15th team in MLB's Modern Era (1900-pres.) to win as many as 101 of their first 147 games…8 of the previous 14 won the World Series.
·       Are just the 3rd AL team since 2010 to record 101+ wins, joining HOU and CLE in 2017…The last AL East team with 101 or more wins was NYY in 2009 (103).
·       Their 15 wins vs. TOR this season are the most by any team in a single season in TOR's history…Have won 13 of their last 15 games against TOR and are 28-10 (.737) vs. the club since 2017.
·       Have won 52 games at Fenway this season (49 on the road)…Their .722 home winning percentage (52-20) is the best in the majors.
·       Completed their ML-leading 15th series sweep, including a franchise-record 13 sweeps of 3+ games (source: Elias)…Have been swept only once.
·       Improved to 34-13 in series finales…Are 31-9-7in 47 series this season.
·       Surrendered 2 leads, but regained the lead in the following half-inning each time.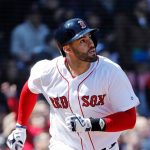 J.D. MARTINEZ (2-for-4, R, HR, RBI) gave the Red Sox a lead with his 41st HR of the season, a solo shot to lead off the 2nd inning.
·       Tied Khris Davis for the ML lead…Also leads the majors with 122 RBI and ranks 2nd with a .330 AVG.
·       His 41 HR are the most by a Sox hitter since David Ortiz's franchise record-setting 54 in 2006…Is 1 of just 10 Red Sox plyers ever to hit as many as 41 HR (15 times).
·       His 41 HR are tied for the 2nd-most by a Red Sox hitter in his first season with the club (Dick Stuart, 42 in 1963; Jimmie Foxx, 41 in 1936; Manny Ramirez, 41 in 2001).
·       Leads the majors with 336 total bases…The only other Red Sox hitters in the last 100 years with as many TB through 147 team games are Jimmie Foxx (1936, '38), Ted Williams (1949), and Jim Rice (1977-79).
·       Added a single in the 3rd in his ML-leading 56th multi-hit game.
·       Has 8 HR and 6 2B in 19 games vs. TOR this season, batting .338/.427/.761/1.187…Has reached base in his last 18 games vs. TOR.
·       In his last 43 games, has hit .349/.430/.645, going 58-for-166 with 34 runs, 13 2B, 12 HR, and 40 RBI.
·       Leads the majors with 24 HR, 71 RBI, and a .689 SLG at home…His 24 HR at Fenway are the most in a single season since Mo Vaughn in 1996 (27).
·       Has hit safely in 17 of his last 20 games, 23 of his last 27, 32 of his last 37, and 38 of his last 44.
·       Has 3 HR in 10 career AB vs. Blue Jays starting pitcher Sam Gaviglio.
 RAFAEL DEVERS (1-for-2, R, HR, RBI) entered the game as a pinch runner in the 4th inning and hit his 17th HR of the season in the 6th.
·       Was his first HR since 8/8 at TOR…Came around to score his 50th run of the season.
·       The Red Sox are 13-3 in his 16 games with a HR this season, and 19-6 in his 25 career games with a HR…When he drives in a run this year, BOS is 31-8.
·       His 27 career HR are the 3rd-most by a Red Sox hitter before his 22nd birthday (Conigliaro-84, Williams-49).
 CRAIG KIMBREL (1.0 IP, SO) earned his 40th save of the season, 2nd in the majors and tied for the 4th-most by a Red Sox closer in a single season (last Jonathan Papelbon, 41 in 2008)…Is the 6th Red Sox closer to reach the 40-save mark.
·       Is his 5th career 40-save season, first since 2014 with ATL (47)…The only other pitchers with as many as five 40-save seasons are Mariano Rivera (9), Trevor Hoffman (9), and Francisco Rodriguez (6).
·       Marked his 331st career save, passing John Wetteland (330) for sole possession 14th on MLB's all-time list.
 BRANDON WORKMAN (0.1 IP, SO) entered the game with the score tied and the bases loaded in the 8th inning and struck out his only batter faced on 3 pitches…Earned his 5th win of the year.
·       Has stranded 11 of 16 inherited runners (68.8%)…Opposing hitters are 4-for-30 (.133) with RISP.
 XANDER BOGAERTS (2-for-4, R, 2B, SB) singled with 2 outs in the 3rd inning and hit a 1-out double to left in the 8th.
·       Stole 3rd base in the 8th inning, his 7th SB of the season, and came around to score the go-ahead run…Has 48 career SB in 60 attempts (80.0%).
·       Has reached base in his last 15 games, marking his 2nd-longest on-base streak of the season.
·       So far this homestand, has gone 11-for-23 (.478) with 4 R, 2B, 2 HR, 4 RBI…In his last 30 games, has hit .348/.408/.589 with 16 runs, 10 2B, 3B, 5 HR, and 25 RBI.
·       Has set career highs this season with 42 2B and 66 XBH.
·       Has reached base in 26 of his last 49 PA with RISP (.417/15-for-36, 11 BB, 2 SF).
·       In 99 PA with multiple runners on base, has hit .385 (30-for-78) with a .465 OBP.
 JACKIE BRADLEY JR. (1-for-3, R, 2B) doubled for the 2nd straight night and came around to score a go-ahead run in the 3rd.
·       Was his 100th hit of the season, and 29th 2B, 1 shy of a career-high 30 in 2016.
·       Has hit safely in his last 10 home games vs. TOR (.387/12-for-31, 7 R, 7 2B, 1.070 OPS).
·       In his last 34 games at Fenway, is batting .339/.388/.563 (38-for-112) with 23 R, 14 2B, 3B, 3 HR, 21 RBI.
·       Over his last 63 games, is 61-for-212 (.288) with 40 R, 19 2B, 3 3B, 8 HR, and 38 RBI…Has a .519 SLG and an .868 OPS in that time.